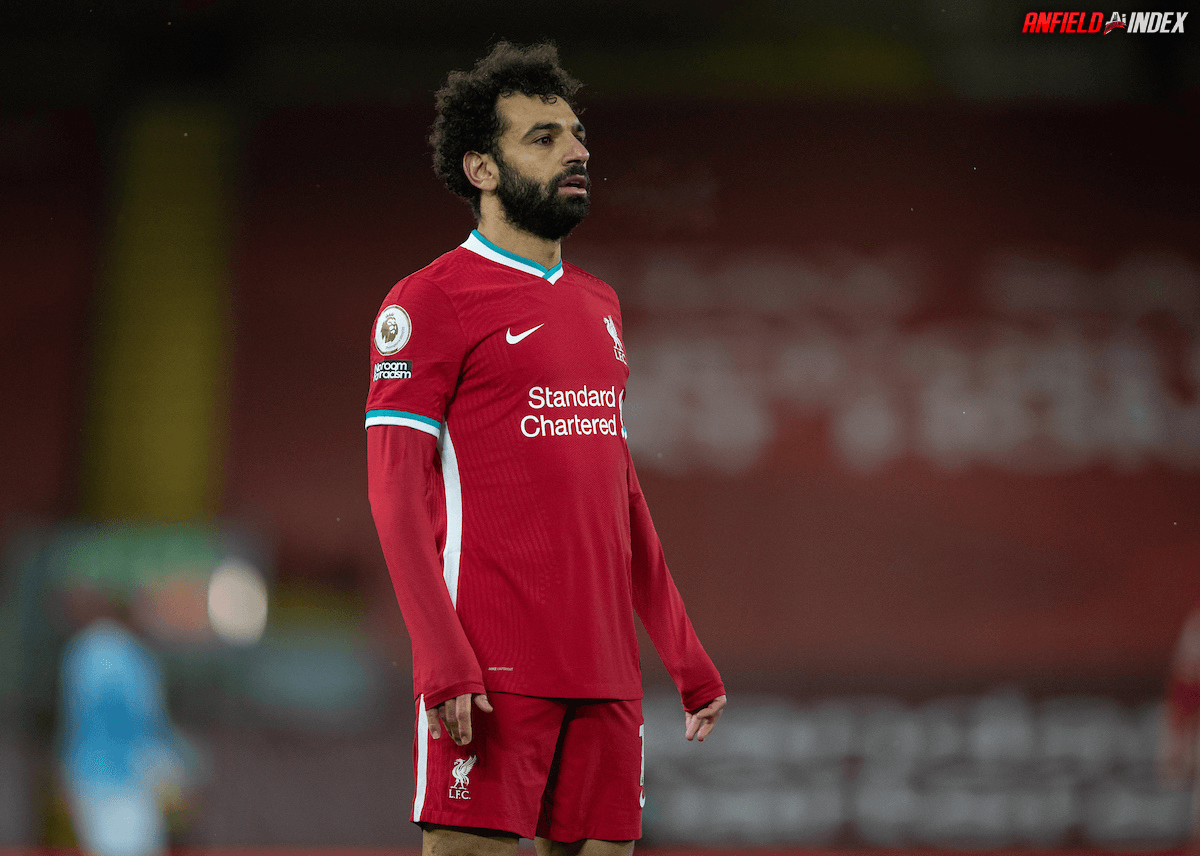 Where does Salah rank among the all-time Liverpool greats?
Even in a season where Liverpool capitulated at times, Mo Salah was still largely exceptional.

Granted, there were occasions when the Reds' No.11 wasn't at his stellar best, but he was comfortably his side's Player of the Year and helped inspire them to an unlikely third-place finish.
While Sadio Mane and Roberto Firmino floundered, Salah scored 31 goals in all competitions, and without him, it is hard to imagine Liverpool's campaign being anything other than a disaster.

It is now four years at Anfield for Salah, during which time the Egpytian has achieved astonishing levels of success, both in terms of team and individual accolades.
The goals have come at a relentless rate – 125 goals in 203 appearances, to be exact – while Champions League and Premier Leaguer glory have also been secured.
If he's not the greatest signing Jurgen Klopp has made at Liverpool, he is surely only narrowly behind Virgil van Dijk in second place.
The question is: where does Salah rank among the all-time greats at Anfield?
It is a debate that is always going to split opinion, with football such an evolving game throughout history and supporters often rating players based on different qualities.
Some will look at longevity, others will look at sheer impact and there will also be those who solely judge a player's standing on trophies won. Then there's short-termism and nostalgia, both of which can produce bias.
One thing that can be guaranteed is that Salah should now be spoken of in a similar breath to many of the true Liverpool greats when you look at the success he has enjoyed.
After his first season – one that saw him score 47 goals overall – there were some who lazily called him a 'one-season wonder', having previously labelled him a 'Chelsea reject', too.
Salah has made this opinion look cretinous, however, with three more years of world-class brilliance added to that unforgettable 2017/18 campaign.
He is one of the most destructive attackers to have played in the Premier League, smashing an array of records along the way, and only two players in Liverpool's history have reached 100 goals in quicker time.
When you consider Salah isn't even an out-and-out striker, it speaks volumes about why he is a bonafide Reds legend.
In terms of the very top of the pile, Sir Kenny Dalglish and Steven Gerrard stand out as the two greatest Liverpool players of all time – not too many would argue with that.
Below them is an assortment of legends from the glory days of the 1970s and 1980s, with John Barnes, Ian Rush and Graeme Souness the leading candidates.
Billy Liddell is also an undisputed great, but football was an extremely different game during the 1940s and 1950s.
Van Dijk should rightly be talked about as possibly the best-ever centre-back for Liverpool, with Alan Hansen also in the conversation.
Ultimately, Salah has now debatably moved his way into the top 10 players to represent the Merseysiders, with a combination of longevity, influence and silverware all working in his favour.
Granted, four years is still a relatively short time in comparison to the Ian Callaghans and Jamie Carraghers of this world, but over 200 appearances is more than enough to justify his ranking.
Not only that, but Salah is now 12th on the all-time list of goalscorers for Liverpool and it shouldn't be long before his tally of 125 overtakes Jack Parkinson (128), Sam Raybould (130) Harry Chambers (151) and Michael Owen (158).
Should the 29-year-old commit his long-term future to the Reds, there is absolutely no reason why he won't reach the 200 milestone – something only Ian Rush (346), Roger Hunt (285), Gordon Hodgson (241) and Liddell (228) have managed.
For some, Salah needs to stay for longer and win even more silverware in order to be right near the very top of the pantheon of Liverpool giants, but is that really SO relevant?
Was Callaghan better than him just because he played a record 857 appearances? Absolutely not. Which isn't to say he wasn't a legend in his own right.
Dalglish and Gerrard are clear, while Barnes, Rush, Souness and Liddell will take some beating for Salah, but after those six, there may have been nobody better.
Whether or not Salah is seventh or 10th, it is difficult not to have him in the top 10, with Robbie Fowler, Luis Suarez and Hansen perhaps the others who would join him.
There are others who could lay claim to making the cut, whether it be Ray Clemence, Phil Neal, Emlyn Hughes or Van Dijk, to name just a few, but it is hard to argue against Salah.
Here's hoping we are only in the middle of his monumental Liverpool career, with another four or five years of goals, awards, records and trophies on the horizon.
Potential top 10 Liverpool players of all time
Sir Kenny Dalglish
 Steven Gerrard
John Barnes
 Ian Rush
 Billy Liddell
Graeme Souness
Robbie Fowler
Mo Salah
Luis Suarez
Alan Hansen