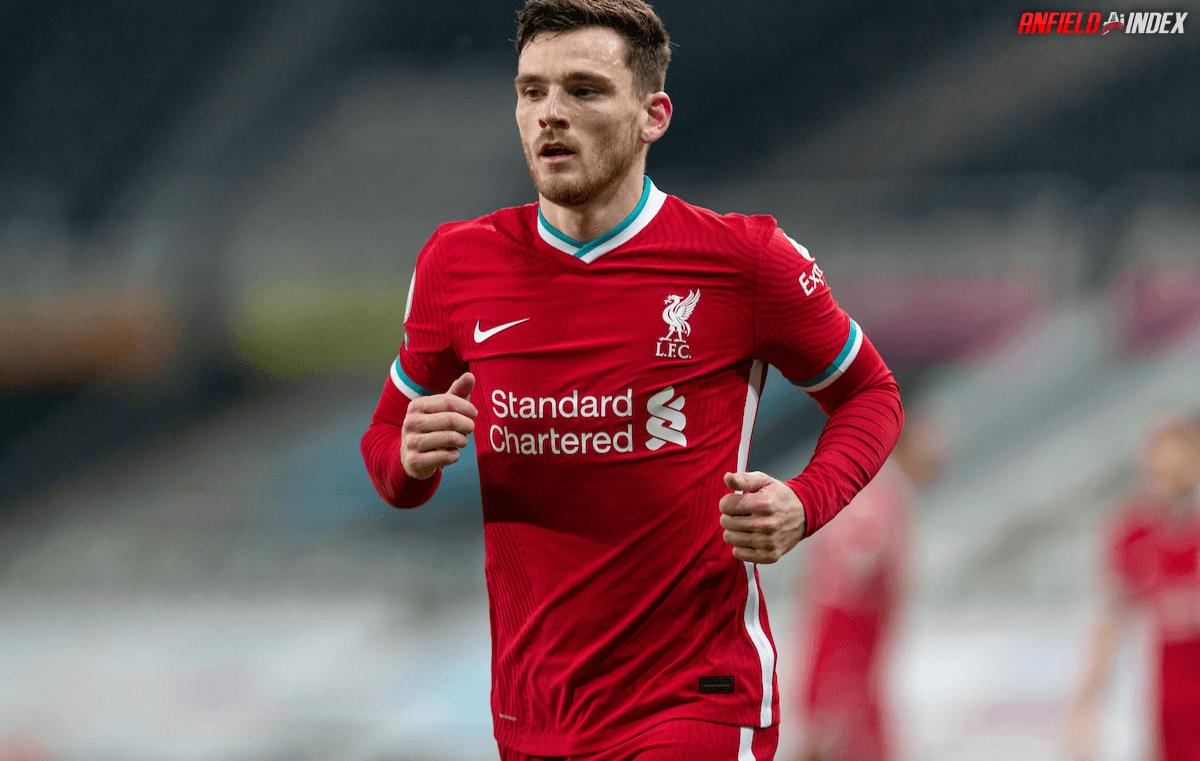 Why Andy Robertson is Undroppable
When Andy Robertson was signed from newly relegated Hull City, there was a collective air of uncertainty. The left back spot had become (like so many other positions when Klopp arrived) a problem one. With Albert Moreno being swapped in and out with James Milner prior to Robbo's signing, it was certainly an area that needed addressing.
Hull City and Liverpool managed a trade type deal, that was surely separated for accountancy purposes. The overall deal saw Kevin Stewart leave Anfield in a low key move for a fee of approximately £7 million. Andy Roberson would make the reverse switch, again for £7 million, something that looks amazing in hindsight. The fact that Kevin Stewart was recruited for free, further solidifies Michael Edwards ability to identify untapped potential, and being able to take full advantage when moving players on
The summer of Robertson's arrival saw Ben Chilwell as the only possible alternative. With a back up role (at Leicester) not allowing much in the way of scouting and therefore limited data, it was an easy choice to opt for Robbo. Chilwell was eventually passed up for the cheaper Scot, and the decision has never looked more sound. Given Chilwell's rise at Leicester in the following seasons, Chelsea would later sign the Englishman for over £50 million. This is a significant take on Chilwell, with long term progression clearly identified early on by Michael Edwards recruitment team. This type of find is all the more satisfying, when you see Chelsea paying five times the amount that Liverpool were once quoted.

There is a real lack of world class left backs in the current game, with maybe four or five falling into the elite status. Alongside David Alaba (who no longer plays there), Alfonso Davies, Theo Hernandez & possibly now Luke Shaw, sits Andy Robertson, comfortably. There are of course arguments for other players in the game, but this group (for me), stands out as best left backs in the game. It's always hard to place world class status on too many players (certainly with fullbacks), but Robbo certainly ranks amongst the best of the best, in his position.
The way in which Andy Robertson plays under Klopp is surely a nod to the characteristics with which he was chosen. His high energy, good recovery pace, and the age that allowed for real refining of his defensive game, are fundamental points that have allowed him to prosper. His slow start in attaining his (now assured) starting spot, are key indicators of Klopp's initial requirements. With so many key positions deemed vital to the system, he is often demanding the player is fully ready, before they debut. With Fabinho there was a similar delay to ensure his readiness.
When leaving Hull, he was seen as an attacking full back in a team that conceded many, many goals. Pressing would have been at a minimum, in comparison, with heavy periods of sustained pressure. The tweaking of Robbo's game before he eventually replaced Alberto Moreno, came after even more grumbles from the fan base. The questions were often as to why he wasn't playing, was he good enough & whether another season of Albie & Milner was afoot. Similar comparisons can be made of the reds recent winter addition, Ben Davies. In arriving for a low fee from Preston North End, it was seen as a signing to cover others, rather than one to integrate into the first team. We have yet to see him grace the field for Liverpool, however there are indications that with the sustained integration period before his debut, he may well act as the safety net for Joe Gomez next year. Only time will tell on that one, however Robertson's early Anfield months at least give Davies hope, of some sort of Liverpool career.
Last summer, Liverpool were linked with a number of left backs that would be signed to cover Robertson. Konstantinos Tsimikas was eventually recruited from Olympiacos, with a playing profile not dissimilar to Robertson's. His very low appearance numbers are linked more to the central defensive injuries (than Tsimikas and his worth). With so much disruption in the back line, Andy Robertson was surely seen as a must start (as with the always available Gini Wijnaldum) through the season. This absolute confidence Jurgen Klopp has is a nod to Robertson's remarkable level, albeit a tough take for Konstantinos Tsimikas.
The indication of Robertson's elite status can be proved in many ways, however the clear fact is that Klopp would not swap his current left back for any other in the game. With a tank that never seems to empty, a positional awareness at both ends of the field & a tenacious game, Robertson is just about the perfect Klopp player. Where he may not be suited to a slow, methodical style of play, this current setting is perfection for both player & coach. Jose Mourinho (as a Manchester United manager) even highlighted Robertson's amazing ability to traverse the entire length of the field for 90 minutes, something that probably didn't help Luke Shaw at the time.
With the coming pre-season fast approaching, there is already one defensive signing aboard, in the huge shape of Ibrahima Konate. The return of Virgil Van Dijk to partner him is an exciting prospect, and Robertson will be overjoyed to see his towering Dutch defender beside him once more. Joel Matip returning is a major plus, but his minutes must be managed alongside Joe Gomez (upon his return). With Ben Davies offering depth, that would probably allow Nat Phillips to be moved on, and Rhys Williams a loan move.
Where the assist numbers dipped on both flanks last term, this was more due to the instability in the back line. With greater assurance, we should see both Andy Robertson & Trent Alexander Arnold propelling up the flanks, with a wider range of central defenders to choose from. The noted assurance will also allow Robertson to rest on occasion, a must after a long season, and international duty. With Konstantinos Tsimikas better prepared to make his true impact, this will surely allow those few matches to rest Robbo properly.
With some questions arising around the team, Klopp and the Liverpool support can rest easy knowing that when the big games come around, Andy Robertson is simply undroppable.