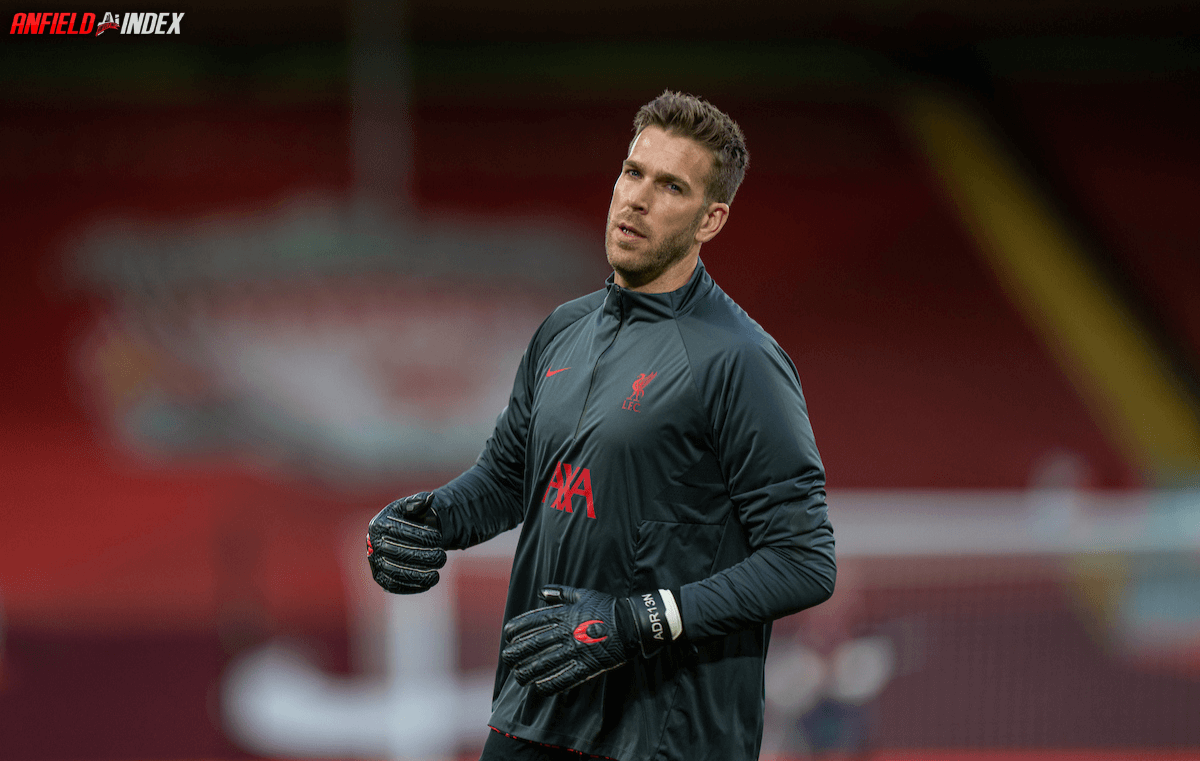 Adrián - An Easy Signing
Liverpool FC have maybe the best goalkeeper in world football right now, alongside Jan Oblak. There isn't a feasible means of signing a competing back up, therefore a blend of both promising youth & experience makes up the keeping unit at Liverpool. This seems to be a dynamic that works best for Alisson Becker, and will therefore continue.
When Alisson Becker signed from Roma, it was a seen as a transformative purchase. To sign one of the best players in his position (and see him elevate to a world class level), is a joy to behold. When Mohamed Salah, Sadio Mane, Virgil Van Dijk & Fabinho all arrived at Anfield, they very quickly progressed to world class levels under Jurgen Klopp, and become indispensable to the first team. It can often make the squad rotation difficult within the group (with the levels of first team players so high), as the drop off when back up players come in is substantial.
The goalkeeping group (with an elite club) is no different, and can inevitably offer even less opportunities for the supporting cast. The recruitment or even promotion of a goalkeeper to become back up to a world class keeper can be tricky. To entice a good goalkeeper with aspirations of first team duties, would be very tough and expensive. The role of a back up keeper must be defined and almost accepted upon his arrival, as the goalkeeping group must be a positive one.

When Adrián San Miguel del Castillo signed for Liverpool on a free transfer, he was in a position to either sign a new contract with West Ham or join the trophy-hungry reds. Either situation would have seen him as a back up, so the eventual decision to play for an elite team was easy. His first season was most certainly a varied split. A great start to the season befell Adrián after an unfortunate injury to Alisson on the opening day meant an early debut came for Adrián. The 10 game spell that followed (until Alisson returned), was near faultless, and the fan base was overjoyed. The transfer mastery of Michael Edwards was in full effect once more, and the goalkeeping group was flourishing.
Fast forward towards the back end of that season (and some errors against Champions League opponents Atletico Madrid), saw Adrian cast as a hopeless empty shirt. Last season's early drubbing at the hands of Aston Villa, eventually saw youngster Caoimhin Kelleher take over as the Alisson's back up keeper to rave reviews, much like Adrián's start as a red.
The absolute and overwhelming fact is that Alisson Becker is Liverpool's number one keeper. Short of a David De Gea type collapse, that should remain well past Klopp's final day as Liverpool's head coach. Caoimhin Kelleher appears to be entrusted as the match day back up, so the issue then sat with who to have as the squads 3rd keeper. When Adrián initially signed for Liverpool, it was a two year deal that expired at the close of last season. There was much speculation as to who would replace him, before the reality dropped, a new deal for the Spaniard.
With a salary sitting around £2.5 million per year, it sits amongst a number of reasons as to why re-signing Adrián made sense. The cost of acquiring a new goalkeeper would have to be taken into account, as well as the eventual wages. The money aside, I believe the fact is that Adrián fits what the group requires is most important. With a role within this group at 34 years of age, Adrián has a period where he can continue to win trophies as a member of Klopp's squad. That he sits as the back up or more likely the 3rd choice keeper will see his appearances limited, however with a good wage and a marvellous sqaud and manager, it could be worse.
If Adrián were to leave, there would be a number of suitors from the Championship and abroad. His role at any club would not be guaranteed unless he was willing to drop a good few levels. This drop would include an inevitable decrease in wages and thus a clear drop in the level of the club. The decision for Adrián was an easy, as first choice opportunities within the Premier League would surely be out of reach.
The contract renewal was then fully in Liverpool's deciding hands, for a player not at the level of the rest of the squad. Michael Edwards & Klopp would have surely consulted the two remaining keepers and well as the goalkeeping coach, John Achterberg. The consensus would have revolved  around whether he was a good fit within the group. To have a colleague to push, aid, assist and be there for Alisson Becker would have been the highest priority. The unknown quantity of any new recruit offers the unknown and could well bring a negative dynamic. Liverpool have to be clear on the fact, that with Alisson Becker playing to his highest level, can make the difference between ultimate success and failure. With Alisson's role as first choice, he would have had to sign off on the deal, as the senior and most important of the group. Clearly Adrián's role is valued, and new new deal ensued.
Working away from the squad for large spells will mean that Alisson, Kelleher and Adrián will be supporting each other at training, as well on match days. Adrián clearly has a vibrant and positive personality, and his inclusion in this group should be looked upon for its positives rather than any negative. Caoimhin Kelleher will benefit from the experienced presence offered, and it appeared to be only positives from Adrián's point of view, when Kelleher got the nod ahead of him late last year.
We know Klopp likes a tight group, and often times the values outside of pure football can be a determining factor for certain players resigning. James Milner for instance, is valued as much for his off field influence as any other, and was rewarded similarly with a new deal. We may see a similar deals in the coming years (for Jordan Henderson), with the dressing room lieutenants a trusted commodity.
Adrián signing a new contact ticks a box, and eliminates the unknown that a new keeper would bring. Loris Karius would most probably want to make a play for the number 1 jersey, and this may upset the dynamic. He will be moved on, with Klopp never fully comfortable with his extended presence in the squad. The short & long term future of Liverpool's goalkeepers look tremendous, and if it means Adrián has an important role in supporting this group, then his renewal was definitely an easy signing.