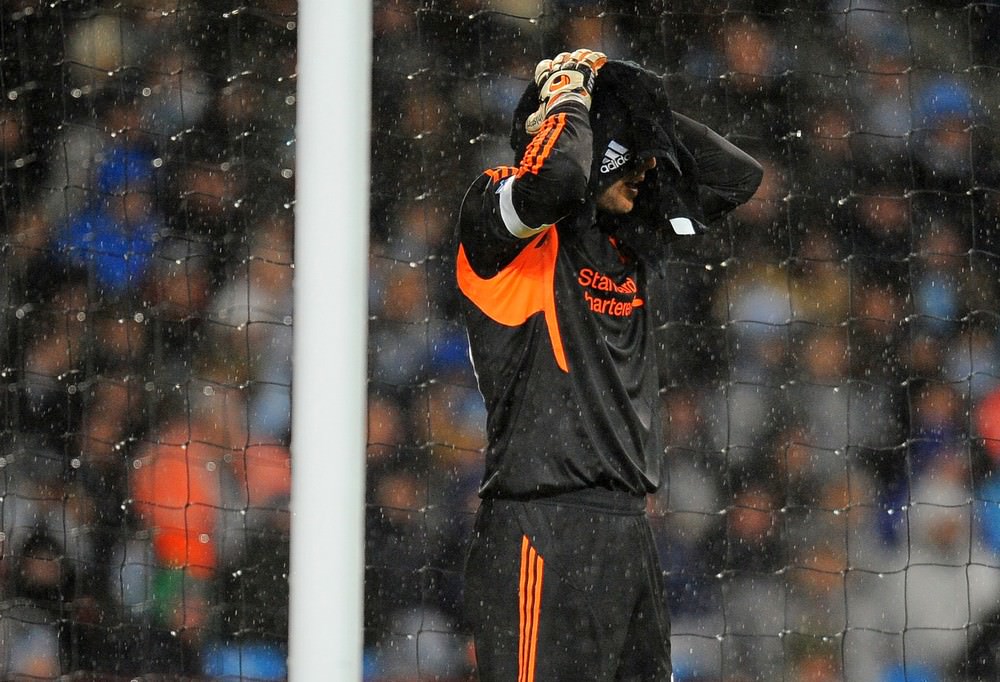 So close. Yet, so far... | City 3 v Liverpool 0 (02/01/2012)

I just want to start by saying this was originally a forum post, and it was written after the Manchester City game, which we lost 3-0. All these stats are as of 03/01/2012 so if some things are slightly out, I apologise now. I was analysing the stats and figures, and as I looked a bit deeper, I began to find more and more of what is going wrong. It doesn't take a genius to see it with your own two eyes, but it is amazing when you compare us with our opponents from Tuesday night, Manchester City. Anyway, I have re-worded and moved a few things around, so it flows a bit better as a "blog" and not a forum post. Have a read, and see if you think we are close or far from our goals…
It was a really strange game on Tuesday night (3rd of January V Manchester City), but it clearly highlighted the difference between 1st and 6th (where we are at the moment). We dominated the possession (even before the sending off), and just like a boxing match, we more than matched them "on points". However, critically, we let our guard down, and City gave us a damaging blow. The first goal.
This was later compounded by a second sucker punch, we were groggy and struggling, but still we put up a decent fight. We were throwing more punches, and connecting with a few, but we were not really doing any damage.
We regained composure, and went toe to toe with City for the majority of the fight (match). Then, we finally get a bit of luck, as City go a man down. Barry is sent off. This is our chance, we have to take it, and go for a knock out ourselves, we can get back in this. But, just 30 seconds later, they dealt the knock out punch with a fantastic counter. Game and fight over. This match was never going to go the full course, and unfortunately, you can't win football matches "on points".
The whole "taking your chances" drum is one that has been banged in the red corner for weeks and months now. For me though, it is something which is slowly becoming a bit more of a worry. At first it was bad luck, then it was poor finishing, but what is it now? A combination of the two? Or, do the players we currently have, not have the ability to finish the chances that we create?
I looked at some stats a few weeks back, and it really showed how we are so close… yet so far. I was comparing ourselves with the blue corner, Manchester City. This was totally off the cuff, and I didn't write anything about it at the time, except a few tweets of 140 charachters. The statistics clearly highlights the big key differences between the two sides, ourselves and league leaders Manchester City.  The fact City are "better" than us in two key areas,  translated into goals, wins, and points on the board (the points that matter).
Firstly, I looked at "shots in the box". Why? Well, firstly, a "shot in the box" requires the ball to be "worked into the box". This could be from a simple pass and move, a cross from deep, a winger getting to the byline and delivering, or a hoof up the pitch. A "shot in the box" also doesn't include hit and hopes (less of them, anyway), direct free kick efforts, or world class 35 yard screamers.
So lets look at the league leaders, Manchester City. 215 shots in the box, with 42 goals. That is a conversion of 19.5%. Pretty much 1 in 5 shots they have in the box, result in a goal. That is a pretty damn impressive conversion rate for any side. But lets look a little deeper. 3.25% of their shots hit the woodwork, and 22% hit the target but are not scored (in other words, saved).
How does this compare to Liverpool over the season? 216 shots in the box. So, in the same number of games, Liverpool literally just edge City. Just. But it is enough for me to suggest that we are working the ball into good areas, dangerous areas of the pitch. But what about the rest of the figures? I think you all know what is coming.
Just 20 goals, and hit the woodwork 11 times. That is a shot/goal conversion of 9.26%, and we have hit the woodwork 5% of the time. Now stop, and compare that with City. It is a staggering contrast to the league leaders. City are twice as likely to score with a shot in the box this season. We are twice as likely (compared to them) to hit the woodwork. This isn't just bad luck, or MOTM goal keeping heroics (29% of our shots are "saved"), there is a deeper problem here. And it is taking our chances.
This is over the season to date, but what of last nights game (Tuesday 2nd of January remember)? I assume you have all seen it, and the summary above sums up the game in words, but what of the statistics behind the game? Being kind to ourselves (and so I can actually calculate conversions that aren't 0%) lets assume we scored half a goal (0.5) How do the above stats compare over the season, and in yesterdays game?
Liverpool
Shots in the box 7.
Goals in the box 0.5
Goal/shot in the box conversion 7%. (Obviously, really, it was 0% as we didn't score).
Manchester City
Shots in the box 5
Goals in the box 2
Goal/shot in the box conversion 40%. (If you take the penalty out, the "free shot" so to speak, it is down to 25%).
So even in the one game between the two sides, even if we be kind to ourselves and give us an imaginary half a goal, City are still more than twice as clinical as us (even if you take out their penalty) when in the box. And for the record, in the home game, our shot in the box conversion was 7.1%. And City was 25%. Again, pretty close to their respective season "averages".
You have probably heard all this before, and it is as clear as day what our problem is. Taking our chances, and scoring goals. Despite being 6th in the league, nearly half of the Premier League (9 teams) have outscored us. And one of those is Blackburn, who are in the bottom twoof course. This is down to a solid, and in the main,  a mean defence. It was the best in the league before our 3-0 defeat to City remember. But how good has it been really?
Again, we will compare with City, who have conceded 16 goals. Now (after last night) they currently have the best defence in the league. They have 8 clean sheets, which is a 40% clean sheet record. Tough to break down in a lot of their games. This means that the 16 goals they have conceded, have come from 12 games. So, in a game they concede a goal, they on average, concede 1.33 goals. City are also not prone to big mistakes, especially ones that lead to goals. Just 4 "defensive errors" according to EPLIndex (Opta Stats), and not one of them led to a goal.
So, on to Liverpool. 18 goals conceded, and 7 clean sheets. A 35% clean sheet record. Not to dissimilar on face value here, right? A few goals, and one clean sheet in it. Basically, last nights game. When we concede, we are likely to concede 1.6 goals. Sounds like a bit more, but take out last nights game, and it is 1.25. So, again, things really aren't that different.
So what is different? Defensive errors. We have let ourselves down with a huge number of them, and it is so frustrating. 8 of them in total, and 6 of them the opponents have scored. This means 1 in 3 of the goals we have conceded, have been down to "defensive errors" by our own team. Remember Blackburn? Out scored us, but have an awful defence? In terms of ability, maybe, but in terms of errors? No. Just 1 defensive error led to a goal (out of 4), and out of total of 43 goals conceded. Bolton, who have scored one less goal than us, but conceded a lot more (42). Defensive errors? 8. Led to a goal? 4. So they concede more than double the amount of goals, yet make the same number of defensive errors (you would expect more, wouldn't you?), and even then, concede less goals from defensive errors. Just under 10%.
Now, to be fair to the teams at the bottom, in terms of ability, their defences are obviously not as good. In terms of goals conceded, they are far worse. But in terms of errors, we are really letting ourselves down. Another team, who are very similar to us are Chelsea of course. Conceded 25 goals, and just 4 clean sheets. 11 defensive errors, of which 8 led to a goal. So, for Chelsea, roughly 1 in 3 goals conceded are from a "defensive" error. A bit like us then? But Chelsea have had fewer "shots in the box" (188), scored more goals in the box (36), and naturally have a far better conversion compared to us, and not to dissimilar to City (19% in the box conversion).
So what is my point here? I think Liverpool have two big problems that they need to address and sort out, if they want to be league title challengers. Now, being realistic, this isn't going to happen over night. But do we really need to transform from 6th to 1st over night? No. We need to be pushing up the table, and fighting for those all important Champions League places. Get in the Champions League, get Champions League Players. Without it? It is much, much, much harder.
We "simply" (I wish it was that easy) need to cut out our own defensive errors, or, take our chances. If we manage both, we will fly up the table. If we can achieve one of them, then I am sure 4th place is ours for the taking. I don't see us making wholesale defensive changes, as the majority of the errors have been from our 'keeper, Reina. 5 out of the 8 errors we have made have been by Reina. Usually so uncharacteristic from a player who is reliable, and often makes points for us, not drops them. One a season, maybe, but 5? And 4 that led to a goal? Not like him at all.
A player I admire, rate, and love. But Reina's mistakes have cost us 4 goals. Last season, he made just 4 errors in total, and none led to goals. He has probably saved us at times this season, no doubt, but roughly 1 in 4 of our goals conceded from a goal keeping error a worry? Of course it is. But Reina isn't the only one to blame, others have made mistakes also. 1 in 3 goals we have conceded this season have been from our own errors. With a handicapped season last year for the first half, 1 in 11 goals we conceded were from our own errors. Mad, isn't it?
I am not sure how I could analyse what is the cause of this, but my gut feeling is part psychological, part technical. The burden of playing for Liverpool, the pressure, is massive. And you can feel the tension, especially at home. The run we have been on at home, the run of draws really, hasn't helped the cause. We go into most games now expecting to hit the post, dominate possession, miss one or two sitters, and generally come out the game thinking what could have been.
The technical part is down to the style of play we have now. A short passing game can lead to errors when trying to "play it out" of defence. These things can happen, unfortunately, but there hasn't been that many of them. Why suddenly the Reina errors? Technical? Psychological? A higher defensive line meaning the defenders aren't their to sweep up on Reina's spills? I am not sure, but we need to fix it. Pepe on his day is a match winner, but a few times this season, an error from him (and others) have cost us a win.
As the title suggests though, we really are so close, yet so far. "Close" in that we are creating some fantastic chances, we are dominating most games, but we just aren't scoring enough. And too many times this season, we have managed to get a goal, but let ourselves down. The stats say it is Pepe has been the main culprit, but others will have to shoulder some of the blame also. "Far", because if it was easy to "fix" these problems, then every team would be doing it.
But remember, this is comparing us to the league leaders. I'd say we are so close to cracking that top 4, and making one of the spaces ours. But a league challenge? Still a little work to do, but I am confident we can get there in time.