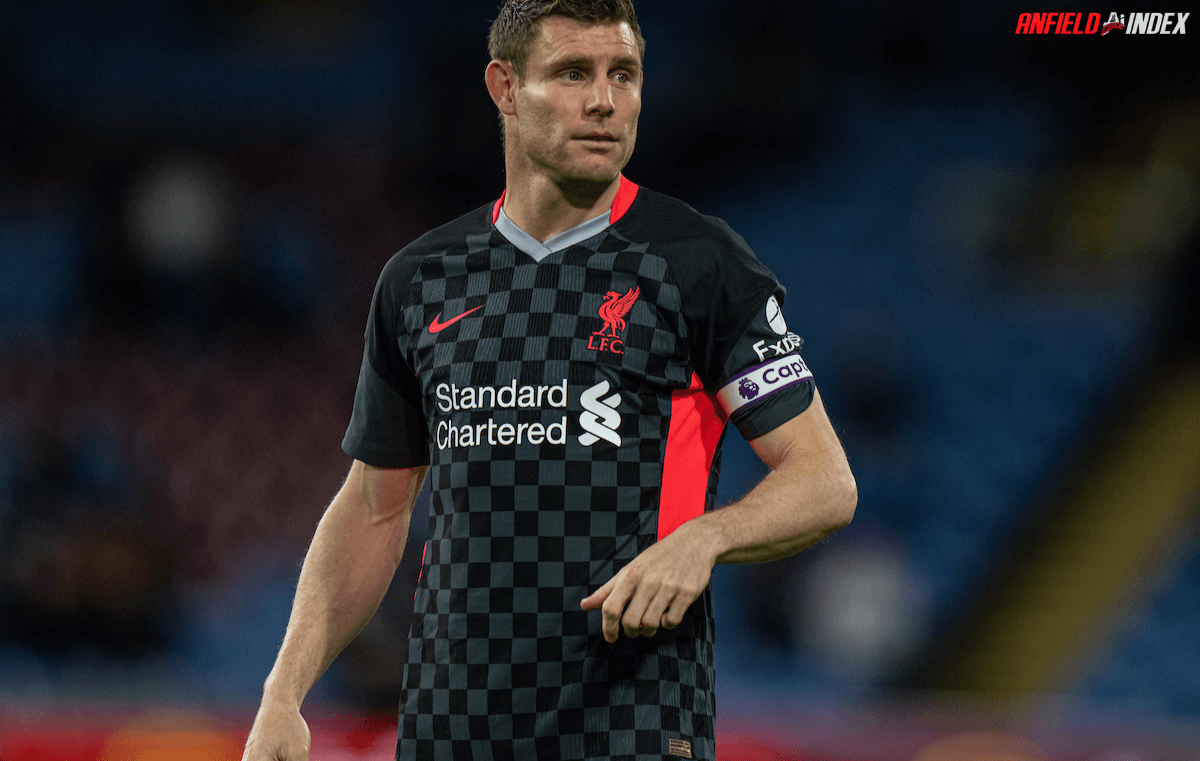 James Milner: The Final Year

It seems as though he has been around forever, and with one more year on his Liverpool contract, James Milner is still a valuable squad member. His minutes from last season will most probably now drop significantly, but his presence is still an important one for the reds.
When leaving Manchester City at 29 years of age (in 2015), it would be fair to say that Milly had already enjoyed a fulfilling career, and could be proud of his achievements. Fast forward to the present, and Milner enters his 20th campaign still full of commitment and vast experience. While Milner is no longer close to elite levels on the pitch, he still offers assurance and reliability in various roles, a key reason why Klopp has stuck by the Yorkshireman. When signing a lucrative deal in 2015 (on a Bosman free), it was amidst varied competition and City's desire to keep him. The number 7 shirt and an important role within this historic club followed, leading to further achievements at the back end.
There will be many that feel Milner has consistently maintained a good level of performance as a red, and those that will point to his best years as being at either City or Villa. In the modern game, the clubs need more requirements on both flexibility and rotation than ever before. The valuation of European football and the Premier League means there is always high demand, especially on the top clubs. The fixture congestion throughout football is close to absurd, and with back to back international tournaments either side of this forthcoming season, squads will be stretched with a raft of inevitable injuries. The large player rosters (by which Directors of Football make their name), have become more and more important in order to maintain success. Last year saw COVID-19 effect the entire world, including English football, and it's continuing presence will once again play a part this season. This is where Milner can still play a solid role in a long season ahead.
With Liverpool entering the previous season as favourites to retain their crown, the squad fell apart due to injuries, and the roles of certain players adjusted due to necessity. The total number of days lost through injury last year, stands as a Premier League record for Liverpool. The fact is that they could in no way overcome such injuries and stay ultra competitive. Certain untested players were drafted in, and a James Milner became a common go to guy in order to steady matters, when nerves were often frayed. His willingness to play either full back role (as well as his preferred midfield role), offer something that top teams need, willing versatility. Traditional squads have always been made up of specific players that can excel in specific roles, with drop off common when played out of position. With Milner, he has an ability to play well enough in varied spots, that Klopp still sees one more year in those veteran legs.
The fast pace of the Premier League can obviously cause issue at times, but Milly's obvious desire and leadership can sometimes be the thing that more talented players need, amidst the on field battle. This season will possibly see Milner back up Trent Alexander Arnold, as well as an offering an experienced option in midfield. His ability to come into a game and both calm and display elite shithousery to close out a game, is what top teams require from the bench. The willingness to do what it takes to win this summer was clear with Giorgio Cheillini, and these undervalued traits can make that difference in vital moments. The substitutes are becoming more and more important in modern football, with coaches eager to impact in their own tactical battles, in game. Having certain players on the sidelines that can offer bespoke qualities in certain situations is an ideal scenario for any manager. Klopp knows this, and thus Milner still offers enough value to be retained.
The final year of Milner's Liverpool deal will hopefully bring more silverware, and perhaps the offer of something more to the club beyond that. Steven Gerrard (after retiring at LA Galaxy) found himself immersed into his coaching apprenticeship at Liverpool, and Milner should be offered this path also. Whether or not he chooses to have one more season with his hometown Leeds United is debatable, but to keep Milner involved in some capacity when he retires would be sound logic.
Aside from his dressing room, training ground & on pitch positives, his genius social media posts are a sign that he can relate to the modern footballer, and his undoubted respect from his peers would be a huge benefit if he were to turn coach. The new breed of coaches will need to accept the way football and its players have evolved, and the dogmatic ways of José Mourinho and Roy Hodgson may now be outdated as a result.
This season should offer both relief and an enthralling battle for fans and players alike. There will be moments where Milner's influence will be called upon, and I wouldn't bet against James Milner playing the odd vital role, as the season creeps into the business end. Milly will have a commendable career to look back on, but one last trophy lift within a fan filled Anfield, would be a fitting end to his Liverpool playing career.