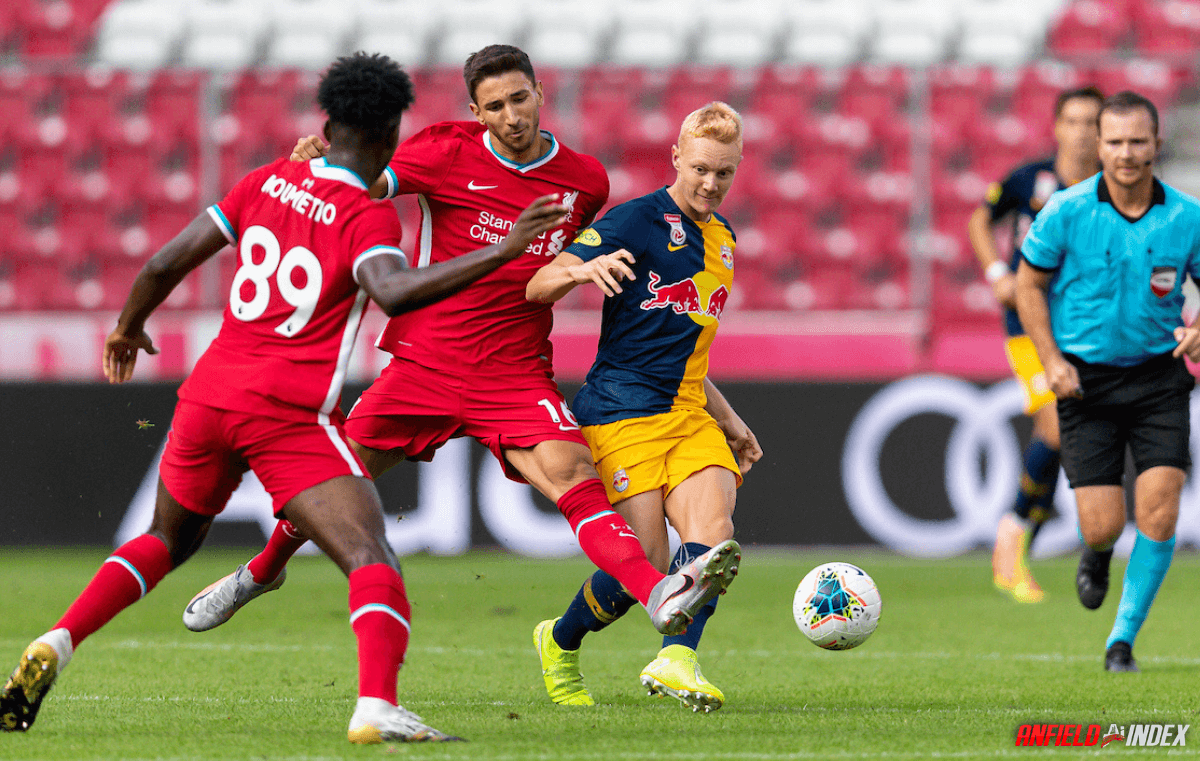 Liverpool agreed on a double sale

Liverpool will be playing against Mainz on Friday 23rd of July and Hertha on Thursday 29th of July. If you want to watch the games you can do it on LFCTV GO. If you wish to place some bets on your favourite teams you can check out NetBet Sport.
Liverpool has agreed on a deal with Porto and Union Berlin for the sale of Grujić and Awoniyi and will put a total of 17m in their coffers.
Liverpool is trying to get rid of the players that Jürgen Klopp does not need, and the "reds" have reached an agreement with Porto and Union Berlin for the transfer of Grujić and Awoniyi.
Grujić played last season on loan from Liverpool to Porto and impressed with his performances, forcing the "dragons" to move for his acquisition with a regular transfer.
Sérgio Conceição's team will withdraw 10.5 million pounds from the coffers for the international Serbian midfielder. Grujic had moved to Liverpool in the summer of 2016 but never won a starting position.
For his part, Taiwo Awoniyi is now the most expensive transfer of Union Berlin with the German team spending the amount of 6.5 million pounds to own the Nigerian striker who was in Liverpool in 2015, coming from the Imperial Soccer Academy of his country.
Let's see Grujić's resume in a bit more detail.
Marko Grujić is a Serbian football player. He was born on April 13, 1996, in Belgrade, BR Yugoslavia. He is under contract with FC Porto as a loan player from Liverpool FC.
Grujić originates from the youth of Red Star Belgrade. On the last matchday of the 2012/13 season (May 26, 2013) he made his debut in a 3-0 defeat against FK Vojvodina in the first team in the SuperLiga. In the 2013/14 season, Grujić was not used. That's the year Red Star Belgrade won the championship,
Grujić played on loan at FK Kolubara in the second-rate Prva Liga from mid-September to early November 2014. There he played five games during which he scored two goals. Grujić became a regular player in the 2015/16 season at the latest and returned to his home club.
Grujić was signed by Liverpool FC at the beginning of January 2016. Plans and agreements changed, and he played the season on loan at Red Star Belgrade to the end. In the Premier League on August 20, 2016, Grujić made his debut for Liverpool FC against Burnley FC. In the 78th minute, he came on for Adam Lallana.
In January 2018 he was loaned for six months to second division Cardiff City. After his return from Wales on loan, Liverpool FC loaned him out again, this time to Hertha BSC for the 2018/19 Bundesliga season. On August 25, 2018, he came on for Vedad Ibisevic in the 88th minute of the 1-0 win over 1 and he played his first competitive game for Hertha BSC. FC Nürnberg. In the 2-0 away win against FC Schalke 04 on matchday 2, he was in the starting line-up for the first time. He scored his first Bundesliga goal in the 1-0 win over Eintracht Frankfurt on December 8, 2018.
His loan contract in Berlin was extended for another year for the 2019/20 season. Grujić was a regular in the central midfield under three different head coaches. He only missed a few games. Grujić will return to England following the Bundesliga season.
At Liverpool, he only made two appearances in the EFL Cup, which is why he was loaned to FC Porto at the beginning of October 2020 shortly before the end of the transfer period until the end of the 2020/21 season.
Let's have a look also at Awoniyi's career so far.
Taiwo Michael Awoniyi was born on August 12, 1997, in Ilorinis. He is a Nigerian football player. The striker is under contract with Liverpool FC.
Awoniyi started playing football in school. He was later accepted into the Kwara Football Academy. After that, he attended the Imperial Soccer Academy in Lagos.
On August 31, 2015, he was signed by Liverpool FC and loaned to FSV Frankfurt until the end of the 2015/16 season with the option of another season in the 2nd Bundesliga. Overall, Awoniyi came to the FSV on 13-second division appearances (one goal) as well as an appearance in the DFB Cup (no goal). Awoniyi moved to NEC Nijmegen on loan to the Dutch Eredivisie at the end of August 2016. The Belgian first division club Royal Excel Mouscron (2017/18 season), KAA Gent (July 2017 to January 2018), and again Royal Excel Mouscron for the second half of the 2018/19 season also loaned him.
In August 2019, the striker was loaned out to Bundesliga club 1. FSV Mainz 05 for one season. Under Sandro Schwarz and his successor Achim Beierlorzer, Awoniyi was a supplementary player and made 12 Bundesliga appearances (5 times from the start) in which he scored a goal. During his last appearance on matchday 31, he suffered a severe concussion and was out until the end of the season. After his loan expired, Awoniyi was initially under contract with Liverpool again from July 1, 2020, but, as before, does not have a work permit.
In September 2020 he was loaned to the Bundesliga again, this time to 1. FC Union Berlin.
He has not been used in any competitive game for his home club, Liverpool FC.
In the Nigerian U15 selection Awoniyi began his national team career. He later moved up to the U17 national team, for which he scored four goals in a total of eight games alone, seven games and four goals at the U-17 World Cup, which took place in the United Arab Emirates from October 17 to November 8, 2013, he finished with his team as the title winner.
In March 2015, Awoniyi won the African Cup of Nations with the U20 team and took part in the World Cup in New Zealand, where he scored two goals in four games. In December 2015 he won the African Championship with the Nigerian U23 national team.