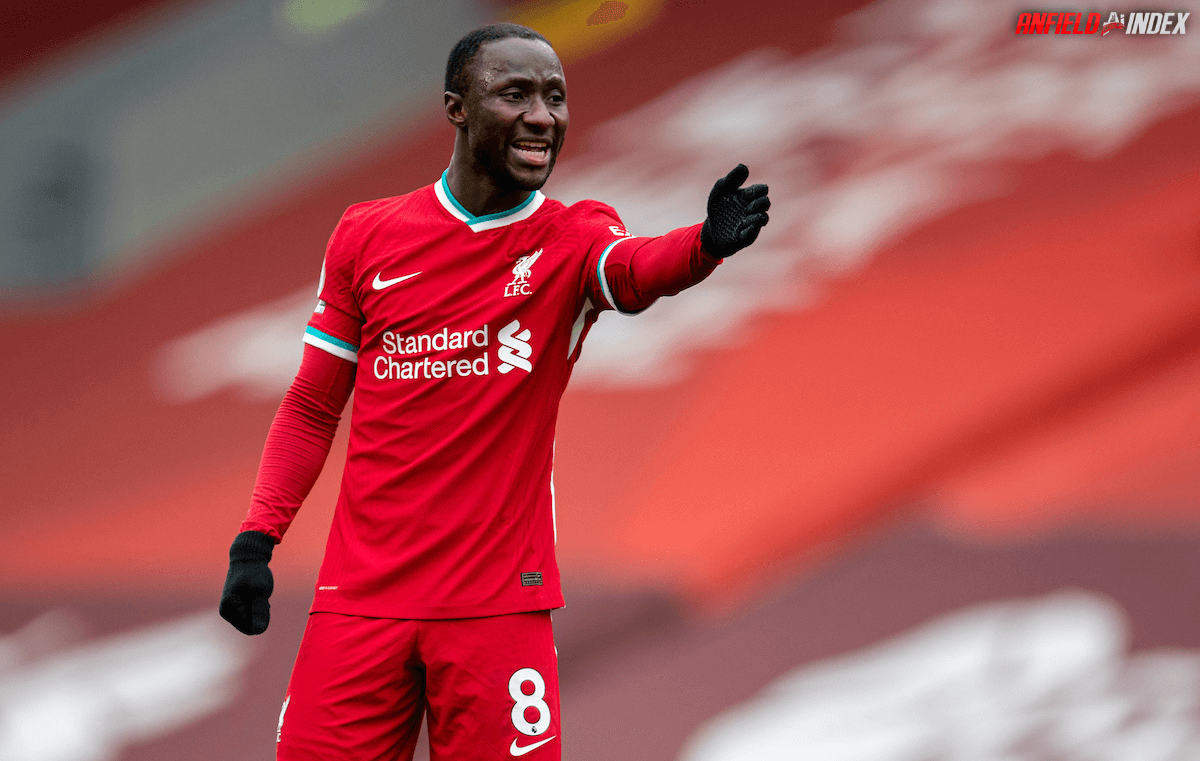 Huge chance for Naby Keita to prove his worth at Liverpool
It's fair to say Naby Keita's Liverpool career has been a disappointing one.
There have been sporadic good moments thrown in, whether it be eye-catching performances, silky dribbles or relentless presses, but he hasn't come close to reaching the heights expected of him.
When Keita sealed a move to Liverpool from RB Leipzig in 2017, the excitement was palpable, and those 12 months prior to him actually playing for the Reds seemed to make expectations even greater.

After a vibrant start, which included that outrageous turn, away to Crystal Palace, the 26-year-old has fallen off to a hugely frustrating extent, with injuries continually holding him back.
Keita has rarely been considered a key starter over a sustained period – he has only made 76 appearances in three years, which speaks volumes – and the likes of Fabinho, Jordan Henderson and Gini Wijnaldum have been far more effective midfield options.
Even Curtis Jones and James Milner were more dependable last season, which is something that would have seemed unthinkable back in 2018.
There is now a feeling that Keita has reached last chance saloon at Liverpool, mainly due to his injury record rather than his talent, with one more fitness-plagued season surely the final straw for Jurgen Klopp.
As it stands, however, Keita is fit again and enjoying a productive pre-season, performing well and showing no signs of another setback.
With the Reds' Premier League opener away to Norwich less than three weeks away, this could be the ideal time for him to grasp his opportunity, making a flying start to the campaign and never looking back.
Admittedly, these false dawns have happened before, only for another extended spell on the sidelines to happen, but we are allowed to dream!
The key reason for this opportunity arising for Keita is that he is more up-to-speed than some of his midfield colleagues this summer and Klopp has never been one to rush players back if they aren't ready.
Fabinho, Henderson and Thiago, Liverpool's best possible midfield unit moving forward, are still enjoying some time off, following their international excursions.
The fact that they haven't even started training again yet, with the new season so close, suggests Klopp could even be reluctant to start any of them in those opening weeks of the campaign, let alone just Norwich.
It could be argued that one may play, or cameo roles could come their way, but there is a clear risk of them being undercooked, both in terms of fitness and sharpness on the ball.
Keita, meanwhile, will be raring to go, as will also be the case with Jones and Milner.
The English pair may not be perfect – one is still learning his trade and the other is past his best at 35  – but don't be surprised to see them accompany Keita against Norwich.
Put simply, there couldn't be a better chance for Keita to grab the bull by the horns and show Liverpool supporters that he remains a top-class option.
There are some who may have grown too impatient and already given up on him, but many are still not willing to turn their backs just yet – his cult-like fanbase remains – such is the quality he possesses on and off the ball.
Keita is a hugely effective and subtle footballer when he can stay fit and play with belief, but the timid figure who is either constantly sidelined or producing forgettable displays must now become a thing of the past.
Much like Alex Oxlade-Chamberlain, there comes a point when an injury-prone player actually becomes a burden and selling them makes perfect sense.
It happened to Daniel Sturridge and Adam Lallana, and if things don't change drastically from this point on, it will happen to Keita as well.
For both Keita and anyone associated with Liverpool, it would be heartwarming to see him turn his Reds career around and become the player we all expected to see three years ago.
If he goes up a gear and the injuries are eradicated, he can become a big part of a midfield that will need an injection of younger legs sooner rather than later.