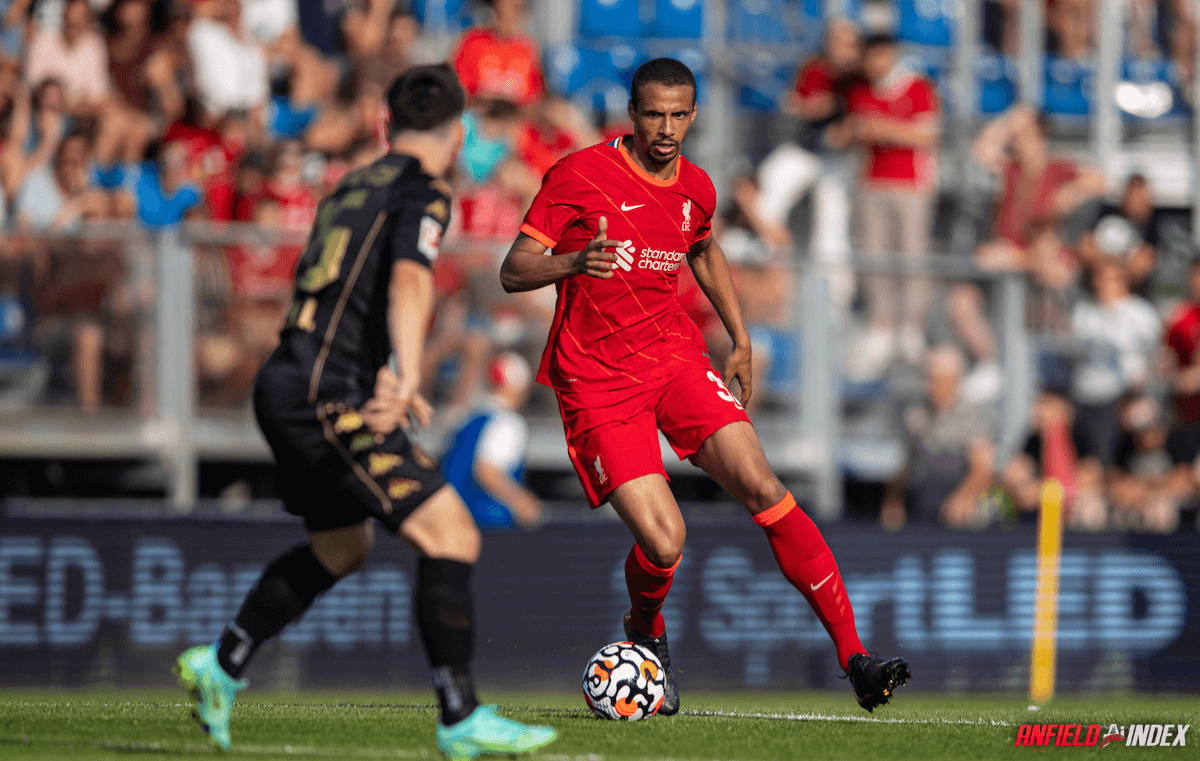 Joel Matip - Elite When Fit
Any players that are part of the unfortunate group, known as injury prone, approach most summers with their club status in question. With singular long term injuries taking players away for long spells, it can be accepted the inevitability of such injuries. When persistent injuries creep into players games, and GIF's of players wrapped in bubble wrap start emerging, that's when reliability becomes a real concern.
Players that are 'bullet proof' are vital to a sides tactical consistency and will often become a manager's firm favourite. These players are very rare, and even harder to find at an elite level. At Manchester United, Bruno Fernandes has a record that falls into such a category. His availability for both United & Sporting Lisbon is simply ridiculous. Players such as Frank Lampard, Luis Suarez & Gini Wijnaldum simply do not miss games, and the balance between talent and availability is one of great debate. At Liverpool, there are a few players that fall into this debated conundrum, with Alex Oxlade Chamberlain, Naby Keita & the softly spoken Joel Matip often perched on the reds' medical table.
When Joel Matip signed on a bosman free transfer from Shalke, it was a low key signing that added much needed depth to Klopp's squad. His first period beside Dejan Lovren was average & unspectacular, and he was seen as a fairly sound recruitment. The next period saw the club break their transfer record to sign Virgil van Dijk, and this is where Joel's ceiling in the game immediately rose.

Certain players are good, but often times drastically improved next to elite central defenders. With Stéphane Henchoz, we saw an average defender excel next to the brilliantly dominant Sami Hyypiä. Martin Škrtel looked the part next to Daniel Agger or Jamie Carragher, but looked painfully lost when not guided through games. Dejan Lovren is perhaps the greatest example of a player, so poor at times, it took the world class marshalling of Virgil to make him serviceable. His own self confidence was strange, but he at least looked the part when parented with the bog Dutchman.
Joel Matip is a central defender that ticks all sort of boxes, as a centre half. At 6,4 inches tall, he has both dominance and stature to maintain very good numbers for aerial duals. His calmness under pressure and ability not to be rash (like Lovren) makes him a close to elite performer, when fit. His game escalated next to Virgil, and there is now a real assurance and dependable nature to his game, with it without Van Dijk.
The modern games are fast paced and quick in succession. The need for two quality centre backs (in order to win leagues), is now not enough. To have two elite and 2 very good defenders to cover this position is now vital, if said leagues are to be won. At Manchester City, Rúben Dias, John Stones, Aymeric Laporte and Nathan Aké are the options at centre back for Pep. All are either elite & none are less than good. They have clearly learnt that depth and quality is needed since Vincent Kompany retired, and are well stocked for a long season. At Manchester United there is club captain Harry Maguire, impending arrival Raphaël Varane, Eric Bailly & Victor Lindelöf. It a very similar group, in terms of levels of quality, that allows decent coverage and depth. Last seasons top three teams all have the numbers to ensure coverage at centre half, with Chelsea also well stocked with versatile defenders.
The hope for Jurgen Klopp this season  is that his squad is not decimated by injury, as last year. Virgil Van Dijk needs reintroducing at a rate in line with his recovery, alongside his preferred partner, Joe Gomez. The importance of these two players, means no risks can be taken in building both back up to full fitness. Ibrahima Konate was brought in for £34 million this summer, and despite his massive frame & potential, he must be managed at his new club. He will need both guidance and reassurance on the pitch, and the opening weeks of this season could see Joel Matip offer that. Nat Phillips will likely be moved on, Ben Davies also. One may stay until late into the window as an insurance policy, but neither have a long term future as a red. Rhys Williams will float between the under 23's and a loan, with Fabinho again acting as the safety net, in the event of a second l wave of injuries.
With a little more rotation and management of players minutes, this group of centre backs can become the clubs most important group in the coming season. A fit Joel Matip is elite, and the hope is that he can stay fit and play those 30 games a season, his body can allow. Though Ozan Kabak looked a likely replacement, it appears the quality Klopp see's in Matip, outweighs the risk of injury. The logic is sound, Joel just needs to stay fit.
The opening fixture for Liverpool (this season) sees them travel to Carrow Road, to face newly promoted Norwich City. With Joe Gomez & Virgil Van Dijk still working their way back to fitness, we will probably see young Ibrahima Konate partner the senior Joel Matip. The competition for places is indeed fierce, and the quality level high. This make or break season (similar to Naby Keita), will hopefully see Joel Matip enjoy an injury free & successful season.