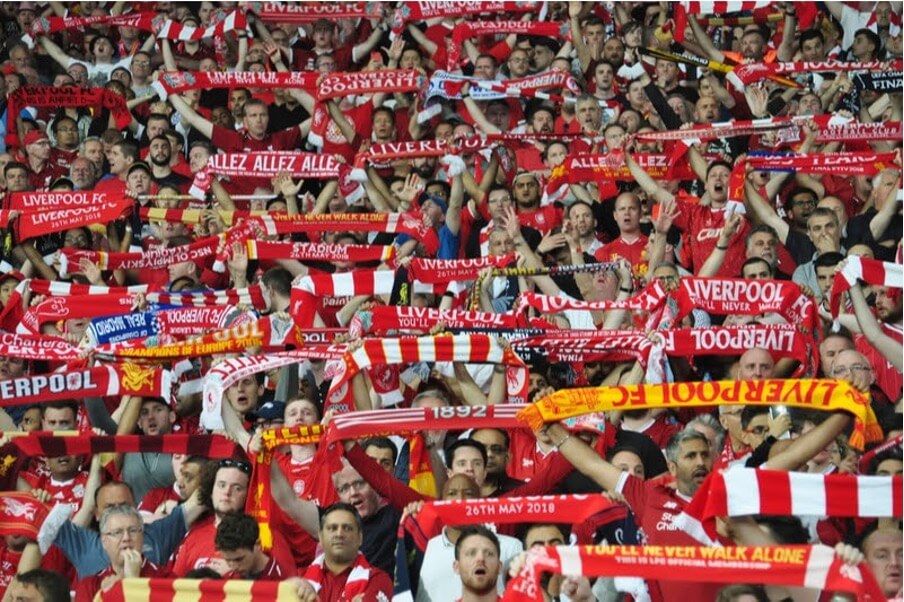 A guide to betting on Liverpool during the 2021/22 season
Betting on the Reds 
Liverpool had a difficult 2020/21 campaign, failing to win any silverware throughout the season.
Although the Reds rallied to finish in the top four, there were mitigating circumstances such as Virgil van Dijk's and Joe Gomez's long-term injuries, and manager Jurgen Klopp is clearly interested in modifying his tactical approach.
The Premier League is full of top teams but none are more historic than Liverpool F.C – known simply as Liverpool or The Reds. Liverpool have won 19 League titles: 7 FA Cups, 8 League Cups, 15 Community Shields, 3 UEFA Cups, 3 UEFA Super Cups, and 6 European Cups, so they are one of the most decorated teams in world football.
We take a look at Liverpool's betting odds and where you can place your bets this season.
How To Bet On Liverpool
Betting on Liverpool matches online is very simple. Click on any recommended online sportsbook and fill out the registration form to open a sports betting account.
After you've created your account, you'll need to deposit money so that you can bet on Liverpool online. Credit cards, bank transfers, bitcoin, and other e-wallets are just a few of the deposit options available.
Once you have enough available cash in your account, you may start betting on Liverpool. Go to the EPL part of the betting site, choose the odds for the bet you wish to place, fill out the Bet Slip with your wager amount, then click 'Place Bet' to secure your wager.
Other Ways To Bet
You can bet on Liverpool online in various ways, including betting on their matches or wagering on them to win significant events such as the Premier League or the UEFA Champions League.
For every match that Liverpool plays, online sportsbooks will provide a range of betting lines. Spread betting, money line betting, and totals are some of the most common bets on Liverpool games.
Money line betting is the most popular bet, especially when Liverpool are facing a solid opponent. You can bet on whether Liverpool will win, lose, or draw the match using money line betting, and the odds for each event are provided. Here's an example:
Liverpool +103
Arsenal +255
Draw +240
The Reds are the clear favourites in this match, but because a draw is a distinct possibility, a £100 bet on Liverpool to win still wins £103.
The total (over/under) line for this match is 2.5. Betting this way means you can bet on whether either team will score three or more (over) or two or fewer (under) goals in the game.
Liverpool competes in numerous contests during the season, and you can bet on them to win these tournaments/leagues at any moment during the campaign.
Betting on Liverpool to win the UEFA Champions League, the Barclays Premier League or the FA Cup are just a few examples of the competitions you can bet on.
Any sportsbook will have Liverpool odds for the Reds to win as long as they are in contention in any of these events.
Fantasy Football Betting
How to bet on Liverpool in Fantasy Football Leagues is a relatively straightforward process. In general, betting goes through pools. As a result, you enter a pool market with a fixed stake, and if you win, you receive a portion of the pot.
You can either earn a progressive payout of the total money pooled or the total winnings using this approach.
Playing this way can happen throughout a season or during each match week. Betting lines are commonly divided into the whole team, 11 betting and five-a-side betting, in which you select the top five players from two opposing teams.
So now we have a better idea of when and where we can play. Let's see what the bookmakers think about the forthcoming season.
Bookies back Liverpool to Fail
The bad news for Liverpool fans is that based on the betting odds, the club are expected to miss out on silverware once again this coming season. Obviously the betting odds are never conclusive, but bookies like Bet365 are offering 4/7 that Liverpool will end the 2021/22 season without winning any silverware – which would be seen as a failure.
Fans can back Liverpool to win a trophy next season at odds of 5/4 but it's going to be another difficult campaign as Liverpool will face challenges for the FA Cup, the Premier League and the Champions League with so many other top teams battling for silverware.
Can Liverpool end their FA Cup Drought?
It's been a long wait for Liverpool to win the FA Cup as they haven't won the competition since the 2005/6 season. Jurgen Klopp has focussed his efforts on the bigger prizes such as the Premier League and Champions League in recent years with squad players and youngsters given a chance in the domestic cups.
However, Liverpool fans will be expecting the club to pick up silverware next season and the FA Cup could be a great opportunity for the Reds to lift a trophy. Liverpool obviously have the players to go all the way in the FA Cup so it will be interesting to see how Klopp approaches the competition next season.