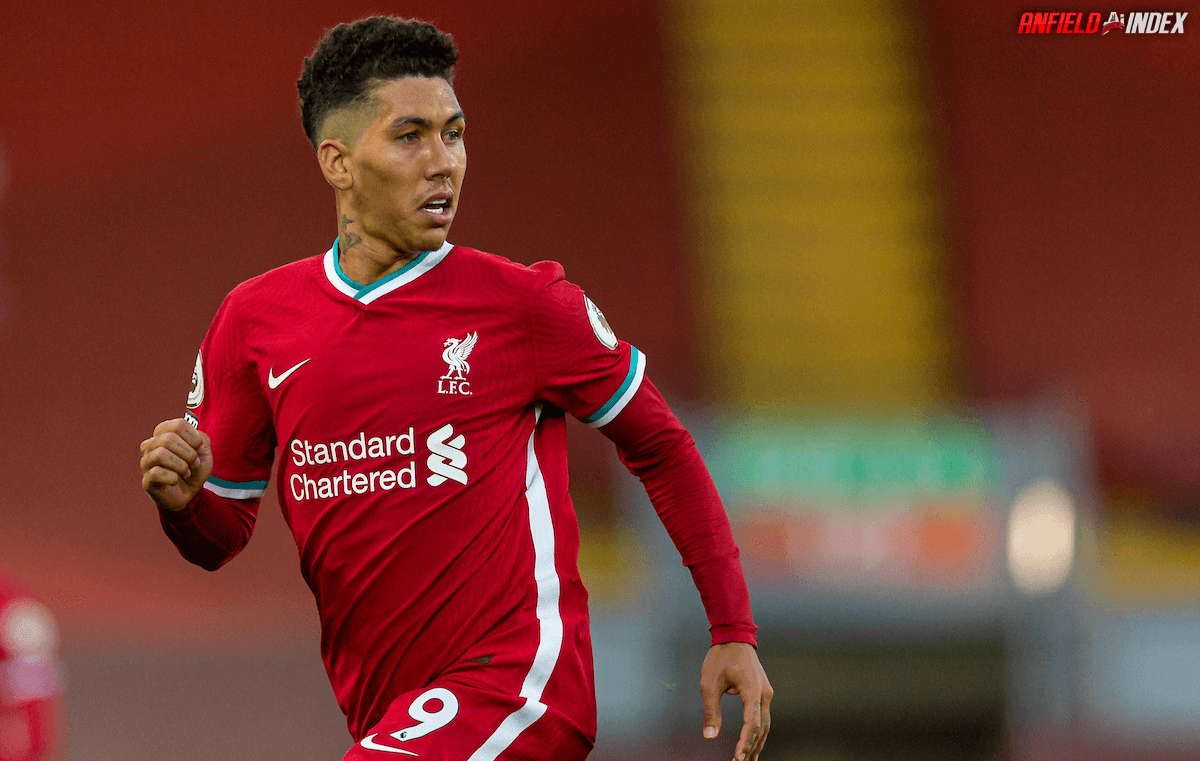 How should Liverpool line-up in attack this season?
Neil Jones got a lot of Liverpool fans talking recently when he wrote that 'next summer is already being talked up as a big one by sources close to the club'. I chose, based on past experience, not to read into that. Instead, it was another line in his piece that stood out to me.
"Wonderful as they are, this will be the fifth season that those three [Mohamed Salah, Roberto Firmino and Sadio Mane, of course] have made up Klopp's preferred forward line," he wrote.
That struck me as a hasty assumption.
Much as we love and appreciate Roberto Firmino, the evidence of his decline is pretty much irrefutable. From his magnificent 2017/18 peak of 44 goals/assists, he dropped to the mid-20s in consecutive years, and last season to just 16.
For so long we've bristled at stats-driven analyses of Liverpool's 'conductor' Firmino, snapping back at ignorant rival fans with the admittedly haughty declaration that 'if you don't rate him, you don't understand football'.
But in truth, your eyes will also tell you that he's becoming less and less effective at carrying out his unique role. He's still dropping deep to pick up the ball in those trademark areas, but with his increasing regularity the weight of his passes is ill-judged and the momentum and menace is sapped from an attack.
And the fact of the matter is goalscoring is part of his job too. The '9' tag isn't entirely 'false'. If, within the system, you're furnished with plentiful opportunities, it's important that you take them, even though you may be an effective facilitator as well.
This is why I'm unconvinced when Timo Werner's supporters stress the value of his movement. Yes, his intelligent runs create space. But at what point are you costing your team more than you give them?
When Liverpool missed out on Werner last summer, they turned to Diogo Jota to bolster their attacking options. The 24-year-old wound up playing 1,763 minutes in his debut season, having missed nearly three months with a foot injury. Firmino, meanwhile, racked up more than 3,300.
Jota still managed to score a total of 13 goals, four more than Firmino and only three behind an out-of-sorts Sadio Mane. Had he been fit the whole season – and this point is worth stressing – he could easily have been a 25-goal forward.
Jota was also clinical. He scored nine Premier League goals from an xG of 7.12. His wasteful Brazilian team-mate netted the same amount, but should have scored 13.
If you replace Firmino with Jota, then, it's clear what you gain – a significantly greater goal threat. But what might you lose?
Well, Firmino is a more creative presence. He averaged 0.2 expected assists per 90 minutes last season, considerably more than Jota's 0.14.
But maybe the most important question here is how much Salah and Mane suffer without their third amigo. It's a difficult one to answer because we only have a small sample of games where Jurgen Klopp elected to start them either side of Jota.
There were six matches to be exact – Wolves (A) and Southampton (H) in the Premier League, and Atalanta (A), Ajax (H), Leipzig ('H') and Real Madrid (A) in the Champions League. Liverpool won five of those games, scoring 12 goals.
Over the course of the season, Salah's average xG/90 was 0.6. Starting alongside Jota, it fell to 0.53. For Mane, it dropped from 0.45 to 0.37.
You might quickly put that down to the quality of the continental opposition, but let's not forget that Liverpool scored five in Bergamo and relentlessly carved out opportunities against Leipzig.
Correlation is not causation, but it's probably to safe to assume given the nature of Firmino's space-vacating role that Salah and Mane get fewer, or lower-quality, chances when Jota is drafted into the front three.
Importantly, though, that may be offset by Jota's superior goalscoring abilities. He looks to be on the kind of upward trajectory Liverpool envisioned, while Firmino's powers are waning.
Jurgen Klopp will inevitably lean on both combinations over the course of the season. But in my opinion, he should start the campaign with Salah, Jota, Mane as his first-choice trio, even though it's still something of a venture into the unknown. He can then revert to type if it proves to be less effective.
And then there's the possibility that he uses all four. Klopp stunned fans when he bravely set out his team in a 4-2-3-1 shape away to Manchester City last November. City struggled to cope in the opening exchanges and Salah fired the Reds in front from the penalty spot. But soon they wrested back control, and Klopp's side looked a little too exposed. The game finished 1-1.
After using the system twice in as many as weeks (it had first been trialled against Sheffield United) Klopp shied away from it for the remainder of the season. But with the structure of his side restored and more training time available between matches this term, will he renew that experiment?
Klopp used Jordan Henderson and Georginio Wijnaldum as his midfield two in the autumn but Fabinho and Thiago may be better-suited to those slots. As John O'Sullivan pointed out at the time, they excelled in this set-up at Monaco and Bayern respectively.
This video from Tifo Football explains how a 4-2-3-1 may also benefit Liverpool's pressing game:
While this is certainly a viable option, it's still highly likely that a 4-3-3 remains the predominant formation and that one of the four has to miss out.
While I recognise the telepathy and cohesion that exists among our established trio, I believe it would be careless to overlook both Firmino's decline and Jota's impressive form.
It's said to be unlikely that each of the front three are handed contract extensions beyond 2023, with Firmino understandably the 'most vulnerable'.
A succession plan will need to be devised. Long-term, is Jota seen as a centre-forward or the heir to Sadio Mane, five years his senior?
If it's the latter, then a decision looms. Do Liverpool want another Roberto Firmino – closer to an attacking midfielder than a striker – or is it the moment to pursue a more orthodox no. 9?