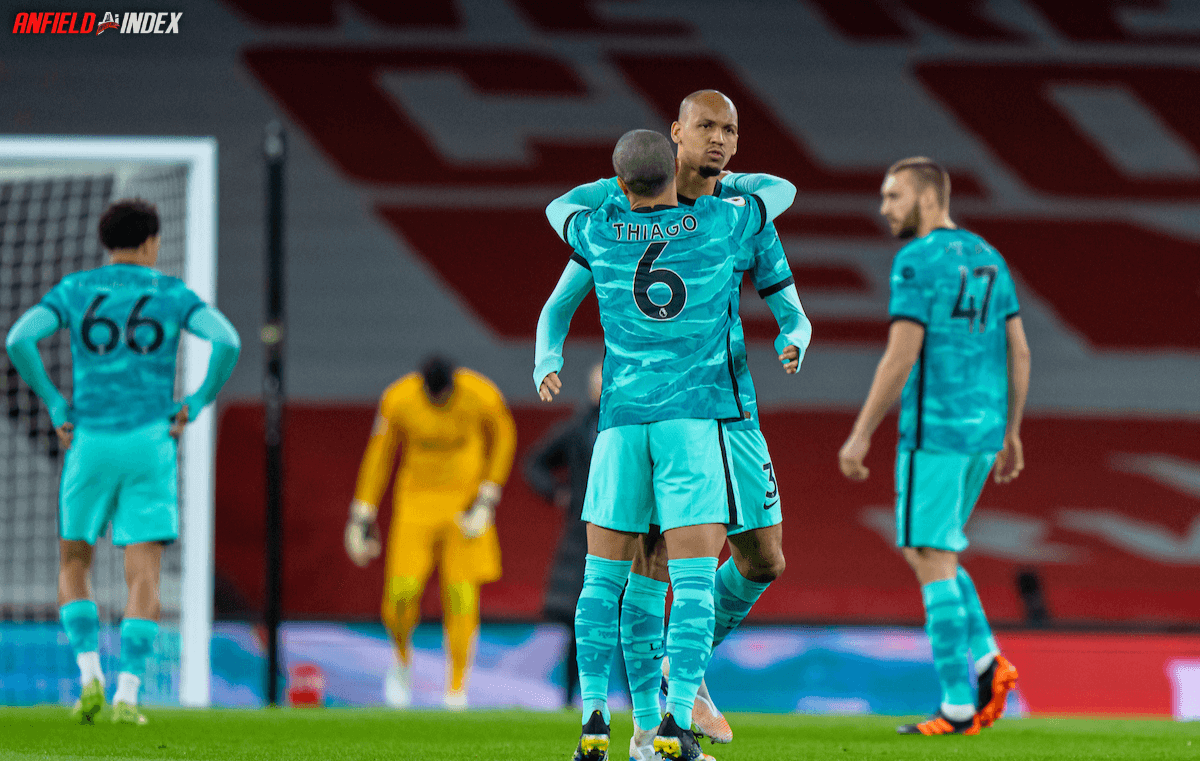 Fabinho - A World Class Extension
Extending contracts within a transfer window can be underwhelming for many fans. The need to see a marquee signing arrive can become obsessive, to the point of panic. The new shiny toy can be marvelled at, but we must never forget those who got Liverpool to where they are, and where they strive to be.
When world class teams achieve great things, the most important task is to ensure the squad is not torn down. In Liverpool's case, they have a season behind them riddled with injuries, but enter this year with a genuine world class array of players once more. Certain players and key individuals within the squad must be nailed down with new contracts, and nothing can distract from that. The importance of securing what you have also adds to any negotiation for new players.
As we entered the post season, there were a number of players about to enter the final two years of their Liverpool contracts. To ensure consistency and that such players are retained, the job of Michael Edwards is to ensure Klopp keeps his desired players for as long as is feasible. We saw Gini Wijnaldum walk away on a free transfer, with some rumour and myth as to why from each side. Ultimately, Gini wanted a big Pat rise, for four more years. Gini is a fantastic player, but he is a player that has such mileage on his legs that it could be anytime soon that we see a decline in his abilities. Energy, availability, brilliant system playing, ball retention and progression are key facets of his game. If a four year contract was handed down on terms taking him close to the top of the wage bill, it would represent a huge risk. Liverpool operate on a specific model, and like it or not, it's a model that works and delivers trophies. The English League title was regained as well as the Champions League in a period of brilliance under the FSG ownership, and in Michael Edwards there can only be admiration for his recruitment as Sporting Director.

We see with Arsenal and Manchester United, for instance, large and lucrative contracts have been handed out in a period after their legendary managers departed. These near parallel periods have seen both ups and down, and the lack of either no Sporting Director, or mere novices, is apparent in much of their dealings. Hard decisions must be made to ensure harmony within any dressing room, hunger within the squad and realism when all players begin contract negotiations. To see players such as Alexis Sánchez, Mesut Özil, Willian, Pierre-Emerick Aubameyang receive huge extensions in the latter prime of their careers is a huge risk. With most of this list, the economical risk has ended in disaster, often with players being paid to leave.
At Manchester United, the signings have been impressive this summer, but the likes of Phil Jones, Jesse Lingard, David de Gea and even Nemanja Matić still remain on huge deals that potentially limit Uniteds other needs this summer. Arsenal have players that will continue to do little for their vast wages, and this is why Gini could not secure the deal he wanted. A move to PSG was secured (on massive terms), something that in no way jeopardises their own budget. Jordan Henderson is perhaps finding that Liverpool will not simply re-up players on long terms, something James Milner found and accepted. In order to maintain a certain level within this Liverpool midfield, you require either box to box qualities, the brilliance of Thiago, or the sensational defensive holding traits of Fabinho. Each contract must be bespoke and all details must be considered, including whether a player is worth the big wages over an extended period. Squad members (not including perhaps Virgil Van Dijk or Mo Salah) will have to accept, especially when renegotiated deals are presented to players over 30 years of age.
It is Fabinho that has this week extended his contract until 2026. At 27 years of age he is considerably younger than all of Milner, Wijnaldum and Henderson, and sits comfortably within the world class bracket. Simply put, he is one of the best operators in his position, and at the peak of his career. To ensure his services until the age of 32 years old is a no brainer, at which point his own 'last deal' will probably mirror what Gini and Hendo have encountered these last few months. Trent Alexander Arnold has also signed until 2026, and with Virgil van Dijk, Alisson Becker, Sadio Mane, Naby Keita, Alex Oxlade Chamberlain and of course Mo Salah sitting on deals that have only two years to run, Edwards has a busy in house period ahead.
When Fabinho dropped into central defence last season (as an early requirement), it saw him rise to great levels within that position. He was able to marshal, lead and push Liverpool to an unlikely Christmas number 1. In doing so, Liverpool lost a their world class midfield enforcer, and once opposing teams figured out the midfield had more space and less snap in front of an ever changing back line, Liverpool became exposed. Once Liverpool found themselves sitting 7th and 8th with less than a dozen games to go, Klopp made a decision to install his holding midfielder back into that role, next to Thiago Alcantara and Gini Wijnaldum. The rest is history, as Liverpool's end of season run saw them dominate midfields, destroy the likes of Arsenal and Manchester United, and finish a remarkable 3rd in the league.
The signing of Fabinho (initially) was a surprise, and everyone very quickly forgot the just departed Emre Can. His ability to bully, press, win the ball back and offer a shield to Liverpool's defence mark him as the best holder in the league. This season will see him operate in a way that he finished last term, but with actual senior defenders behind him. When the defenders are of the first team quality required, this allows the line to push high and condense the space that Fabinho operates in. This limitation on space allows Fabinho to dominate areas and release the ball quickly to those progressive players around him. His ability to find a pass is very good, and though he respects the need to be reigned in, their are always moments where he himself can break the lines and contribute higher. When Gini was operating next to him, their own tactical awareness allowed a solidity and structure to enhance those further forward, and this is why the likes of Saúl Ñíguez (of Atletico Madrid) is being targeted to work alongside him and Thiago, given his varying attacking and defensive qualities.
Certain players must be renewed this summer, and this objective can be orchestrated with agents whilst the team continues training abroad. In the coming days we will hopefully see more key names signing new contracts, before the season begins. The dressing room can only stabilise further with such players committing to Klopp's cause.
Once the reds and Klopp return to Liverpool for the final stages of their pre season, that is when we should see new player(s) arrive. In the meantime, each new contract that secures a key asset should be applauded, as extraordinary players like Fabinho are essential, regardless of any new signings.