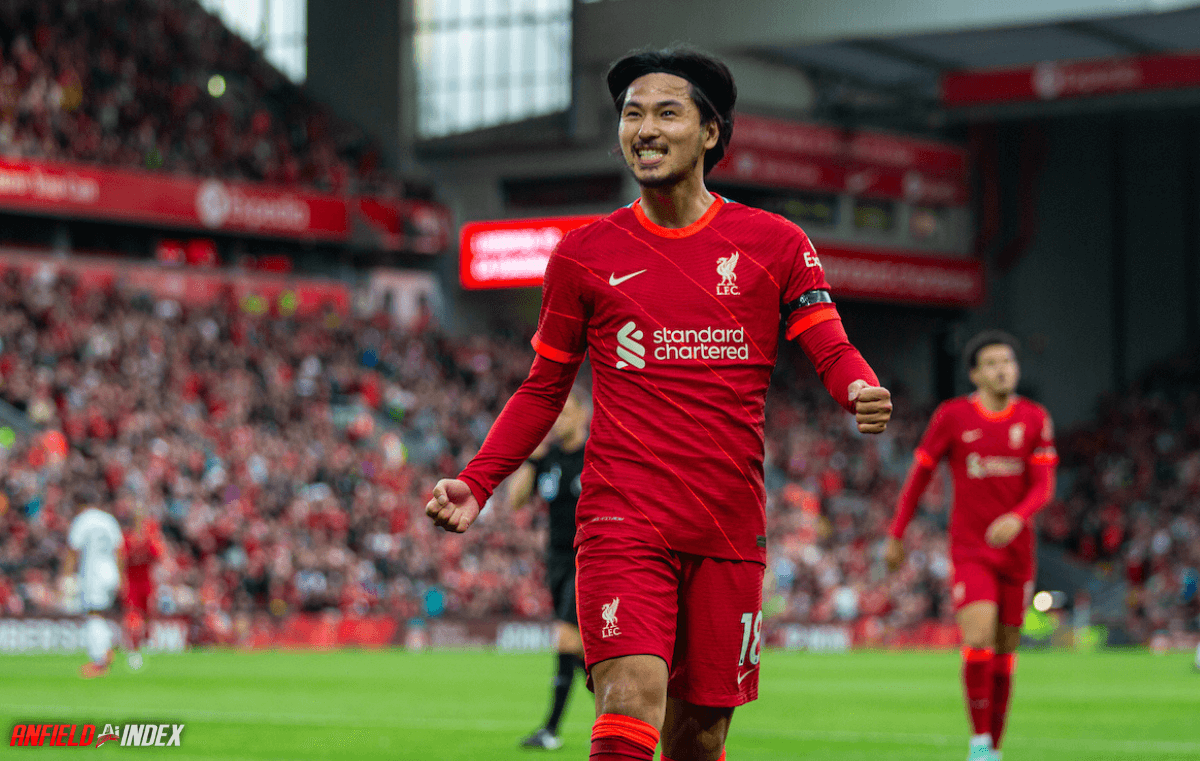 Takumi Minamino - Time To Make His Mark?
Each and every summer, there's a few squad members that will inevitably be linked with moves away. At Liverpool, and certainly under the management of Jurgen Klopp, this is no different. After a season of frustration, no fans and a last ditch run for Champions League qualification, there are the usual suspects that may or may not leave in the coming weeks.
After Klopp's Liverpool won the Champions League, there was a spell of inactivity in their transfer dealings. The squad was remarkably strong, and Klopp had clearly opted for unity above addition. When the following season's Champions League group games rolled around, the reds were pitted against Erling Haaland's RB Salzburg. The games played in that group stage were intriguing, with European royalty facing off against a well drilled pressing machine in Salzburg. It was within these games that a certain player outshone the now world rebound Haaland, with a slight Japanese forward, Takumi Minamino, standing out.
The first game between the two in October 2019 finished 4-3 to the reds, in an enthralling tie. The gegenpressing of both sides was in full effect across the pitch, and the tempo was entertainingly fierce. For Minamino to stand out so much (within the European atmosphere of Anfield), was not lost Liverpool's Michael Edwards and Jurgen Klopp. Rumour has it that certain Liverpool players pointed out Minamino's skill set specifically, in the aftermath of such a game. The transfer rumour mill rumbled, and out of almost nowhere, a release clause within Taki's contract was triggered. The the winter window of January 2020 saw the former RB Salzburg forward become a red.
After a little over a year and a half as a Liverpool player, Taki has registered 19 appearances and just one goal as a red. Last season saw a decision made to send Minamino on loan to Southampton, in order to restore both confidence and form, a year after his signing. The way in which Jurgen Klopp works often sees a core group of players used, with many others left waiting for their chance. For certain players, Minamino especially, the transition and step up from the Austrian Bundesliga to the English Premier appeared too big. A marvellous talent was unearthed, and signed for a moderate fee, yet still we wait to see the real player within.
At Southampton Minamino played ten games, with a return of two goals. His time there revolved around a 4-4-2 system, in which Taki was often deployed from a wing position, or off and around the main striker. His ability began to shine, and this period may be just what was needed in order to gain momentum and experience in the fast paced Premier League. When the season ended, the assumption was that Taki may make the move permanent, with Liverpool banking a common profit from an underused squad member. As with many players that Klopp has sent on loan, the level upon their return is usually such that breaking into the squad (let alone the team), is simply too much. Marko Grujić, Harry Wilson and Loris Karius have all experienced this, and by the end of the summer, all will surely be gone.
This summer though has seen two returning players, Takumi Minamino and the teenage prodigy, Harvey Elliott, enjoy a vibrant pre season upon their return. Though Elliott can be viewed differently as a long term prospect, the feeling is growing that Taki may be given another chance at first team football. As departures for Divock Origi and Xherdan Shaqiri appear imminent, there may be a chance for Taki to take advantage and ease his way close to the first team group, with forward signings not guaranteed.
Liverpool's front three of Mohamed Salah, Sadio Mane and Roberto Firmino are supported brilliantly by Diogo Jota, who could move into a regular starting spot this term. The need for options and variation in the squad, mean there must be at least two more forwards able to take on minutes as a red. Both Harvey Elliott and Alex Oxlade Chamberlain will float through both midfield and forward roles, but in Takumi Minamino, there is an intriguing possibility of resurgence. With a full and active pre season completed, Taki has looked a real player of value. His ability to trigger attacks, a deft touch and cute movement off defenders shoulders could be a key weapon if called upon. A player able to player across the front line, who understands the system and demands could well offer a sensible option when the squad list is submitted. Despite a low fee paid, Taki's value is still not high enough to warrant a must sell stance. Equally, his value to the team this season (and potential resale value), could surge if he impresses.
The notion of having to clear house every summer will never end, and the want for new shiny things will not change. As Liverpool enter the final few days before they travel to Norwich for their opening game, Klopp will be making choices that can see players stay, or be moved on. In the case of Japan international, Takumi Minamino, it may be prudent to keep him around and see how he develops. To at least hold onto him until the next window would offer no harm, as the lightly spoken forward is unlikely to start disrupting the squad of minutes aren't forthcoming. The upside of his stay could be far too much to risk selling, with a player of such skill and talent within the squad, his goal threat against low block teams could prove invaluable.
Last season saw every form of disruption to both football and life as we know it, and in the case of the relative new signing, Takumi Minamino, this may have been even more so. After a recent period of normality, now may be the time to really see the player that caught the attention of both Klopp and Edwards. This season offers much promise, and it could well be the platform Taki needs to finally make his Liverpool mark.