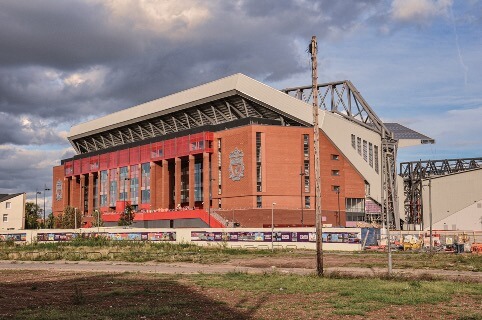 Liverpool Now The Favourites to Sign Renato Sanches

Liverpool may have had a quiet summer transfer period so far, but all of that could be set to change. This is because there are ongoing rumours that Renato Sanches could be on his way to Anfield.
The Portuguese midfielder is one of the hottest properties on the European transfer market, and Liverpool are currently the favourite to sign the 23-year old star. All of which could give Jurgen Klopp the boost he needs ahead of the forthcoming campaign.
Why Sanches is such hot property
Sanches was one of the stand-out players of the past Euro 2020 football tournament. While the Portuguese team may have looked mediocre, Sanches showed no shortage of pace, skill and determination. The midfielder was a key component of Lille's unlikely Ligue 1 triumph last season, and it was only a matter of time before he made the jump up from French league football.
Such is the hype surrounding Sanches that Lille have been quick to slap a £40 million price tag on the young star. While other European giants like Barcelona have been sniffing around, it looks like Liverpool are in pole position to get Sanches' signature. With the ongoing financial crisis surrounding the Catalan team, it's up to Klopp to convince the Liverpool board to splash out on the in-form midfield star.
All of this is in direct contrast to the nightmare spell that Sanches has during his time at Bayern Munich. This even included an infamous loan period at Swansea City where the midfielder completed one of the most bizarre passes in Premier League history.
But with Sanches looking to have regained his confidence at the right time, it could be the perfect opportunity for Liverpool to sign the star. While the signing might not get quite the same amount of attention as other major Premier League signings, it would go some way to appease the Anfield faithful.
How could Sanches fit in at Liverpool?
Much has been made of the fact that Klopp hasn't been granted too much in the way of money to spend this summer transfer period. It was hoped that Liverpool might be able to rejuvenate their squad after an injury-ravaged 2020/21 campaign. But as it stands, there have been relatively few new signings, and with many bookies at https://www.playersbest.com/ giving Liverpool relatively long odds to reclaim the Premier League title, it seems that there is still much work to be done.
The signing of Ibrahima Konate was a hugely necessary move given Liverpool's worries in centre defence last season. But it's also evident that more needs to be done to balance out the team in other areas of the pitch.
The arrival of Sanches would be a big boost for a Liverpool midfield that has started to look worryingly short of creativity. With a hugely talented player like Gini Wijnaldum being somehow shipped out to Paris Saint Germain, it's expected that the arrival of Sanches could be a good stop-gap.
However, with other recent signings like Thiago Alcantara yet to properly settle in at Anfield, it seems that Liverpool are still being cautious in how they throw their money around. Following the recent 1-1 friendly draw with Athletic Bilbao, Klopp said that he was happy with the squad, but that he would still be willing to look at the market.
As well as Sanches, the Reds are also considering signing the Belgian winger, Jeremy Doku. The 19-year old has been in inspired form for Rennes, and he could give Liverpool the attacking spark that was absent for much of last season.
All of which could make for an interesting few days before the summer transfer market closes on 31 August. Liverpool's first match takes place at Norwich City on Saturday and it'll be the first of many steps that the team needs to take to reclaim the Premier League title.