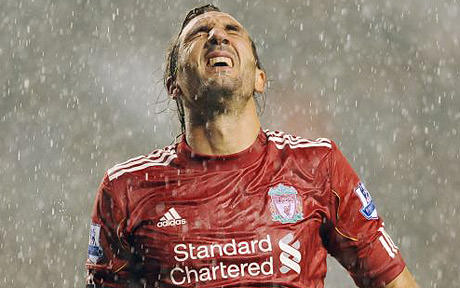 Sotirios Kyrgiakos: Season so far

Whenever I see Sotirios Kyrgiakos, I always think he should be in the film '300' screaming at the top of his voice 'This is Sparta!!' rather than being a footballer. So probably playing Centre Half is very suited to him. His strength and aerial ability has been a useful asset in recent years.
Looking into his statistics (where he has played more than 5 minutes this year) this year, there are not many trends but the one that I did spot is with his tackling. Liverpool always seemed to get a positive result whenever he hits a tackling percentage above 72% (with the exception of Stoke (A) where he had 80% and lost). Which does make sense really, because if the centre half is beaten a goal scoring opportunity is significant greater compare to a forward being beaten in a tackle. But every game where Soto has had this unfortunate statistic Liverpool have lost. Comparing that to the amount games that Soto has played to result, Liverpool have lost 7 out of 11 games under Hodgson. Before anyone comments to say I'm Hodgson-battering, the games he has played under Dalglish, Liverpool have both won and one of them (ironically the reverse Stoke fixture), Soto had 70% success rate.
Another statistic that caught my eye was his fouls conceded. If Soto has given away more than 20% of the fouls in a game, Liverpool got a positive result (again apart from one result, Aston Villa (H) but Villa were very weak and force wasn't needed!!). A lot of these fouls, also seem to be in dangerous areas, i.e. just out the 18 yard box for a crossing opportunity. This raises some other questions which statistics can't look into. For example, did Hodgson manage to improve our defensive ability in the air from set pieces, so conceding a free kick in this area meant we could deal with it easier? Or did it mean he was told to 'do a job' on opposition forwards A la Tommy Smith? But looking this up against the type of opponent with this trend, they are all physical players; Davies, Kalinic, Samba and Carew. Like for like as it were.
Also Sotirios Kyrgiakos's passing stats usually relate to a typical bruising Central Defender with the majority of them being either a short range back or sideways pass. The fact which ruins his perfect pass percentages is a long forward pass. From looking into the statistics, these are usually a long forward pass with minimal accuracy towards the later stages of the game, otherwise known colloquially as a 'hoof'. The only problem with is really we need a person like Soto to be on the end of them. With how Roy was playing at the start of the season, he always deployed to holding midfielders. One question arises from this. Why was Soto playing these long passes when he had two players, with better distribution characteristics in front of him who he could pass the ball to? Was it panic to score an equaliser? Was it ill discipline and not doing what Hodgson want him to do? Or conversely did Hodgson ask him to do it?
The final thing that you can see which adds positive to his play is his goal scoring ratio. At present (26/02/2011) it is 2 in 11 so 1 goal every 360 minutes. Which at present is better than a lot of our attack minded players such as Cole, N'Gog, Jovanovic etc. Again could this due to more 'direct' football we have played under Hogdson as all bar 2 attempts have been from a Set-Piece?
After reviewing the season of Sotirios Kyrgiakos, the conclusions I have come to is that he can be a little hit and miss. There are no specific trends with him, but you can definitely put him in the 'Old School Bruising Centre Half' category. My personal opinion is that he definitely would need to have an intelligent Centre Half with him. Someone to provide the organisation of the back line and sweep up the carnage that he has just created. But all in all, I think Skrtel, would do well to learn from Soto's physical prowess, especially aerially.