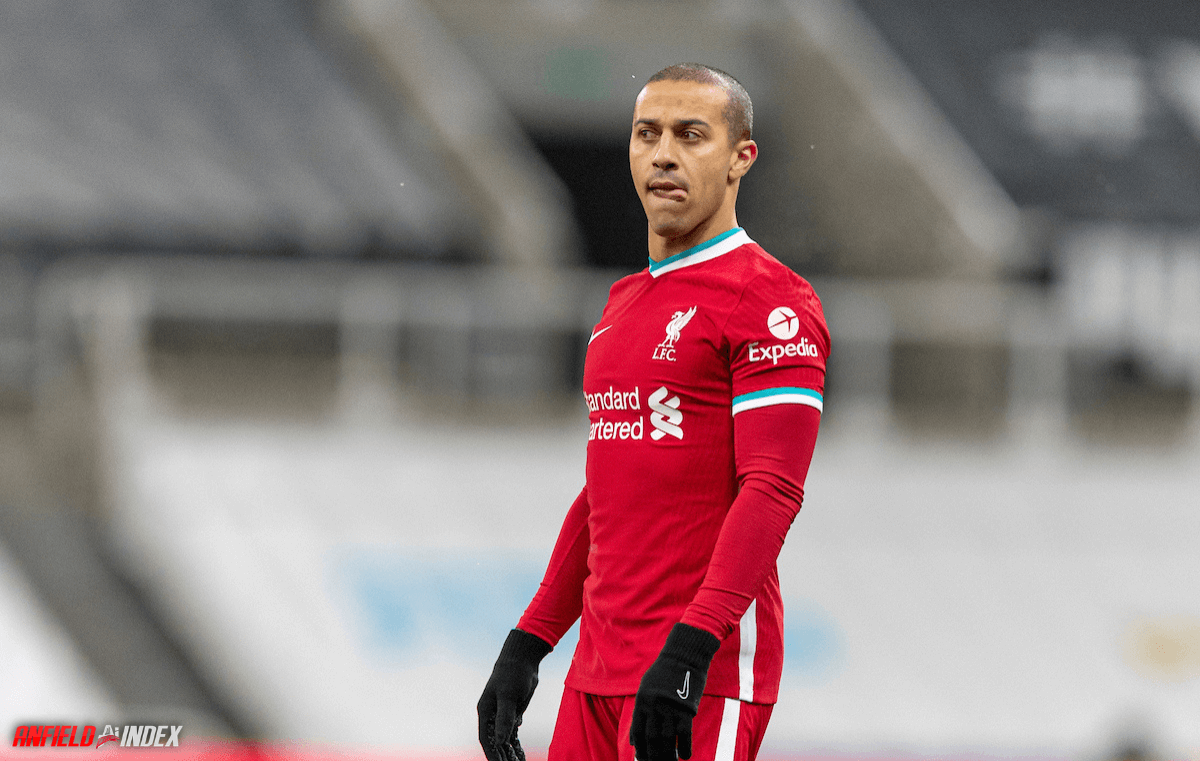 Thiago - It's a Kinda Magic

Football can be pure joy to the eye, with wonderful technicians (thanks Brendan) scattering the past and present of the game. I grew up watching the gliding destruction of John Barnes, mesmerised by his abilities. Later I would sit pitch side, enthralled by the elegance of Steve McManaman as chalk dusted his boots, and I now shuffle forward in my seat every time a certain Spaniard receives the ball.
When rock and roll football announced its arrival at Anfield, it saw many contests play out like basketball games, with high scores, ridiculous end to end battles and players getting injured left and right under the sheer weight of intensity. As Jurgen Klopp steadily grew his vision, a certain midfield was required to ensure the gegenpressing tactic was undertaken to its full. Powerful, durable and efficient pressing machines where needed to offer a much needed balance to how the reds would set up. The full backs would offer width, the forwards would offer delicacy and the midfield would push against the tide to ensure tactical balance remained.
In Liverpool's last title winning season, (and indeed the season prior to that), teams throughout the Premier League began to see Klopp's reds somewhat differently. Defensive blocks would become common, the reds would carry out their midfield pressing game in smaller areas, less often, and certain games would stagnate. Quite simply, Liverpool became elite, and teams did not want to go toe to toe for risk of humiliation, much the way we have seen teams line up against Manchester City. The midfielders function would still entail the simplicity of retrieving the second ball, and would simply look to pass this along to either progressive full back or the attacking front three. The dynamic of the team changed, and last summer Klopp and Michael Edwards choose to evolve the reds midfield so that the ball was not simply given to the before mentioned, it would be placed time and time again into an area of ingenuity.
The idea has yet to truly express itself in its true and desired form, yet the last ten or so games of last season gave a tantalising taste of what could be on view this season. The higher line can return as senior defenders take to the field once more, with Fabinho cutting out passing lanes or disabling anyone that dare enter his zone. The ball (now so frequently in the reds possession), can then be moved towards the opposition third with both confidence and precision. The fullbacks will be poised, the front three expectant, as Thiago Alcantara becomes the playmaker this side will need to overcome various obstacles  this season.
Having won everything there is to win, Thiago has yet to fully impact the Premier League, and the division may well be about to be put on notice. A injury plagued season saw the reds structure fall apart, and Thiago was hampered by both serious injury as well as Covid. This season represents a much needed reboot for many players, with some much welcome negativity (regarding the reds title chances) from pundits in their pre season predictions. Thiago can take games away from players, and his beautiful array of passing is accompanied by a lovely bit of snide and arrogance. There is no doubting his quality, but as with many players that have achieved so much abroad, there is often an ignorance to the talents of these type of players.
People will sometimes look at Thiago and comment upon his low assist and goal record, yet will not consider the finer and more apparent truth to his career. The attacking wide players that he has played with (at Bayern Munich especially), would have amassed a consistently high number of assists. On the end of these assists was often one of the greatest strikers to play the game, Poland's Robert Lewandowski. Where the numbers will show these particular of players have excelled (which they certainly did), it will not show the instigator time and time again. Analytical study is a new wave of identifying certain key points in players games, one that is finally finding its feet in this generations fan and pundit. Thiago is the orchestrator and conductor that allows all the numbers ahead of him to pile up, and dominates a match tempo like few others. Marco Verratti and Toni Kroos are viable current comparisons, and Thiago is sitting comfortably amongst that world class calibre of player.
One of the key facets to a true Jurgen Klopp player is in game intelligence, and in Liverpool's forward line there is an abundance of this trait. With Trent Alexander Arnold and Andy Robertson offering supreme wide options throughout games, it is very much a case of letting Thiago dictate a game with so many avenues at his disposal. Certain players such as Jordan Henderson and Alex Oxlade Chamberlain perhaps, operate best in a high intensity affair (instead of needing to make vital line braking passes), whereas Thiago can set both the intensity level and revel within it, with ball at feet. The early season elevation of teenage prodigy, Harvey Elliott, will point to Klopp's want for a deft touch, and genius pass deep within opposition territory. If this certain youngster were to be mentored and groomed to be Thiago's long term replacement, I'm frankly all in. Thiago can be the difference in tight affairs, and create opportunities others do not have the ability to even attempt. We need this type of player in order to punish those that wish to sit deep, and those that wish to compete at the top of the league.
The team is full of prime and world class talent, and Thiago is much like Virgil and Mo in being able to extract the maximum from those around him. His sensational vision and awareness creates split second opportunities that many others do not see, yet with further game time, we need to make sure the team is on Thiago's page, and support his genius.
This season has high expectations, and if the injuries crisis of last term can be avoided, then the ex Bayern Munich and Barcelona star could well dictate his way to both team and individual honours. The time for fans to return and watch their beloved reds has finally come, now comes the time for them to witness Thiago Alcantara, and his kinda magic.