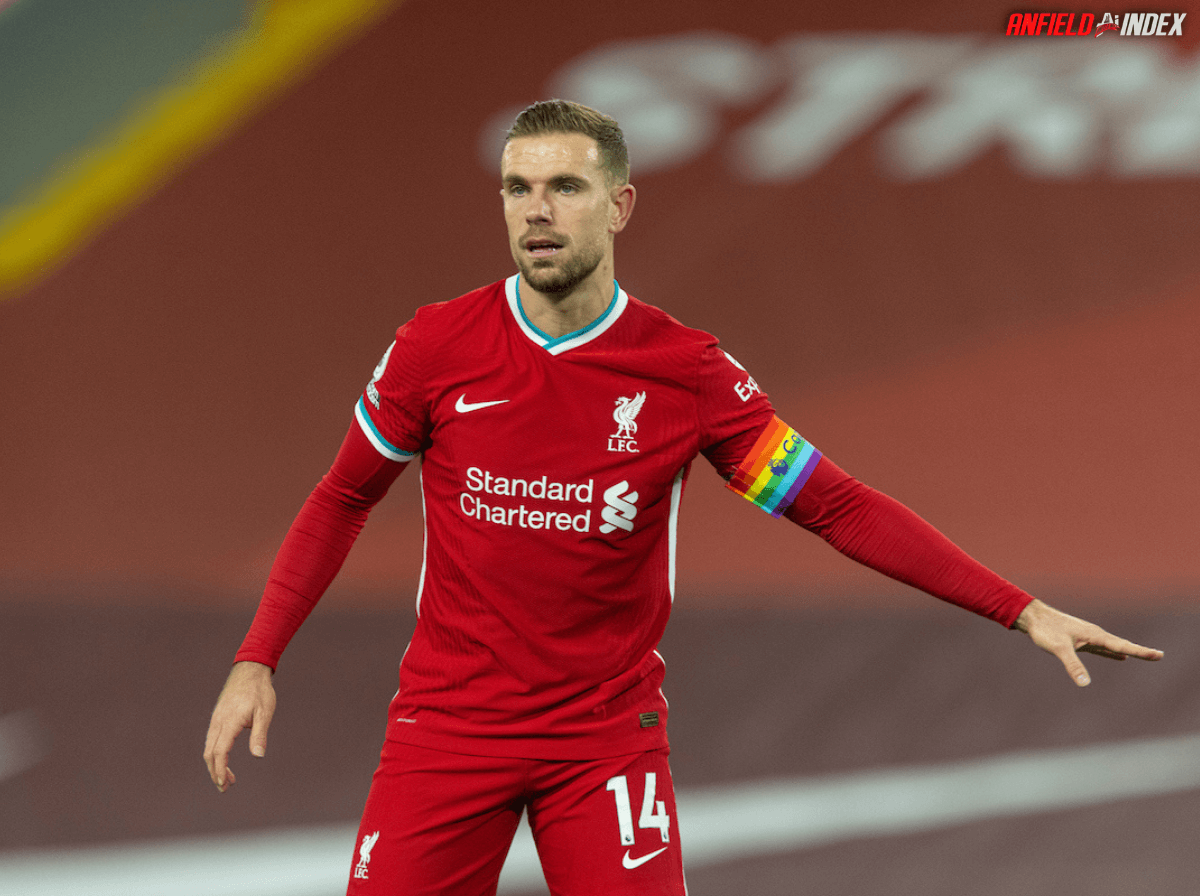 Jordan Henderson - The Final Contract
Every machine requires certain parts to work efficiently, some are the more intricate components, whereas some are simply the much needed pieces that help push the machine to where it needs to be.
Over the years Liverpool Football Club has had some truly magnificent midfielders that have held the captain's armband, helping to push their red machine to greatness within their own era. Graeme Souness, Ronnie Whelan & Steven Gerrard are just some of the iconic names that sit as departed Anfield skippers, and are etched in Liverpool folklore. The greatness that was achieved in each of these legends tenures could not have been attained without their services, such was their impact on the club.
When Jordan Henderson arrived from Sunderland, it was a fairly low key move that saw a big club sign a smaller clubs young English prospect. Kenny Dalglish was the manager at that point, having replaced the disastrous Roy Hodgson. This period was the early learning stage of FSG's Liverpool FC ownership, in that they were just starting to find their feet, yet still falling frequently as they looked to build a structure. The money spent in this specific window (a summer and period after Fernando Torres departed), was substantial in terms of net spend, and just one name remains from that Liverpool timeline, that of Jordan Henderson.

Having replaced Steven Gerrard as Liverpool captain, there was a lack of hope, structure and direction in the club, that was tumbling towards Everton's level of mediocre. Prior to the change, Jordan Henderson had been the workmanlike midfielder of the team that ran himself ragged, whilst Gerrard chose to dictate and use what little his legs had to offer. Whether or not Henderson was the right choice is irrelevant, he was chosen and has carried out his responsibilities on and off the field with admirable professionalism.
Henderson is a very likeable guy, well respected within the club and well thought of by the management team. His duties in the side have altered to suit the team, with wide roles, inside positions & now a recurring holding midfield slot part of his CV. Clubs that wish to prosper require these types of players, players that have elite football limitations, and have to use their versatility to make themselves invaluable. If, for instance, Henderson had demanded to be this or that, he would not have been able to carve out what must be considered an exceptional career. Where Emre Can has possibly lost out by leaving, Henderson has prospered in choosing to fight for his place within the squad. Even though Emre was the superior of the two, Henderson's career will most certainly indicate otherwise.
When Jordan Henderson received the player of the year award, it was the season that Liverpool ended their thirty year English League title drought. His importance to the team was certainly not to be dismissed, but he was far from the teams outstanding performer. The simple fact was that Liverpool were cruising to the the title, and Henderson was outperforming his pre conceived capabilities, whilst other world class players around him continued to be just that, world class. This is not to take anything away from Henderson, but after the recent grumblings from his camp (regarding his contract), the hope is that he hasn't started to believe his own hype. I wrote recently that all Klopp's players should cling to Mohamed Salah's coat tails, as he would help drive them to glory, and Henderson is a prime example of someone that should follow this advice. There are world class players in this squad that are irreplaceable, and unfortunately Henderson is not one of these. Despite this, his place in the squad remains an important one, therefore a new contract is most certainly sensible management.
When England named their preferred midfield duo of Declan Rice & Kalvin Phillips, there were those that believed Henderson should or shouldn't be in the side. If these two England starters were mentioned in the same scenario as Fabinho, Thiago Alcantara, Gini Wijnaldum or even a fit Naby Keita at Liverpool, the argument would be very short. In this lies the truth, that where Henderson is, and has been an important player for the reds, his injuries & lack of real impact in possession mean he is neither a match winner or dominator.
Certain players have impacts on the game that documentaries can be made of, given their influence on the game. Specific 'Steven Gerrard games' can be recalled at ease, European battles can be reminisced due to the dominance of Roy Keane, and Invincibility can be attached to Patrick Viera's name. Henderson needs to fully understand his limitations (especially after signing his final significant contract), and remain the impactful player this squad needs.
I hope Jordan Henderson remains the down to earth, workmanlike midfielder that has been able to attain great success. Henderson has a place in this squad as one of its leaders and senior pros, but must look to James Milner (who perhaps has the perfect understanding of his duties), and thus accept a new rotation role. In games where possession is so heavily in the reds favour, it simply does not suit the side to have Henderson dictating play, and therefore should act as a deputy for Fabinho & rotate for the other two central midfield slots. His ability to press and create havoc in games (if needed), is often invaluable & he should concentrate his strengths to where they lie best. The big games will come thick and fast this season, and a Fabinho / Thiago midfield pairing should be be complemented by an elite recruit this week, hopefully. To understate Henderson as a Liverpool player would be harsh, but to overstate it would simply not align with the brilliance this squad and manager deserve, as they chase more silverware. Naby Keita, Harvey Elliott, Alex Oxlade Chamberlain, Curtis Jones & James Milner good brilliant depth, but given Henderson's injury issues, a starter is still required  to replace the departed Gini Wijnaldum.
Henderson should ride this train and fill his trophy cabinet even further, in the knowledge that he can continue to have a beneficial career within an elite group. I hope the rumours of his demands were false, and he simply wanted a deal ironed out so that this season could take precedence. With a mew deal is signed (and if Liverpool were to add another midfielder), he should take on the challenge for places, and remain the system player that benefits Klopp's side. Not all players can by elite, but Henderson has the opportunity to remain within an elite environment, and he should appreciate this period where more success & trophy shuffles could be just around the corner.