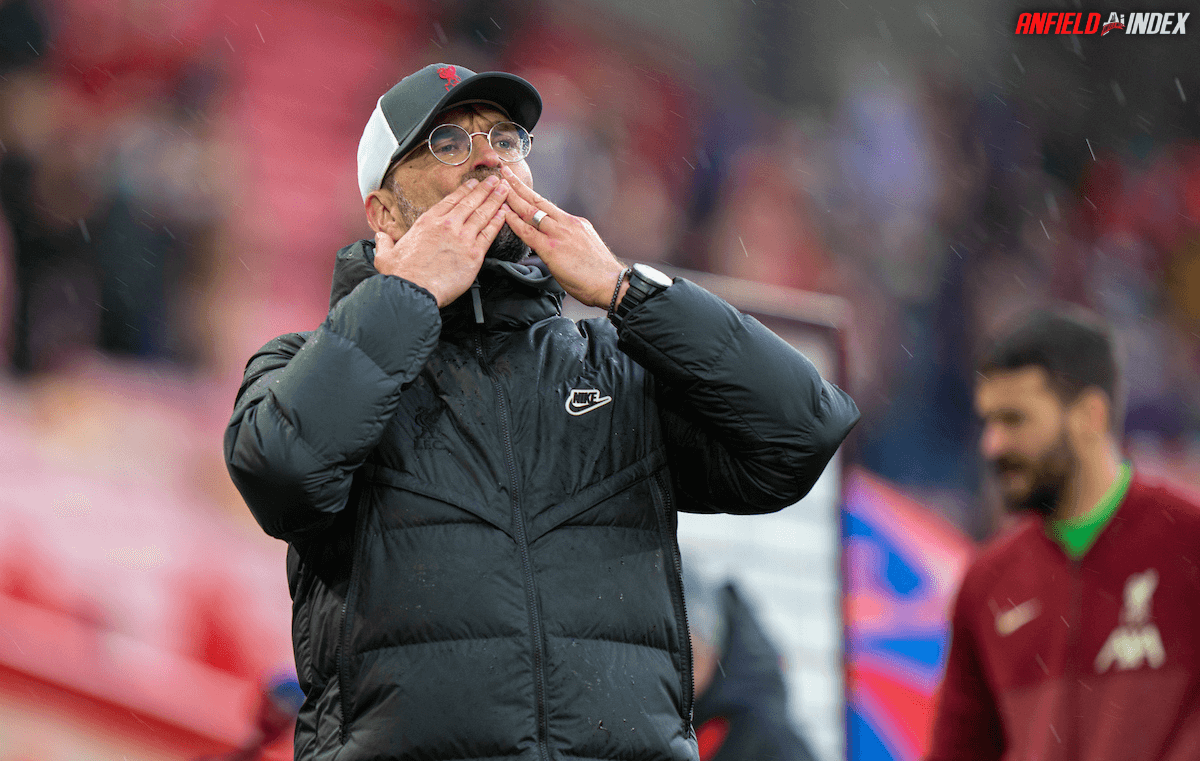 Who Replaces The Irreplaceable?
All good things come to an end, it's sad but true. There's always that outstanding TV show you binged, that particular period of time that you loved, or even the sport you played, that eventually had to come to an end. Time catches up with everything & everyone, especially in football.
When you look at Roy Hodgson and his tenure as Liverpool manager, it was a sad, depressing and underwhelming period that couldn't end quick enough, much like reality TV shows. Then you look at the other side of the anfield coin, and see the absolute opposite in Jürgen Klopp. Jürgen is a man that has enthralled, excited, embraced and delivered endless appreciation and joy since his arrival in 2015. If we were to compare this man to a beloved TV show (much like the reverse of Roy) it would have a similar low point at it's end. The final scene brings an unwanted end much like closing moments of The Sopranos, The Wire, Breaking Bad or even Deadwood. Everything that is brilliant has a shelf life, and it is now likely that we are beyond the halfway point in Klopp's Liverpool stay, and that is the sad truth.
The installation of any Director of Football or Sporting Director is now not just common, it is expected if genuine success is desired. Gone are the Harry Redknapp days, where the mere mention of help and assistance from the club offices was was both ignored and sneered upon. Managers have become coaches, and clubs can and should be able to plan their current and long term structure beyond the undetermined length of any managers stay. It is ignorant and almost negligent to place too much power within a managers hands, and the positions of power needs to be spread in order to manage a clubs substantial load. The club works efficiently due to various moving & vital parts, and the most exceptional clubs have a tiered and specific structure in place to maintain continued success, often planning years ahead of time. Any big business or corporation demands various levels of management and oversight, and in football this can be no different to remain elite. In Klopp, Liverpool have an intelligent & considerate man that understands (sometimes too much) the needs to run a club successfully, and now those around him must plan on how to replace him. We enjoyed the breathe of fresh air he brought with him, have celebrated in the victorious middle of this story, but must prepare for what looms in the not too distant future, the day that Jürgen Klopp leaves his Anfield post

In Michael Edwards, Liverpool have a brilliant young Sporting Director that has helped engineer & facilitate a spell of extraordinary achievements, especially given the reds' limited net spend. His ability in moving on players is to be admired, with huge incoming fees for squad outsiders, players that have often barely played for the club. This ability to balance the books and generate much required income has assisted Klopp and his team as much as any quickly taken corner, and one day his own replacement may well be a harder find.
The next few years will offer a new task for Michael Edwards, one to replace he that just might be irreplaceable, Jürgen Norbert Klopp. Edwards appears bereft of sentiment and will attack the task with logic and a desire to succeed. Certainly Klopp will be consulted, though hopefully not given the power that Sir Alex once was. The choice has to be a considered and carefully debated one, as it would be the most significant appointment since that of Klopp.
After a successful seven years at Mainz, Klopp was brought into the Borrusia Dortmund fold, with only moderate expectations. His job was to steady a rocky ship, and in essence, to stay up. After some Michael Zorc (Dortmund's Sporting Director) assisted genius, he was able to engineer the ultimate and unexpected achievement in winning two Bundesliga titles, to disrupt Bayern Munich's annual celebrations. His personality brought warmth from an amazing Dortmund stadium and fan base, with the black & yellow still synonymous with Klopp. The ball cap wearing bespectacled football coach was the darling of world football, and tears of sadness were shed upon his departure. He had helped to build a model that stands strong to this day, and leaves behind a legacy that is possibly unmatched in Dortmund's history. His eventual departure from Anfield will be an equally difficult period for the players, the staff, the support and will inevitably disrupt the clubs ability to overachieve.
When Klopp was appointed, it was the most vital piece in FSG's rebuild, that took time to get to, from where they first started. The man has been able to build an unmatched mentality and desire that saw the mentality monsters born from their success. In order to replace and continue the growth of the club, Michael Edwards and FSG will no doubt have started a tentative look at the possible candidates. The model and style of the club suits the roster of players perfectly, and with the final parts of the previous regime now all but gone, they will surely look for a similar style and coaching ethos to carry on after Klopp's departure.
Julian Nagelsmann has recently been appointed the Bayern Munich manager, and with Liverpool and the German giants hovering around similar levels, it could be that in three or fours years he will be drawn to that which once tempted Klopp. His passion for a attacking play, gegenpressing and chaotic styles may well be the recipe to ignite what could be a downhearted Liverpool squad. We saw in Klopp's final season in Dortmund that the team could not operate to their previous levels, given the knowledge of their managers impending departure, and a character such as Julian Nagelsmann may well offer the ideal replacement.
Marco Rose has ascended the Bundesliga ranks admirably, and currently sits within the Dortmund hot seat after leaving Borussia Mönchengladbach. His own past sits him as a follower and believer in Jürgen Klopp's method, as he was once one of Klopp players at Mainz. The next couple of seasons will act as a test for how far he can take a very talented Dortmund side, and how he can overcome the juggernaut that is Bayern. He, alongside Nagelsmann, would allow some form of continuity in both style, character and drive. Both will be noted on Edwards list of potential coaches, and Liverpool fans should keep a keen eye on their career paths in the coming seasons.
If FSG and Edwards felt compelled to bring in a bonafide world class manager and serial winner, the names of Antonio Conte & Diego Simeone would be at the top of that list. Both are brilliant tacticians and demand the utmost from their squads. Whether or not their personas would suit a long term vision for the club and their shrewd spending, would be for further discussion. In terms of current ability, only Klopp & Pep Guardiola sit above them in the worlds list of top managers, so must be chosen as possible replacements. Mauricio Pochettino is well worth a mention, but I think PSG can be a tricky place to judge how a coach is progressing. With so much money, so many egos and a low level of overall opposition in Ligue 1, it does not offer a fair insight into what is still a relatively untested manager. His talents shone at Tottenham, and if he were available, I imagine Edwards would want to ask the question as to how he could take Liverpool forward.
The most likely stylistic candidates have been covered, as well as those with the best qualifying CV's. To look outside the box at real long shots would be to introduce the name Steven Gerrard. In all likelihood, Stevie will level out as a good mid table manager within his homeland over the coming years. His managerial ability is now clear to see, but much like with Graham Sounness (when he stepped away from a dominant Rangers to the Liverpool job), it takes far more accomplishment in order to succeed at Anfield. Gerrard would need to step up and into a good solid role in order to make himself viable. If we were to single out one Premier League as a likely next destination, maybe Leicester would provide a good step to test his managerial talents. Brendan Rodgers always seems to be looking at the next step forward, and if another season of achievements is delivered, more desirable jobs could become a reality. Arsenal have had a lasting interest, and this could tempt Rodgers away from the Foxes if Arteta were to lose his job. It would be this level of club (Leicester), or possibly just below, that would need Gerrard to show growth, and deliver. He would need to imprint his plan over an extended spell and overachieve, as Klopp once did. To attach sentiment to his name and history, would see another Ole Gunnar Solskjær scenario unfold, and Edwards must avoid this at all costs. Gerrard is a name that will forever be attached to Liverpool as a playing great, but as a manager he has much still to prove.
The next wave of coaches could indeed produce a sublime and obvious choice, with tactical innovations popping up all over Europe. It would be a jump, but at least the reds sit once more as a job that coaches will surely be fighting for. For now we must be thankful for the big German and soak in the final years of his stay. There could also be the outside chance that he chooses to stay and see some of these young boys grow, and that would be nothing short of rock & roll. But the likelihood points to him leaving, and for that Michael Edwards has the biggest of all, replacing that which is irreplaceable.