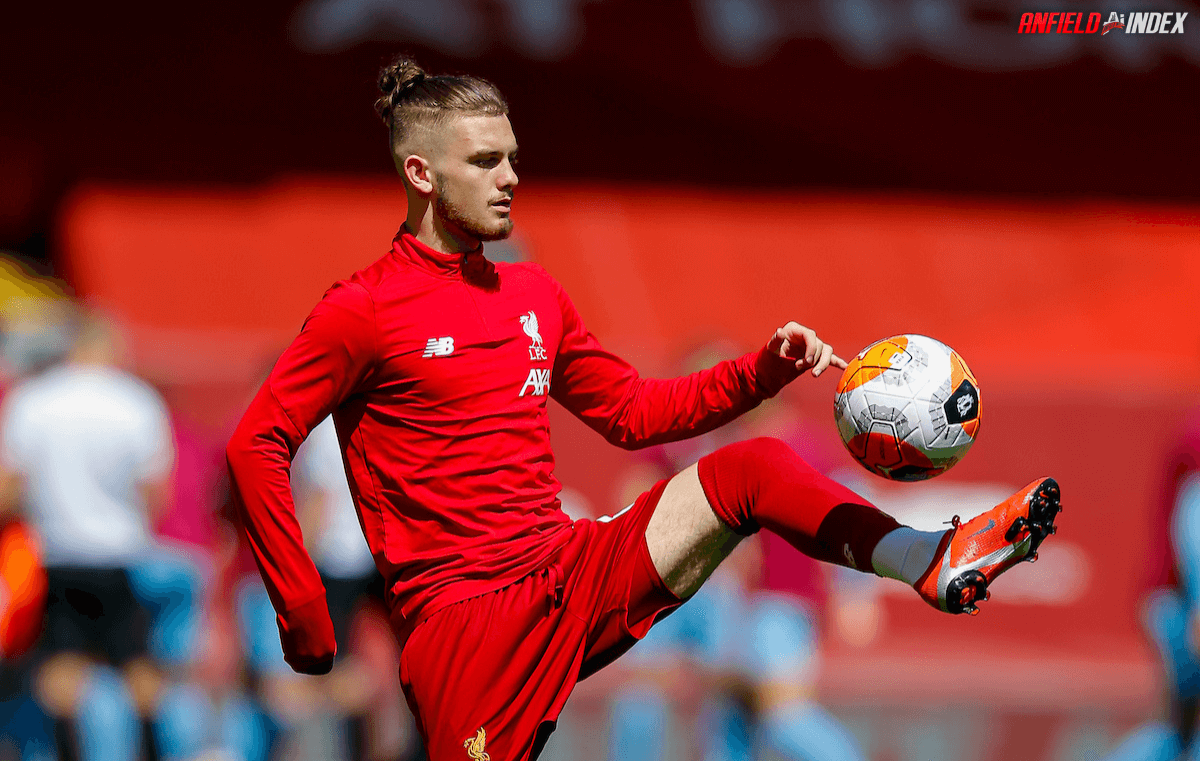 Harvey Elliott - Definitely, Maybe
The amount of young hopefuls to pass through the Liverpool factory is almost unlimited. Every fan will one day come across a name or a face as they watch some obscure early stage FA cup match, and see a senior pro still playing lower league football, that was was destined for the top.
I can recall certain players like Adam Morgan, Samed Yeşil, Martin Kelly, Jordan Rossiter and Dani Pacheco that I believed would break into the first team, and become international class players. All these players have gone on to have careers of varying, though lesser success, and all failed to make the grade at Liverpool, after such promising starts or beliefs.
Being a young player at an elite club and surrounded by elite players, is perhaps the most difficult obstacle to overcome in modern football. With the need for immediate and consistent success, it often offers too much uncertainty for a coach to propel a mere kid into the team. The intensity and level of games within this country are of a high demand, and it will take either exceptional circumstances or talent to push them through. The likes of Jadon Sancho, Romelu Lukaku, Luis Alberto and Paul Pogba have at some point in their career chosen to step away from an elite club at a young age, in order to fully establish themselves and complete their football education on the pitch. In the case of all, they have been able to rise from potential star to elite performers in each circumstance, but it was never assured.

The choice and guidance of any young player is a delicate balance, and we have seen this occur to the detriment of Bobby Duncan's 'career' especially, who was unwilling to wait. He has always appeared in too much of a hurry, choosing to ignore the guided steps that many others have chosen, maybe due to his family connections. If I was at all interested, I would add his current club and path thus far, but his destination hopping since leaving Liverpool lost my interest almost as quickly as his potential faded. Good advice needs to be taken from the appropriate persons, and at Liverpool there is a general feeling that the club is committed to youth development, and will strive to improve a young players circumstance, if possible. The need for profit is of course a strong factor, but most players will win out in the end, especially when Liverpool's and Jürgen Klopp's name are attached to the player. The correct loan club is often identified, or staggered training from the first team to under 23 group. This movement allows various persons within the club to see the young players form, attitude, style and ability, and this is how the direction of the academy is driven. Liverpool winning in some form (though a sale or youth player elevation) often sees the young player having a good career, and that can not be ignored. If you are not able to succeed from youth level to seniors at Anfield, the mere alliance with such an institution will most certainly see you land somewhere ambitious and in line with your career trajectory.
As we move quickly into an era of homegrown versus foreign status at big clubs, there seems to be a real battle to unearth the next star and recruit from other academies. We have seen the likes of Dominic Solanke, Raheem Sterling and Jordan Ibe sold for substantial fees after their sometimes brief elevation into the first team picture, and it's always a slightly sad affair to see a great young hope move on. Whenever I see Trent Alexander Arnold grace the field, I'm thankful how Liverpool have been able to assist in his development, as he does on the pitch. Curtis Jones is a player I want to see succeed, yet it may be that another young player (returning from loan) will push their way past him, and leave Jones requiring a loan move himself. Don't be a fool to the squad togetherness, as each player is often vying and fighting another for his place, and the gauntlet may have just been set.
When Liverpool made a move for the young Harvey Elliott some two years ago from Fulham, it was a move that sparked intrigue though the fan base. To nab such a talented left footed wizard, had some marking him as the new Messi. This absurdity aside saw him brought in and moulded into a player of real promise. A loan move to Blackburn seems to have worked wonders, and his skill set, durability and utter confidence on the pitch is a smirk raising sight to see. With Phil Foden elevating brilliantly through the gears at City, I think this comparison is far more fitting than that of Lionel Messi. His slight build seems to hold restrictions, but based upon what we are seeing, he could well be a vital cog in this sides inevitable evolution.
With the crowds returning to fill Anfield last week, it was a truly magnificent occasion, one that saw the 18 year old Harvey grace the field for his first Premier League start for Liverpool. His astonishing rise to first team starter has some injury related caveats, but I refuse to take anything away from his pick or performance. However he got to the pitch, whoever dropped out to let him in, it never looked like a makeshift decision. Unlike last season where relative novice players had to start games in defence, this felt different, and this felt like the beginning of a young mans Anfield journey. His talent appears boundless, and there is optimism as to how Klopp and his team build Elliott, as once they did with Trent.
Having been kicked about the park, Harvey never hid from the ball, and seemed like a mid twenties pro in the way he strode his new stomping ground. To be fearless is one thing, to remain calm is another, but to have both these traits alongside genuine ability, awareness, guile and swagger is a blessed sight. The assist that never was (Mo's disallowed goal), was the only annoyance of the day, and Harvey never seemed effected by either the brutes of Burnley, or the disappointment imposed by VAR. He simply played his game, and began his Liverpool life proper.
The coming few weeks will point to where Klopp actually sees his young star, and whether another loan could be on the horizon. Yet there is a feeling of wanting to keep and play him, to unleash him, whenever possible. With James Milner approaching the end, Gini running around a pitch in Paris and Jordan Henderson, Naby Keita and the Ox always a few games away from injury, keeping Harvey close by could suit both parties this season.
A new midfielder is needed this window, but given Liverpool's usual domination of ball, Harvey could play a key role in tight games. Where that final pass or movement is what is needed to overcome the deep blockers, Harvey possesses that deft touch and awareness that many of our midfield options lack. I can see a path for Harvey, and if he can continue his rise, both England and Liverpool will benefit hugely. City have Foden, United have Greenwood and now, possibly, Liverpool have young Harvey Elliott who is just itching to make his own mark on the Premier League.