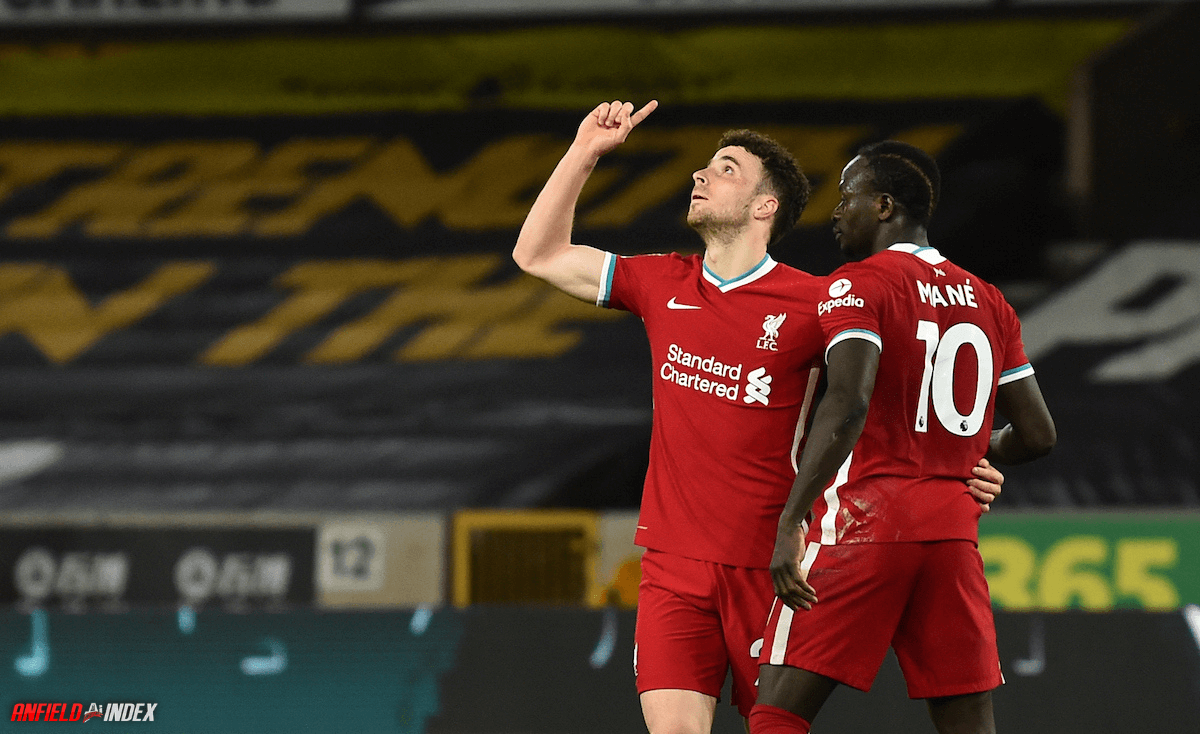 Diogo Jota: Liverpool's future No9
It's no secret that Liverpool would benefit from a reliable centre-forward. Roberto Firmino is good for double digits in the Premier League and he brings more to the team than just goals. But it is becoming increasingly difficult to overlook the fact a ruthless No9 would make a difference. 
Now, the dream signing for most would be Erling Haaland.
The 21-year-old has 42 goals in 45 Bundesliga appearances for Borussia Dortmund following his move from Red Bull Salzburg in January 2020. During his short stint in Austria, he scored 29 in 27 games across all competitions. 

He's netted 12 times in 10 Champions League matches for BVB and his record in Europe for Red Bull Salzburg was eight goals from six appearances. 
Haaland is the definition of a goal machine. It is why the richest clubs in world football are queuing up for his signature. It is also why Liverpool have already been priced out of a move for him. His release clause, believed to be in the region of £70million, would, at a push, be feasible for Liverpool. However, his salary demands dwarf anyone at the club and that is before taking into consideration the fact Mino Raiola, reportedly, wants £40million for brokering the deal. 
People wanted Patson Daka, but, as discussed previously, I wasn't sold on the idea of signing him straight from Salzburg. There was also a bit of a movement for Dusan Vlahovic, though Fiorentina seem to have priced him out of any move with their £60million price tag. The 21-year-old is a talent and has huge potential, but he's had just one real season in a top-five European league. For such a fee, the sample size needs to be larger to ensure you're getting someone with repeatable output, not a one-season wonder. 
There have been other names, almost on a weekly basis. 
The Reds might be content with their options, though. Especially considering how Diogo Jota has developed since his switch to Anfield. 
He arrived as a wide forward who, at times, had played as part of a two-man attack. The Portugal international was good with both feet and wasn't a volume monster. There was a lot to work with. The general consensus was that he'd eventually replace Sadio Mane on the left of the front three. 
It hasn't unfolded like that.  
Instead, Jota has been deployed as a No9 in place of Firmino. 
In terms of profile, the probably could be any more different. The Brazilian is a facilitator, dropping deep and linking with Salah and Mane. Jota, on the other hand, seems to rotate with Mane in-game but he's shown a ruthless streak in the opening two matches of the season. 
He's rarely as involved as Firmino, but he comes alive in the penalty area. 
Still not sure how we basically had a free run at Jota. The data guys at Liverpool must hang his shot maps on their walls. https://t.co/vN4YjGtYnL pic.twitter.com/0trVHEUgAV

— Sam McGuire (@SamMcGuire90) August 22, 2021
People seem to be oblivious to the fact he is, by definition, a penalty box poacher. The sort you usually pay top dollar for. Now, the sample size isn't the largest, just a little over 1,200 minutes in the Premier League, but the signs are all encouraging. There's nothing in his numbers to suggest he's running exceptionally hot. He's a volume shooter, averaging 3.5 shots per 90, and this explains why his expected goal average is around 0.6. 
Not only does he get into good areas, he does so on a regular basis. 
Liverpool aren't scrambling to sign a No9 because they already have one. If he continues to develop, he could be another Golden Boot winner.