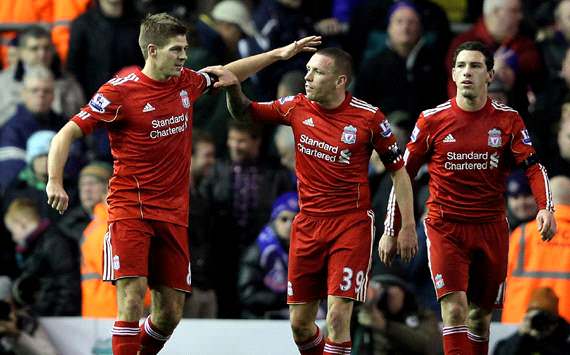 Liverpool FC Vs Oldham Athletic | Stats Analysis
So for the first time we're going to be covering an FA Cup match on AnfieldIndex.com. Also for the first time we're not going to be using Opta stats as we don't have access to any Opta stats for FA Cup matches. So in the desperation of trying to get some sort of stats for you I thought we'd use Peforma Sports' new iPad app!
We got our hands on this app via Performa Sports towards the end of last year but just haven't had a chance to use it so we thought we'd spend some time recording match stats and analysing the FA Cup game. It took us four hours to collate the stats and another hour or so on top to get the stats into a format that we could display on the site so that is why you're only receiving the stats this morning!

Please note that these stats have been collected by @AnfieldIndex and not any other statistical company or sports institution. We have manually collated these stats so there can be inaccuracies so if you do not agree with any please do take into account that the stat collation is a very long process and is also quite difficult in terms of understanding each statistical attribute and how you wish to define the stats. I'll touch more upon this later but I can appreciate how difficult it is for any companies out there, e.g. Opta, when these stats are being collated and how you must be trained to collect them.
So from my untrained eye let's first look at the Liverpool teams passing against Oldham Athletic.
[table id=1 /]
As you can see from the table above, there were quite a few impressive performers in the side yesterday. Liverpool started off very slowly and could have been a couple of goals down however they grew into the game once they had equalised and whilst collecting the stats we noticed something different about their play that you must have also noticed, especially this season.
We noticed that there were lots of short little passes and quick passes all of the time (it was quite annoying actually because I was collecting the stats and constantly stopping the action!!) but players like Shelvey & Spearing aren't spending too much time on the ball. Most of the time Shelvey tries to play it quick, which can explain why his pass accuracy is the lesser of Spearing's however it's key to taking advantage of a situation. Had many of the inaccurate passes reached their intended target Liverpool would have been in dangerous positions. Players like these, include Jordan Henderson in this too, are also playing quick one two's with each other usually just to make space and attract players. This wasn't done much under Hodgson but we've noticed that there are many more passes played by Liverpool this season.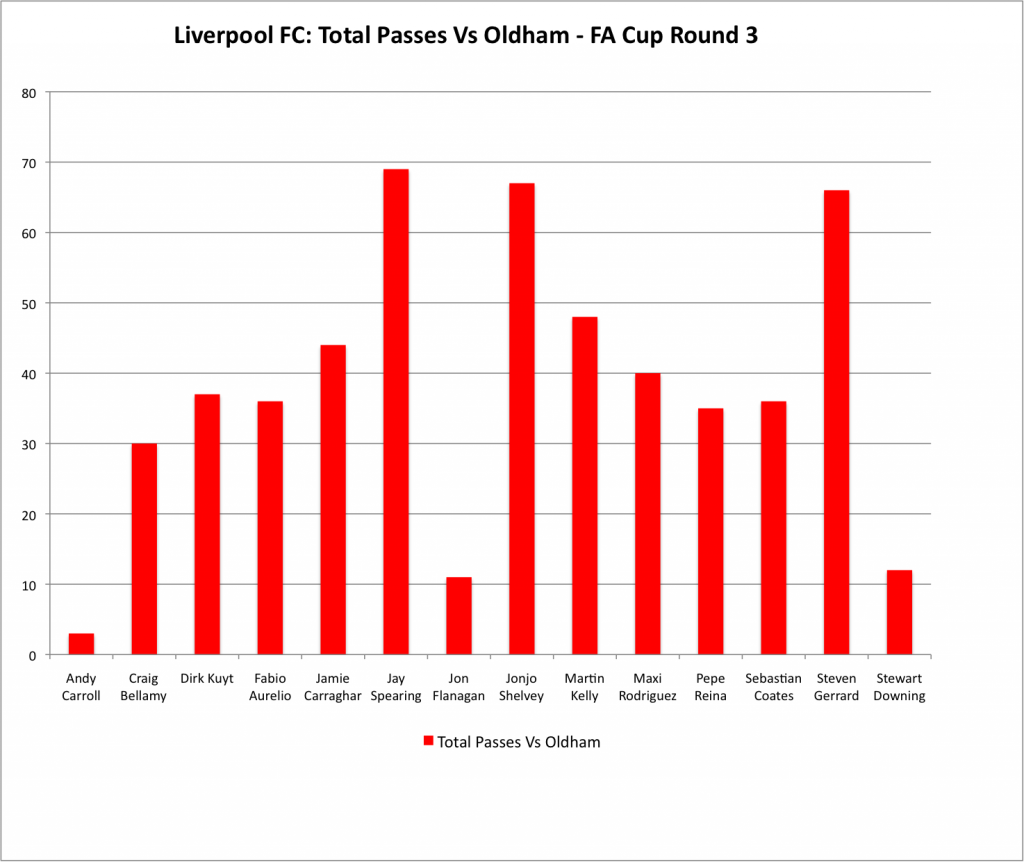 Last season Liverpool, on average, played 339 passes per Premier League game. This season they've upped it to an average of 391 passes per game. That's an increase of nearly 16% per game. The key is holding onto the ball and the amount of these short passes they do to try and create time and space and get themselves out of tricky situations. Keep an eye on it but the following players are doing this a lot: Henderson, Shelvey, Spearing, Maxi, Downing, Enrique & Bellamy.
Henderson, a whipping boy for the boo boys every time we seem to lose, has grown on us this season and it was unfortunate that we didn't get to collate any stats on him yesterday but he's one player that has helped the passing game for Liverpool FC this season.
Anyway let's get back to the passing stats above, which you can sort yourselves by clicking on the passing columns to see which player was top passer etc yourself. As you can see Jay Spearing was top passer for the game with Jonjo Shelvey and Steven Gerrard very close by. Spearing is always likely to have a higher pass completion as he keeps his passes short and simple whilst Jonjo and Gerrard will try to drive the game forward and play a Hollywood pass or two. Martin Kelly surprised us by keeping the ball very well and actually becoming the most accurate passer for the game with a 95.83% pass accuracy. That was impressive from the lad as his accuracy in the Premier League this season has been 76% so definitely an increase. I guess we should also look at the opposition that we were playing against and that our players should be doing much better than they perform in the league. Craig Bellamy was another that did very well in the Open Play passes misplacing only two (same as Martin Kelly).
Another aspect of Liverpool's play that we noticed was that Pepe Reina was kicking directly much less from goal kicks. We counted that he attempted 35 passes in the game which was more than Bellamy in the end. The goal kicks were played short quite a lot and allowed Liverpool to keep possession and build from the back. All of Jamie Carragher's misplaced passes were hoofs up the pitch and Seb Coates was caught a few times playing a silly ball but on average kept the ball as well as the others in the side.
Maxi was trying to play a lot of through balls yesterday and the majority of his 6 misplaced passes were attempts at trying to get Bellamy or Kuyt in behind the back line. It was a quiet night from the Argentinian and even though he racked up forty passes in the end we thought he was on the periphery of the game and apart from his one shot on goal he was only really involved in build up play, keeping the ball and playing it backwards. However we still maintain that Liverpool will win more often in games that Maxi Rodriguez plays just because he has a knack of being in the right place at the right time.
Dirk Kuyt had a stinker of a game for Liverpool and as you can see his passing was the lowest of the game with an accuracy of 67.57%. Next was Fabio Aurelio with 72.22% and again Fabio was trying to play some long passes which weren't really finding their intended targets but he was strong at the back as usual which will lead us into our tackling section.
[table id=2 /]
A won tackle occurred for us when the opposition player was in complete control of the ball but was then dispossessed, or tackled, by a Liverpool player. We thought it was important to make that clear before we went on any further.
Both Liverpool fullbacks topped here with Fabio Aurelio and Martin Kelly both achieving three tackles each. As you can see the majority of the players got 100% here because it was quite difficult to judge a lost tackle. As usual Craig Bellamy was fighting from the front for Liverpool FC and he won both of his attempted tackles!
Liverpool players weren't really skinned apart from the centre backs and I believe it was Kuqi that did this in the first half when he went past both defenders a few times. Apart from that Oldham really only threatened from set pieces or long balls. There was only one time that we can remember in the second half in which a low cross was played from Oldham's right and they really should have got their attempt on target.
The majority of the side did well in this area however as mentioned earlier it was difficult to collate the stats on tackles lost whilst it was much easier to collate a won tackle. Something that we should keep an eye on if we ever do this mammoth task in the future! Maxi, Coates & Carragher were the worst offenders in this statistical area however the rest of the side seemed to do well.
[table id=3 /]
The table above will show you the duels that we've collated for the game yesterday. There was a lot of confusing yesterday with these stats whilst collating them. It is quite difficult to differentiate a tackle with a duel sometimes however we ensured that we counted duels as those that were contested challenges when neither side was "in control" of the ball. Therefore a bad touch or a ball played into space which two players contested was put down as a duel. We also collated the stats collectively for Aerial and Ground duels. We didn't have time to separate these out so we had to collate them as a collective statistic.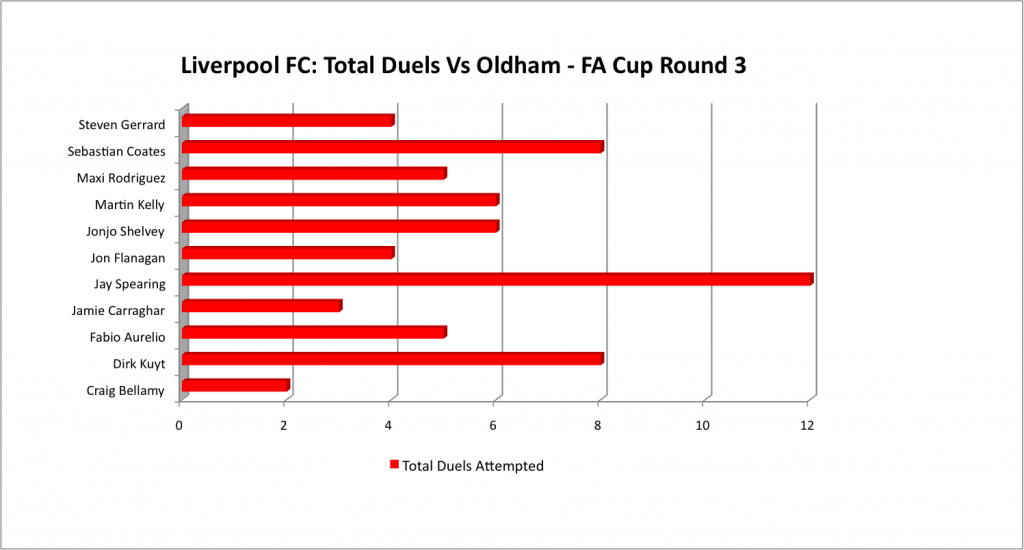 Jay Spearing was once again the player with the most attempted duels however his Duel Win percentage was 58.33%. This is respectable as we believe as long as you're winning more than you're losing you're doing well. Remember these are 50-50 challenges so achieving a percentage of 50% will be par.
Jon Flanagan was impressive when he came with a few crunching 50-50 duels. He won all four of his when he came on, including an aerial duel in there! Jamie Carragher also won 100% of his duels (3). The lowest percentage for winning duels was for Martin Kelly on 33.33% (6 duels) and for Dirk Kuyt on 37.50% (8 duels).
[table id=4 /]
Far and away the most active player for us was Craig Bellamy. He attempted five shots, got two on target and converted one. Andy Carroll had two attempts in around 6 or 7 minutes of action and he really should have had two goals. Stewart Downing set him up with an absolute sitter with a free header in front of goal. We only hope Andy can continue to get into these excellent positions as we believe he'll start to put some of these chances away at some point!
What was impressive yesterday was Martin Kelly's attempts to get forward and shoot. He had one attempt off target when cutting in and he also had his header brilliantly saved by the Oldham keeper off of a corner. We were impressed by Martin yesterday, he's going to be an asset to Liverpool FC in the near future.
Stevie was quiet yesterday with only two shots. One of them being the penalty so we'd expect a little more from Stevie. However he was playing quite deep yesterday and not charging forward as he did against Newcastle in the twenty minutes he got last Friday.
Maxi was also quiet with only one shot in the game but he managed to get it on target. Downing scored with his only shot and Dirk was ineffective again putting both of his attempts wide.
Note: We have not included blocked shots in the statistics.
[table id=5 /]
Craig Bellamy was again the most creative for Liverpool FC, in which he created five chances and got one assist. His dead ball and crossing ability was superb, which continues his form this season. He has been an absolute star for Liverpool and we just wish he could play every minute of every game. Unfortunately his knees only allow him to play one game per week which means he may be a doubt for the game against Manchester City in the Carling Cup semi-final in the mid-week.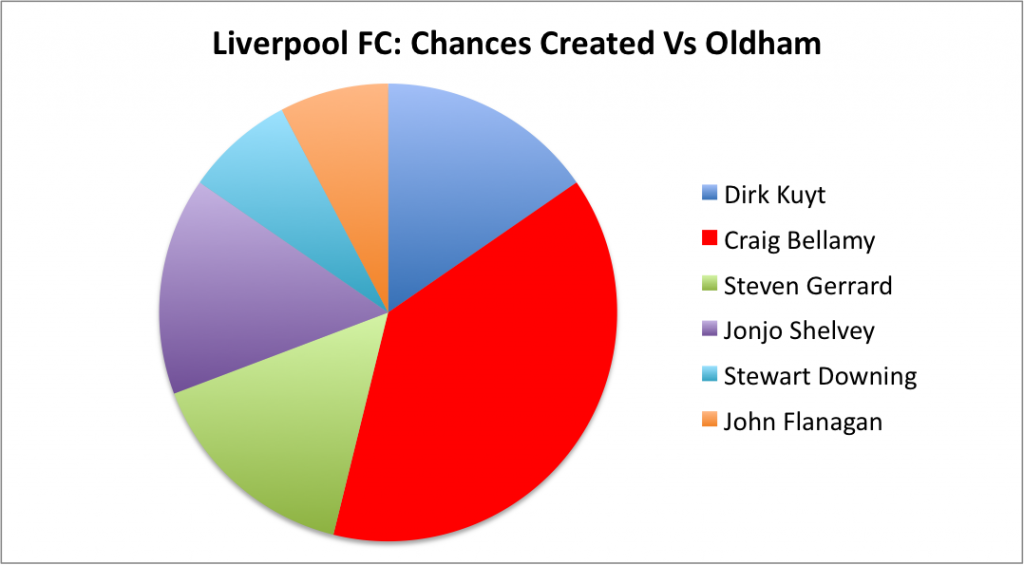 Kuyt, Gerrard and Shelvey all created two chances each whilst Downing and Flanagan got one each. Young Jon Flanagan got an assist in his short time on the pitch teeing the ball up for Carroll to blast home. We've also given Jonjo the assist for Bellamy's goal (our stats – our rules! Haha) however we didn't give Flanagan the assist for the second goal as the keeper saved his shot which led to Downing's goal. A new phase of play begins once the keeper gets involved and therefore no assist on that goal.
[table id=6 /]
The Crossing statistic also belonged to Craig Bellamy. Some of the crosses were sublime on Friday night and we should really have scored more off of them. Craig got five accurate crosses out of his eight which correlates to a 62.5% cross accuracy. Stewart Downing only put one cross in when he came on and it was accurate, straight onto Andy Carroll's head. Steven Gerrard didn't do too badly with two accurate crosses out of his five attempted. Apart from the three mentioned everyone else was pretty poor with their final ball on Friday night.
So that's it really – it took a while to collate the stats but there were some impressive performances there. Craig Bellamy shone, as did Spearing, Shelvey, Kelly and even Flanagan when he came on for his brief performance. It was nice to see that the younger players looked good and even though the opposition wasn't great it is important to beat whoever you play which is what these players did.
We hope you've enjoyed the stats that we've collated ourselves (using the Peforma Sports' new iPad app). It was a long process to collate and then write about so please leave a comment on whether you'd like us to do this often with stats for other competitions such as the FA Cup and Carling Cup.
Please look out for the review of the Performa Sports app later in the week! Thanks for reading!