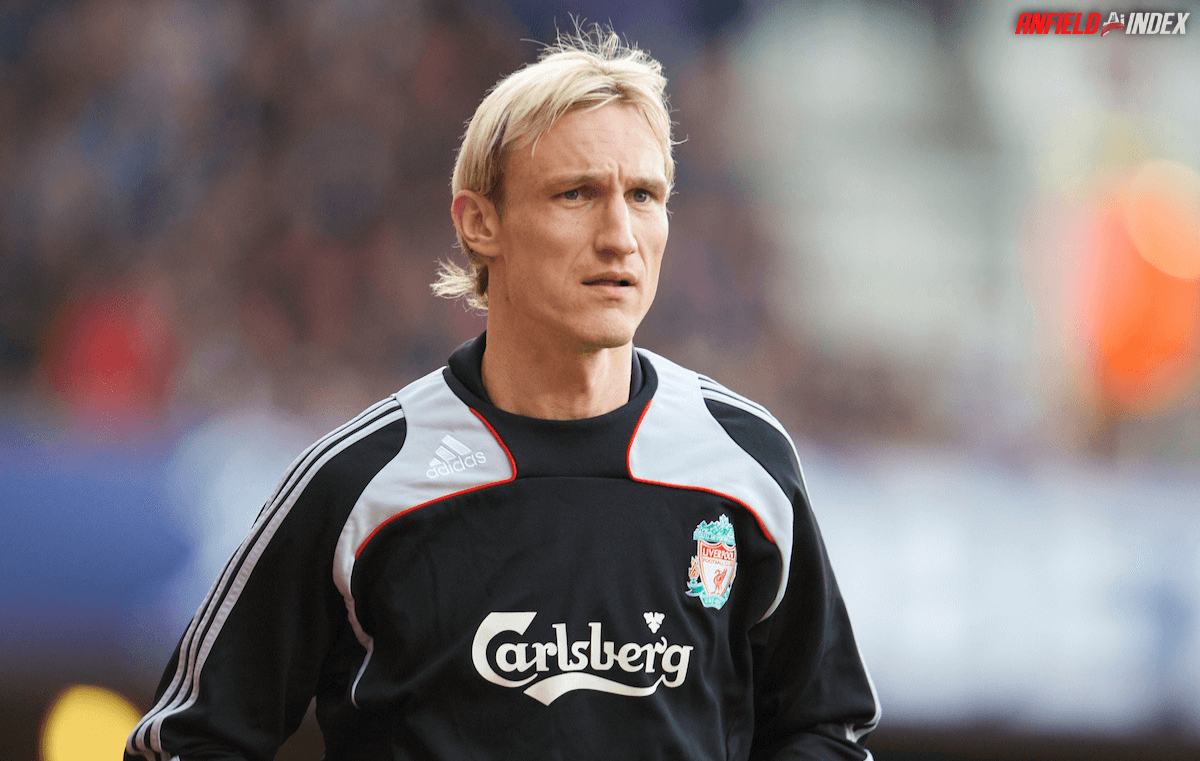 If You Don't Know Me By Now…
I wanted to distract a little from the joys of the transfer window, so would like to share some thoughts on one of the reds' greatest ever central defenders.
Hint: it's not Dejan Lovren.
In 2008 Chelsea and Liverpool met on four separate occasions throughout the calendar year. The first, on February 10th (towards the back end of the 2007/08 season), saw Chelsea and the reds draw 0-0 at Stamford Bridge in the Premier League. The season's start saw the West London side marshalled by managerial legend José Mourinho, but was quickly dismissed to be replaced by Avram Grant until the end of the campaign. As the season drew to a close, they met again in a two legged tie after being drawn in the Champions League semi finals. The Anfield tie on the 22nd April saw Liverpool claim a 1-1 draw, to make the return tie a tense affair, which Chelsea eventually won 1-3 after extra time. These games were part of a period after extreme rivalry between Jose Mourinho & Rafa Benitez, but still part of an on going period of feuding after Mourinho's sacking. The games were frequent, with the tempo and ferocity fierce. It is the final game in this quartet that I often recall, indeed the final few minutes of their Premier League tie on the 26th October 2008 that has stayed with me until this day.

With Liverpool enjoying an early season run of form (that would see them finish as runners up behind Manchester United), this 0-1 away win stands as a crucial result that season, upon their visit to the Bridge. With the game tense, the stakes high, and the drama within the technical area heated, Chelsea were building a head of steam to try and find an equaliser. As the 90th minute approached, a free kick inside the reds' half was awarded which saw Benitez spring into action, and this moment is what comes to mind whenever I think of the great and dominant Sami Hyypiä.
When Gérard Houllier took over as Liverpool's sole manager, it sadly saw Roy Evans move on from the club after a four year spell in charge. Evans' role for the club extended far beyond this period, and he should be greatly commended for his service. Regardless of sentiment, Houllier was the man to take charge, and began to mould his squad to suit his vision. Within his first summer as Liverpool manager (after Evans had left their previous managerial partnership), Houllier made no less than eight signings to supplement & rejuvenate the first team squad. Emile Heskey arrived from Leicester, Dietmar Hamann came in from Newcastle, Vladimir Smicer was signed from Lens, Sander Westweveld was recruited from Vitesse, Titi Camara was added to the forward line from Marseille, with Eric Meijer signed as a free agent after leaving Bayer Leverkusen. The spread of players signed did not stop there, with a defensive pair signed in order to form a new new look backline. Stephane Henchoz was signed from Blackburn Rovers, and the giant Finn, Sami Hyypiä, was signed for £2.6 million from Willem II.
At a towering 6 ft 4 in, the imposing defender was a complete unknown (to me anyway) upon his arrival, and where some of Liverpool's recruits had varying degrees of success, with Sami the deal was indeed an overwhelming success. As far as scatter gun transfer periods go, this list within the 1999/00 season represents that completely, with some memorable names attached. Of that list, only one name can be considered a reds legend, and it was this last Saturday's game against Chelsea that made he think of the former Liverpool captain.
With Romelu Lukaku primed to give Liverpool's current defenders (Virgil Van Dijk & Joel Matip) a torrid time, it was a game for the reds to show their steal against a world class centre forward. His physicality, form and brilliance over the past two years (at Inter) made the pre match very much about Virgil vs. Lukaku. With every long ball that came Liverpool's way, it saw a powering header by one of the reds' centre backs in nearly every instance. These moments were, in part, what Sami built his legend upon and is still famous for his aerial dominance to this day.
Though Sami was never gifted with great pace, Houllier's style of play was very much a counter attacking system (thus sitting a bit deeper), which worked beautifully to undermine strong sides. Sami was able to form a strong partnership with Stephane Henchoz, showing that great leadership and elite ability within a position can add to those around them. Sami still represents the club, and will often be seen around the place. In signing young Sepp Van Den Berg, it seemed we might have recruited a younger version, and I for one will be watching his development closely.
Over the years after Sami arrived he managed to solidify Liverpool's back line into a European success story that started the reds on the road to a successful period. People can talk about the influence of this or that player, but Sami was as important as any player throughout his stay. His anticipation of the ball, positioning and awareness were there to see, and perhaps only Daniel Agger was as effective a player in the backline as Sami during his stay. Jamie Carragher went on to have a very good Liverpool career, but his limitations meant he was really no better than Henchoz, with much of his defensive work last ditch. His organising was perhaps more on point, but when sat in with Sami, there really was only one controller, and that was the big Finn.
In the closing moments of the Chelsea match, as mentioned earlier, Avram Grant had chosen a bombardment of direct play culminating in the free kick in the final seconds. This free kick and it's direction would be aimed directly at the 6 ft 4 in back up striker, Franco Di Santo, who had come into the game in the second half. The final few moments (and the danger posed by this last opportunity free kick), saw Benitez call for his defensive substitute, Sami Hyypiä, to enter the field before the free kick was taken.
As the box filled, and the crowd sat on the edge of their seats, Sami strode onto the pitch and took up a central position in the middle of the box to mark Di Santo. As the ball floated into the box, there was a hustle, a bustle and a clear head rose above all others to head the ball some forty yards from danger. As the ball trickled towards half way, Sami ordered his defence up and the reds' support slid back into the back of their seats.
Danger had been averted by the still dominant Sami Hyypiä, and the game was seen out to an amazing cheer from the travelling support. The game had manoeuvred into dangerous territory, and it had taken a legend (no longer a first team starter), to head the reds over the line to victory.
In this period where FSG have perhaps caused disharmony amongst the base, it's always a good idea to remember the history & players on which this club rests. Certain players will invoke certain memories in an instance, and despite the glory of Istanbul, for me, a towering header will always bring me back to when big Sami Hyypiä wore the famous red of Liverpool.