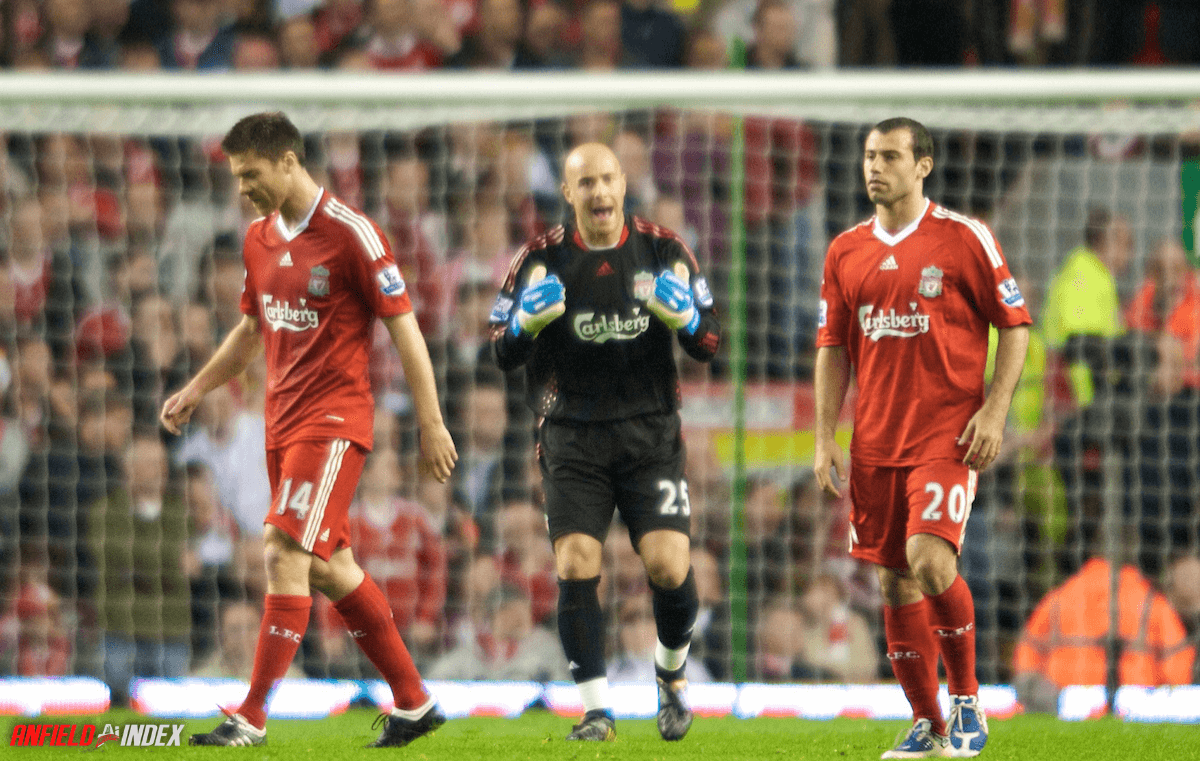 Xabi & Javier - The Reboot
Javier Mascherano and Xabi Alonso were a magnificent double act for the reds, with vital attributes that suited each other's games perfectly. The balance of these two players were a joy to see, and we may be about to witness a similar midfield pairing evolve this season, that can become even more effective for Liverpool FC.
The dominance and disruption caused by Mascherano's marauding ways would upset any and all opposition in his path. His ability to cover fullbacks with fierce reliability, cut out passing lanes, stop oncoming bursts through midfield and ease pressure on the back four, is somewhat overlooked when considering modern midfield greats. Javier Mascherano could not force his way into West Ham's team (due to inept management and an array of below average competition), which allowed his permanent move to Anfield to take place. His immediate impact allowed the entire team to function, with a knowledge that by any means necessary, opposition players shall not pass. The current fact is that despite all that Javier Mascherano offered, his impact is now being bettered by their current enforcer, the Brazilian enforcer, Fabinho.
Xabi Alonso arrived from Real Sociedad and immediately showed a classy assurance, that had not been seen since Jan Molby controlled the reds midfield. His precision passing, controlling of tempo, and positional awareness was a pleasure to see across his career. I feel that the impact players similar to Alonso can have on entire seasons, can often see their roles lacking in general praise. With singular moments of genius not always obvious, bone crunching tackles not always heard, certain players sheet brilliance can be taken for granted. Many a career can be lauded due to defining moments, whilst superbly consistent campaigns are criminally overlooked, despite the constant silverware such traits deliver.

What a world class controlling midfielder can offer is the absolute grasp of the game, it's speed of play and how those patterns of play are dictated. The formation is often built around a controlling midfielder in order to extract the best from the team. The manager is offered the choice to hand over creative control to this player, in full knowledge that this player is in total control of proceedings. In Xabi Alonso and Thiago Alcantara there are these overlapping qualities, yet with Thiago there may just be that extra magic that could help engineer an unparalleled midfield pairing, with Fabinho next to him.
Combinations are key to any midfield, whether it be a double pivot or three man group. The blend of talent needs to be selected in order to extract the brilliance from certain players. To drop an elite controlling midfielder into a Roy Hodgson team would be about as wasteful as you can get, but given to the right coach (with the correct mentality), it can be sensational.
Xabi Alonso and Javier Mascherano could be argued as the greatest modern day midfield pair, Liverpool have fielded. Their attributes worked so well together, it allowed huge success within a good team, yet limited squad. The holding midfield position is perhaps the most vital cog in any attacking side, and Mascherano being allowed to terrorise and harass was a blessed sight to see. Fabinho is a true force to be reckoned with, with his telescopic legs, ground covering strides and aerial prowess nearly impossible to overcome. The added snide and aggressive nature gives Liverpool good balance, and in Thiago he perhaps has the ideal dance partner.
Thiago Alcantara is a world class talent that can control every aspect of the game. This fact is often lost in translation or stupidity, and any notion to assume otherwise is simply ridiculous. His ability to see movement and offer sublime touches and passing is transforming this once workmanlike midfield. Genius can come in many forms, and where Maverick was once told 'I see real genius in your flying,' I personally see real genius in Thiago's football. World class and elite players within this squad will benefit exponentially from the presence of this Spaniard, and players like Jordan Henderson, James Milner and Alex Oxlade-Chamberlain simply have to let him control the game, and become facilitators to his ways.
The pairing of Alonso & Mascherano allowed the roaming Steven Gerrard to be unleashed, and I believe this is where Jürgen Klopp was headed with the young and unfortunate Harvey Elliott. Until the prodigy is ready to return, I would be keen to see Naby Keita or Curtis Jones added to Thiago and Fabinho to make a three, with that license to attack and express themselves remaining. The control that the pairing offers (Thiago & Fab), mean that third midfielder can really attack space and assist the front three further up. In Curtis Jones there is a potentially high ceiling and encouraging goal threat, and in Naby there sits a terrific operator just waiting to explode. Either would benefit from a start, and next to the world class pairing they could well blossom into true attacking midfielders, as Gerrard once was.
This season has already become intriguing, it's already tense, and if these two members of Liverpool's magnificent seven can stay fit, then the midfield will simply purr. Liverpool need much to stay right if they are to have a chance of major honours this year. But in Fabinho and Thiago, we possess a world class midfield pairing once more, and that is an undeniable fact.