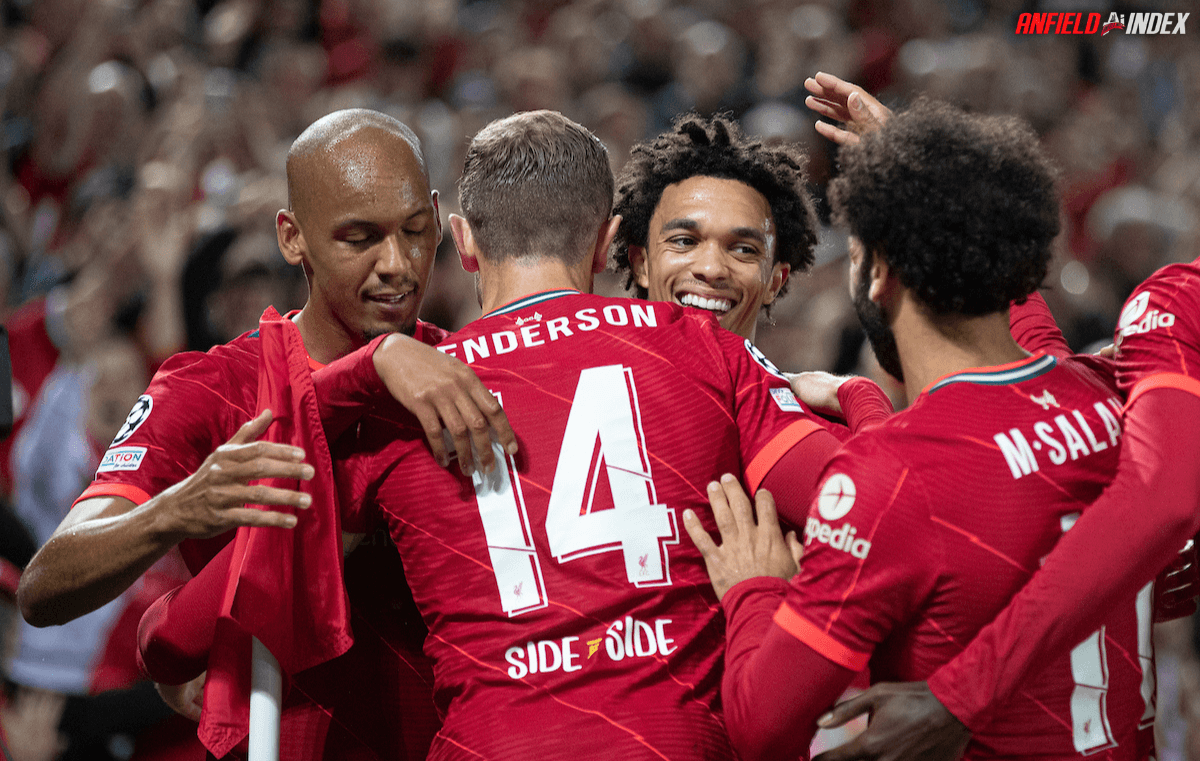 Liverpool 3-2 Milan: Player ratings as Reds wrestle back three points
When Liverpool win their opening Champions League group game 3-2 at Anfield, it tends to be good omen.
This was a game that got the juices flowing in a similar vein to that victory over Paris Saint-Germain three years ago, except this time the scoreline gave it the illusion of a contest.
Thanks to a Jordan Henderson winner that will universally be called Steven Gerrard-esque, Liverpool can bask in what was, on the whole, a supremely dominant display.

Here's how the Reds rated.
Alisson Becker – 7/10
You couldn't really have expected more for either of the Milan goals. Some might argue he was a little quick to come out for the second, but clearly he was expecting Ante Rebic to try and repeat his first finish, and so he closed down the angle.
The strongest element of his performance was the speed with which he raced off his line to sweep up when required. He was alert to the danger throughout.
Trent Alexander-Arnold – 7/10
Combined with Salah to score Liverpool's first via a wicked deflection off Fikayo Tomori, and that means he gets a seven rather than a six.
For the most part, Trent's range was a little off here, and he lost the ball carelessly a couple of times late on.
I'd also argue he could have been quicker to get back and try the prevent the first goal.
Joel Matip – 7/10
Doesn't quite bring the same organisation to the back four as his usual partner Virgil van Dijk. Wasn't able to sort his feet out to clear the danger for the second goal, but that was mostly just misfortune.
It was a jittery end to the first 45, but he was back to his authoritative self in the second. Overall, then, not his finest performance, but still a reasonably good one.
Perhaps could have worked Mike Maignan harder with a couple of headed chances.
Joe Gomez – 7/10
I'd give Gomez a seven on his return. He did lose track of Rebic for the opener, but as I say he might have expected more support from Trent.
Gomez had snuffed out the most dangerous Milan attacks before that point, and he thwarted Olivier Giroud in the closing stages.
If there is to be centre-back rotation for future group stages fixtures, it's probably best that Van Dijk keeps his place.
Andrew Robertson – 8/10
Robertson was quietly very good against Leeds but there was nothing subtle about his brilliance in the early stages here. He teed-up two very presentable opportunities for Divock Origi and Diogo Jota (having pressed high to win back possession) and it was his shot that led to the penalty. Yeah, Liverpool had a penalty in this game.
There was a valiant attempt at a goal-line clearance for Brahim Diaz's goal, but it was an impossible task.
Fabinho – 9/10
Wow. Fabinho was man of the match at the weekend but this was another level. He was winning everything back. He can't have had many better games in a Liverpool shirt.
The stats reflect his dominance in the middle of the park. He made a team-high six tackles and four interceptions, winning eight of his 11 duels.
He also played a series of incisive passes from his deep starting position, fashioning some dangerous situations. It was pretty much a complete no.6 performance.
Jordan Henderson – 8/10
There was a heart-in-mouth moment for the skipper at the beginning of the second half when Theo Hernandez's cross snuck through his legs and Simon Kjaer tapped in, but thankfully it turned out Liverpool had stepped-up on time.
But what a goal. The technique, the celebration, the sheer replayability. He's actually scored a pretty remarkable proportion of his Liverpool goals from distance. 11 of his 27 (in the Premier League) have come from outside the box.
Naby Keita – 6/10
I was enjoying Keita's understated first-half performance. He was progressing the play tidily. But some of the good work was undone in the build-up the first goal, when he was too slow to spot the danger posed by Saelemaekers.
There were a few forward darts in the second half as he looked to engineer the go-ahead goal before he was substituted.
Mohamed Salah – 8/10
I'm torn on Salah. It was probably a 7.5, but we don't do that here. Because he wound up with a goal and an assist, I'll be generous and round up.
The pass into Trent for the first was well-weighted, and the equaliser served as redemption for the penalty miss.
Salah seems to go central with his penalties fairly often (just an inkling), with the keeper either beaten by the power or guessing the wrong way. Here, Maignan prevailed, but ultimately, scoring 17 in succession was some feat and that streak couldn't go on forever.
Diogo Jota – 6/10
Probably a six for Jota, but that's not to say he played badly. In fact, a magnificent Kjaer block denied him what looked for a moment like it might have been the winner.
Defensive contribution was good too.
Divock Origi – 7/10
If we're honest, Origi has largely been a difficult watch of late, but here his committed performance drew encouragement rather than groans from the supporters.
It was still short on quality, until the 48th minute, that is, when he produced a sublime dinked assist for Salah.
Cramp ended his involvement shortly after the hour mark.
Substitutes
Sadio Mane – 6/10
Fumbled a couple of promising situations as Liverpool looked to kill the game off, but headed away the late free-kick.
Thiago Alcantara – 6/10
You could see the rationale behind the change from Klopp. Theoretically there's no better player in the squad for managing a game.
Nicked the ball off Calabria to initiate a dangerous attack, then got fouled.
Curtis Jones – 6/10
Went close after a tidy run and pressed tigerishly, just as Klopp would have expected when he turned to fresh legs. Might have snuck a seven but lost possession when we had a three-on-two.
The other substitutes only played around 10 minutes, but an honourable mention for Milner's corner-flag antics.