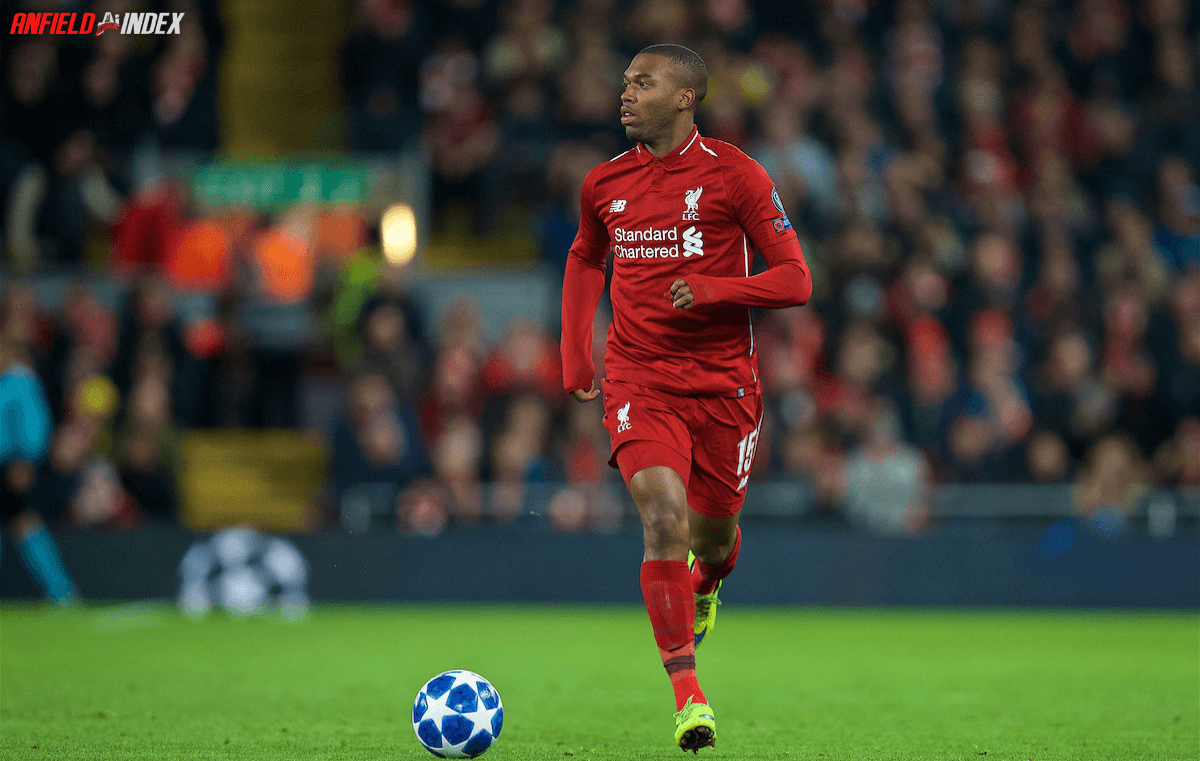 Daniel Sturridge - Truly Elite
There's so many brilliant strikers that have worn the Liverpool shirt in the modern era. Young fans could be imagined replicating their goal scoring heroes of the past: Ian Rush, John Aldridge Robbie Fowler, Michael Owen, Fernando Torres and Luis Suarez topping the list of spectacular names.
All of the above varied from elite to world class, and many arguments will have been held over the years, about who was the best in their prime. Prime years for any striker are so important, as volume of goals can rely on key components of the players' game. When considering Michael Owen, he probably had the highest ceiling coming through, yet fell away rapidly when his body failed him. Robbie Fowler was a goal getting freak of nature, who again slipped away when encountering a major injury. Their stars faded, but as with the others, their contributions as a red can not be diminished.
Each of these players were either guilty of breaking hearts upon their departures, or of raising smiles as they glided away, after their prime years. These listed strikers will never perhaps include the likes of Craig Bellamy, Peter Crouch, Milan Baros, Dirk Kuyt, Emile Heskey or Stan Collymore. All of these forwards were talented and able to add to each Liverpool team represented, but not to the level of the top tier above.

Then there is a name that often comes to my mind, when considering truly elite strikers that have played for the reds in my adult life. He is a player that is perhaps the most underrated striker in Premier League history, and was most certainly not fully utilised for his country, despite enormous talent. Daniel Sturridge for me was a sensational striker that was a key component in a vastly entertaining period for Liverpool, and is someone I  would undoubtedly push onto the top shelf of former Liverpool strikers.
Daniel Sturridge began his senior career at Manchester City, after his youth career saw him represent Coventry City, Aston Villa and Cadbury Athletic. As a side note, Cadbury Athletic is an amateur football club based in Birmingham, founded by the chocolate brand, Cadbury. I felt compelled to check this out when viewing Sturridge's pathway, and am delighted that this is a fact, and also that they play in Cadbury colours.
Having made just 32 appearances for City (scoring 6 goals), he moved onto Chelsea as a bright young forward, looking to elevate his standing at the top level. His role at Chelsea would often see him play wide in a front three, and his evolution in and around the brilliant Didier Drogba, would have helped immensely. Ninety-six appearances for the Blues was complied over a four year period, with a respectable 24 goals netted. A prolific loan to Bolton Wanderers was undertaken during his time at Stamford Bridge, and the 8 goals scored in 12 matches would have caught many a scouting eye.
I wrote last week (within the Jude Bellingham piece), that young English players had to ensure the right moves were made at the right times, in order to fully facilitate their growth as a footballer. Daniel Sturridge was keen to ensure he was not lost in the elite club shuffle, and opted to leave Chelsea after a valiant effort to gain regular first team football. Liverpool FC were a team in massive transition, and his moderate fee was seen as a no risk move, probably for both parties. Brendan Rodgers supposedly wanted Theo Walcott in the summer of 2013, but the eventual signing of Sturridge proved a brilliant piece of business, by the infamous transfer committee.
Daniel Sturridge was sometimes miscast throughout his career, as difficult and troublesome by some ignorant parties. The actual truth was that he was a brilliant young man, a gifted player, and one that wanted to push himself to the highest level possible. It was perhaps his astonishing ability and ease in which he carried out his tasks, that saw him miscast at times, when England and its support should have been clambering for him to start for the Three Lions. There may not have been any more gifted, athletic or natural goal scoring forward in England, in the modern era, and it's a shame that both he and Robbie Fowler were overlooked so often.
Daniel's ability to move at pace, glide past players and find bottom corners, top corners or supporting players were key facets of his game. He was understandably overshadowed by the world class enigma (Luis Suarez), during their time together, but make no mistake, Sturridge was much closer go the Uruguayan's ability than many believe.
160 games saw Sturridge net a brilliant 67 goal haul, in a Liverpool career often stalled by injury. His impact in full flow was simply breathtaking, and certain goals and performances against the likes of Chelsea, Fulham and Arsenal (who he utterly tormented) were indicative of the player he was. His ability to link play, move of the shoulder of the last man, work from wide positions and offer a goal threat from in or outside of the box, were further attributes that not all legendary strikers had. He was a player that could have broken records, added to England's tournament runs and become a recognised world class player, if not for injuries that often occurred on international duty.
By the time Jürgen Klopp arrived, Sturridge was the renowned (yet too often unavailable) scorer, that all Liverpool fans would get excited to see. Klopp was under no illusion as the the quality in Daniel's boots, it was just his inability to stay available and  thus reliable that stopped him featuring more. Roberto Firmino suited the more robust and workmanlike false nine role, and Sturridge became a lethal weapon from the list of reserves as a result. His part in Liverpool tasting Champions League success should never be watered down, as his impact in the group stages were vital to progression. The day he walked away from the club was bittersweet, given the deserved medal hanging around his neck, and the fact such a player was leaving still in his late 20's.
I asked Dave Hendrick (of The Two Footed Podcast fame) which striker he would prefer in today's lineup (when considering Sturridge or Fowler), and I'm curious as to the answer amongst his many Thursday questions. The query prompted me to write about Daniel, as I believe he truly belongs in the highest calibre of striker, Liverpool have ever fielded. His impact today would have been phenomenal, if only he had the body to suit his talents.
As a 32 year old man, I hope he is able to revive the final years of his career, and the nostalgic side of me would absolutely love to see him amongst the reds, for the odd cup appearance or cameo off the bench. If a 35 year old James Milner is still around to kick people off the park (for the final few minutes of tight games), then I would happily see Daniel Sturridge sit amongst the modern day extended bench, in the hope of seeing just a glimpse of that previous brilliance, and the odd rendition of that forever ingrained goal celebration.