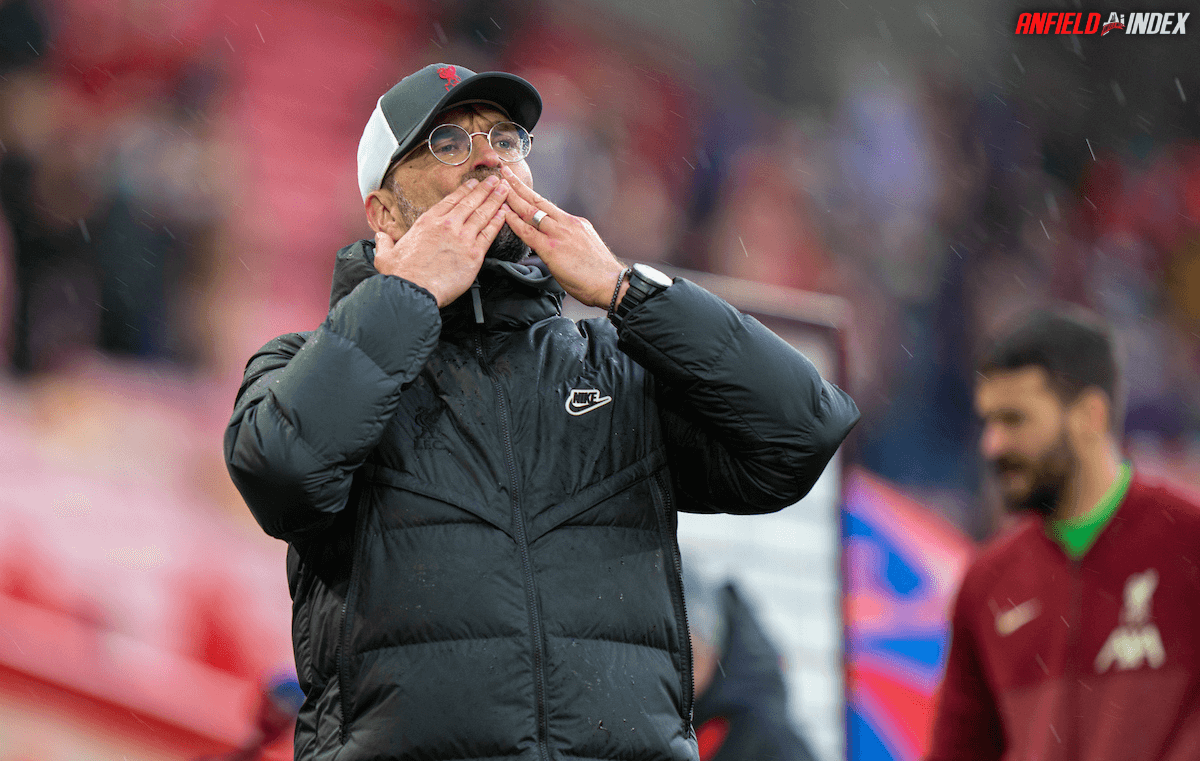 Klopp's Campaign Management
Stubbornness, single mindedness, arrogance and an absolute inability to adjust one's methods, can be the downfall of even the best managers in modern football.
In recent years we have seen the likes of Arsene Wenger and Jose Mourinho, unable to adapt to the modern needs of Premier League football, with both departing the division at relative low points. The signs are often evident, the fall off from brilliance usually gradual, but the reason for the decline always consistent. Football changes, the players evolve, the situations differ from yesteryear, and maintaining success at the highest level requires managers to evolve alongside the game itself.
When Sir Alex Ferguson was dominating English football, he was doing so with alterations as and when they were needed. His ability to engineer absolute brilliance was in part due to his choosing to adjust as required. He was a manager that was routinely willing to freshen up his assistant managers, and happily see them move on in order to bring new ideas and methods to the table. The management of the club, the structure of its core and the single-minded culture of its success became Ferguson's primary role towards the end, and his man management and utilisation of the squad would alter to suit the times. Success was sustained, and his legendary status was secured until his last day in the game.
Last season saw a horrific number of injured players sabotage Liverpool's entire footballing campaign. The pandemic was a factor that took away the mythological fear of Anfield, and Klopp struggled to cope with the issues, amid personal and private tragedy. Jürgen Klopp had become too reliant on a select number of players, a coordinated system of play and was unable to sustain the previously set levels within the ensuing crisis. Liverpool should have been competing for the league title last term, and this season has seen them cast as outside challengers by pundits, due to their collapse last year.
Something (maybe even a few things), have altered in the big German this season, as we close out week five of the Premier League. Klopp appears more open and comfortable in refreshing his players, managing their loads and basically using the squad in order to avoid too much injury disruption. Teams of the past (especially successful sides), have sometimes been run into the ground, thus requiring a full rebuild later on. One could even look at Klopp's final year as Dortmund boss, and argue that his team were running on empty after an intense period of high level play.
There were complaints through this past summer of what was needed, and how Liverpool required reinforcements. But perhaps what was actually needed more than anything else, was Jürgen Klopp to alter his game and campaign management. The change in the bosses mindset has seen him refresh his thinking, and the squads altered perception brings a new sense of competition, to a previously settled squad of players.
After five Premier League games and one Champions League outing, we have seen the a raft of players rotated both in and out of the side for one reason or another. Alisson Becker, Trent Alexander Arnold, Andy Robertson, Virgil Van Dijk, Joel Matip, Ibrahima Konate, Joe Gomez, Kostas Tsmimikas, Jordan Henderson, Thiago Alcantara, Naby Keita, Alex Oxlade Chamberlain, James Milner, Fabinho, Harvey Elliott, Curtis Jones, Mohamed Salah, Sadio Mane, Roberto Firmino, Diogo Jota and of course Divock Origi have all started games so far this season. The fact that all available first team options (of real note) have been used is not familiar ground for Klopp, especially so early in the season. The injury to Harvey and Bobby aside, there has been little cause for these changes, other that it being Klopp's wish to manage the fixtures. In this lies a big change for Liverpool, and one that may just assist in what could prove a ferociously fought campaign.
When Liverpool were winning both the Premier League and Champions League, there was little form of rotation other than when it was absolutely required. Games would see a common set up, common system and Liverpool probably became predictable. Adding to this predictably would have been an unhelpful level of security, in many of the Liverpool players. The fact that nearly all 'first team' starters have had to become familiar with dropping to bench (here and there) so far this season, brings a refreshing sense of competition. Players are now fighting to become a part of any and all games, and this will certainly bring out higher levels of performance from the usual back ups.
This long season is setting up nicely. Manchester City have no fans, Chelsea are looking like a prime Jose outfit and Manchester United are apparently world class, after the easiest run of games to start a season. Liverpool have gone about their business, and with just one league goal conceded in five games, the Virgil Van Dijk effect after his return is being felt already. Liverpool probably won't win the league, but their new found hunger to prove doubters wrong and fight for their individual places, has certainly added intrigue to the reds fan base. The stylistic changes in midfield (and therefore the attack) are now appearing, and this will keep the opposition on their toes, as well as the roster of Liverpool players.
The season is long, and hopefully an attacking option will be forthcoming in January. But with a clear plan to rotate the side and keep players fresh, this could prove to be the much needed evolvement in Jürgen Klopp's planning. This midweek sees a league cup opportunity for even more players, and neither this away game (at Norwich), or the weekend trip to Brentford, are games where it's easy to predict a line up, let alone the Champions League trip to Porto next week.
Liverpool and Klopp certainly needed to make some adjustments to their methods, and it appears that Jürgen has obliged. How the important fixtures unfold starts again next weekend, and I for one will be keenly awaiting the team sheet before each and every game, something that was once not really required.
Jürgen Klopp has laid down the gauntlet to his squad of players, it's now time to see who wants to play for their shirts, and how this new way of thinking will unfold over time.