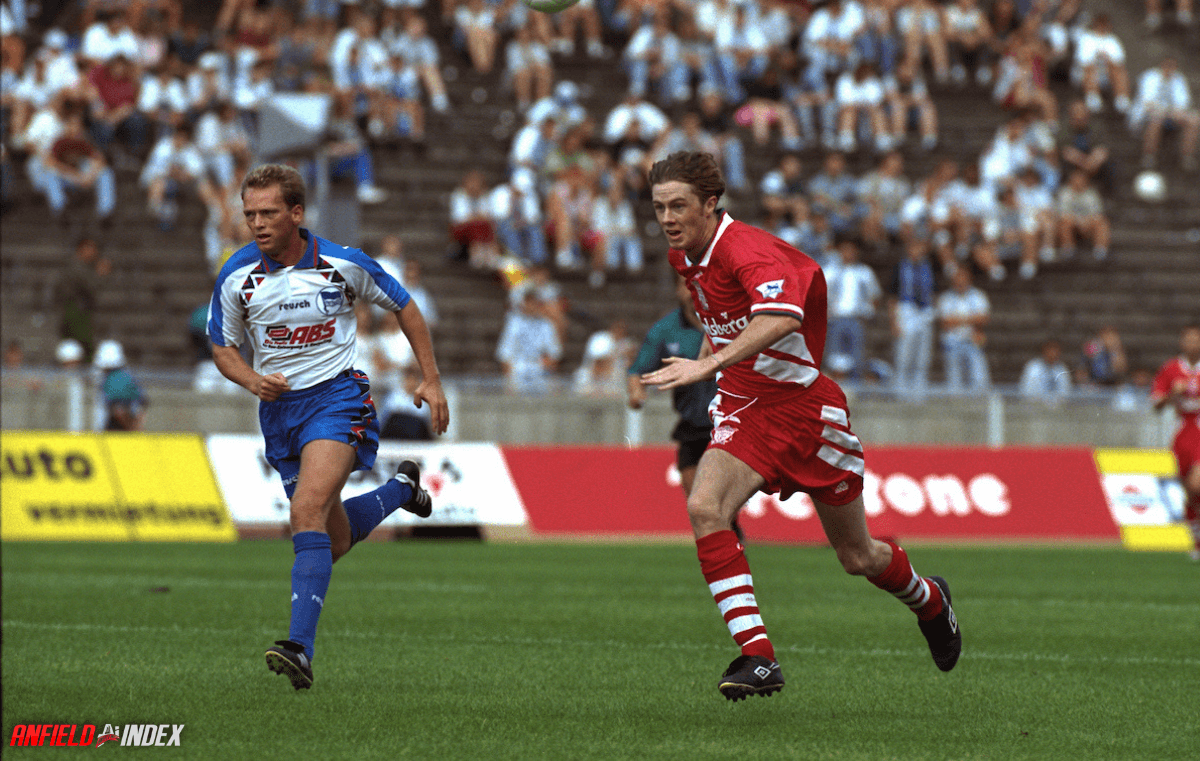 The Brilliance of Steve McManaman
When listening to Champions League matches on BT Sport, there's perhaps younger viewers unsure of the ex footballer on co-commentary. For the past few seasons a certain Scouse voice has echoed through the midweek coverage, and everyone should be made aware of what this man was, as a player himself.
When thinking of the former Liverpool player, Steve McManaman, I try not to immerse myself too much into what he offers from the gantry, but the absolute brilliance he brought to the playing surface itself. I've become quite drawn to detailing former reds, and attempting to portray their excellent careers whilst at Anfield. I feel the younger fan base should always be reminded of the past treasures, that were once adored by the Kop. The list of legends is long and distinguished, and now (with Champions League football back on our screens) seems a good moment to reflect on the man known as Macca, whose wizardry on the pitch was an amazing sight to behold.
Having been promoted through the Liverpool academy, Steve McManaman made his reds' debut in 1990 for then manager, Kenny Dalglish. With the likes John Barnes and Peter Beardsley at the club, his pathway and development clearly prospered under those two exceptional talents. His starting position saw him take on a right wing role in a conventional 4-4-2 formation, but his varied skill set later saw him given license to roam and destroy. Many matches would hinge upon the exploits of this man, as was his later importance to the side.

To look at Steve McManaman in his pomp, it's hard to have anything but affection for the Liverpudlian. His departure to Real Madrid came only after a period of brilliant attacking play, that couldn't culminate in major honours due to the shortcomings in both managerial and defensive performances. Steve McManaman is an all time Liverpool great, and his ability to beat players and transform games should have been rewarded to a far greater length than it actually was for England. Though John Barnes was a special and spectacular player, he himself suffered a similar fate, and it's often a curious subject as to why such gifted footballers are over looked at international level.
As McManaman grew into the side in his early twenties, there emerged a marvellous double act, of sorts. Liverpool's history will often point to significant duos that were able to dominate generations, and the likes of John Toshack and Kevin Keegan, Kenny Dalglish and Ian Rush, Peter Beardsley and John Aldridge (that came before Macca), were joined shortly thereafter by Robbie Fowler and Steve McManaman. Now one could point to the one great season (of Fowler and Stan Collymore), as a more poignant period for attacking duos, but the relationship before, during and after the notorious Collymore, was a standout factor to success when both Fowler and McManaman were first team regulars.
To have amassed 364 appearances as a red, scoring 66 goals, is a brilliant return for the former academy prospect. McManaman and Fowler were both local boys that were able to push through (within a period of fewer imports), and their combined talents will be spoken of in the decades to come. McManaman had an effortless style and urgency to his game, and would look to attack opposing defenders endlessly through matches. His tank seemed never to empty, and his ability to dribble either inside or out from either wing or central position, made him Liverpool's most important asset for a spell. People often talk about system players and ideal formations, whereas with McManaman it can be argued that each system employed (when at his best), was built to best serve his destructive style of play. Though not an ultra prolific scorer of goals, his analytical side would be an amazing read if covered in today's game. McManaman lived in an era where rough housing was still rife, and would often slahem challenges that would make even Burnley's bruisers wince. He was able to dominate at will, and I feel he would do much the same in the modern game.
Macca sits just about on the cusp of a generation, where talent and performances can be fairly compared to today's game. Would he be an effective and explosive player in today's game…? The simple answer is yes, and rest assured, he's the actual version of what many believe Jack Grealish to be, and would cost close to double the already inflated fee it took (City) to sign the ex Villa captain this summer. To compare him to today's players could only be done if assuming a hybrid of talents. Where he had the devastating dribbling ability of a prime Leroy Sane, the decision making of Kevin De Bruyne and the engine to run all day like James Milner (albeit quicker), his role in this current Liverpool team would be a devastating addition to the side. It would have been a pleasure to see him operate with a world class base behind him, but sadly that was never the case.
I was lucky enough to see Steve McManaman play on a few occasions, and whenever he would receive to ball, my body would automatically inch forward in my seat. There will always be teams that look to get the ball to their star and most influential player, and Macca for the reds was this in spades. If I had to pick an all time XI of Liverpool greats, he would be in contention for sure, and this is a statement in itself, given his company of past attacking players.
As Liverpool field current young starlet Kaide Gordon in the League Cup, keen observers should remember this occasion well. Where a new breed of exciting talent should be cherished, we should always remember those that took to the field before them, and celebrate Steve McManaman, for his brilliant impact on the club.