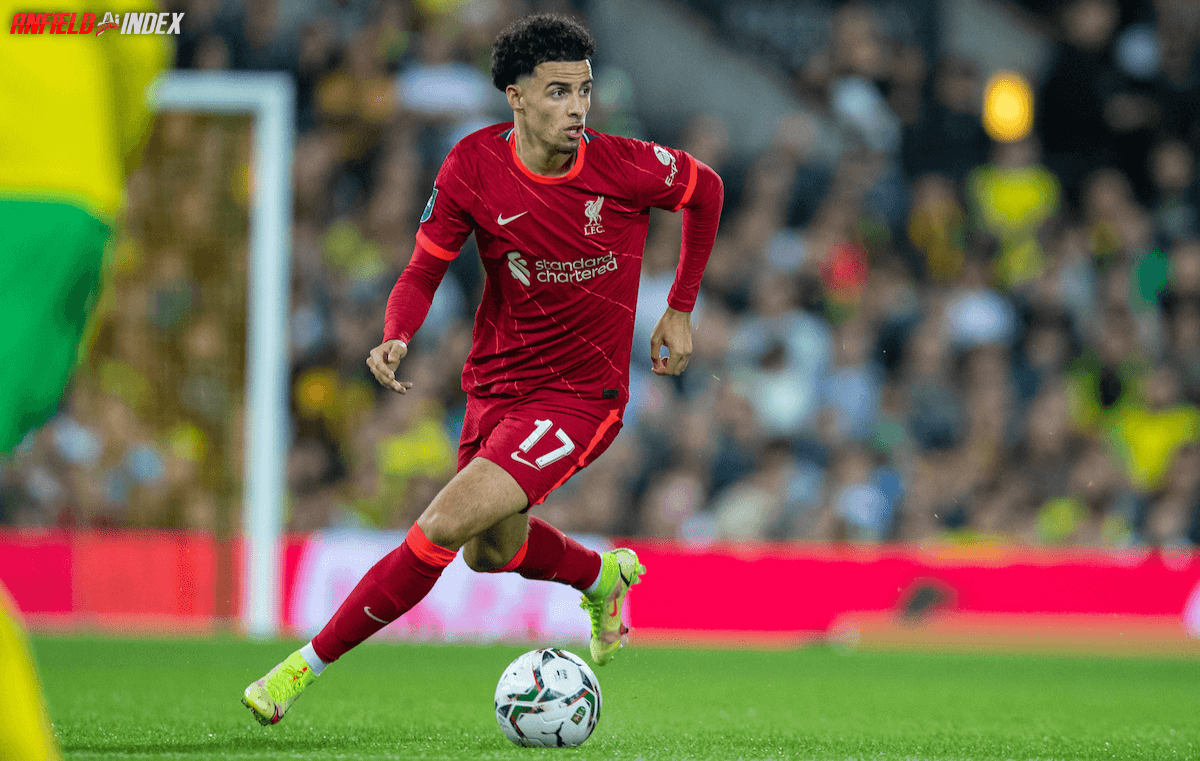 Curtis Jones - An Unfortunate Opportunity
Opportunity can be a key instance in any elite form of sport. To be able to take advantage of certain scenarios (in order to achieve personal gain), can make a career in top level football. Patience, readiness, desire and a single-minded determination to succeed can carry one through to greatness, and within this moment, you have to be ready.
When Gini Wijnaldum departed this summer, there was an overwhelming sense of loss, given his enormous impact. Names were thrown about, and many people predicted a stream of replacements that were just days from signing. Ultimately, and infamously, FSG appeared reluctant to back too much expenditure (after substantial losses through the pandemic), and the midfield roster was only added to by the returning loanee, Harvey Elliott. Few people could have predicted that Jürgen Klopp would throw Elliott into the limelight, but indeed he did. The absolute want for this boy to do well was met with horrific misfortune, as a long term injury ensued due to a reckless challenge.
As the Elliott news settled, and annoyance turned to well wishes in his recovery, there seems to be a sense of relieve at Naby Keita being able to stay fit (thus far), and maintaining encouraging levels of form. The middle three is now weighted by four genuine starters in Fabinho, Thiago Alcantara, Naby Keita and the skipper, Jordan Henderson. This four is supplemented by Alex Oxlade-Chamberlain, James Milner and last season's breakthrough player, Curtis Jones.

It is young Curtis that now requires both mention and inspection. With Klopp looking at how best to rotate and cover all positions, Jones has seen his versatility stretched towards the left hand side, and a Sadio Mane shaped role. This brief sight should be placed (permanently) next to Oxlade-Chamberlain's false 9 experiment, and never willingly used again. Jones is a strong, technical and dynamic player that is perfectly designed to operate as an 8 in this Klopp system. His ability to turn, pass, ball recover and dictate play should be nurtured under the guidance of the coaching staff and the likes of Thiago Alcantara. To have such a world class talent in the squad (such as the Spaniard), will only help develop the younger players that can emulate this current generation. Steve McManaman was once mentored by the all time great John Barnes to great effect, and in this modern day, Curtis Jones should fall under the Thiago wing of brilliance.
Where Harvey Elliott was set to be the breakthrough star this year, that must now be parked until his return. A viable option for the attack must be found for the winter transfer window, allowing Jones to take full advantage of Elliott's set back, Milner's age (plus right-back requirements), and Oxlade-Chamberlain's very worrying run of form. The starting four (as previously mentioned), all have a tendency to get injured at some point in a season, and Jones should now be integrated into the rotation pack just behind that four.
With regards to the massively talented (but hugely off form) Alex Oxlade-Chamberlain, it's surely a case of him now lacking true composure when selected. He seems forever and always in a rush to impact immediately, whenever he's in possession. If he is to become the player we once saw, he has to calm down. However, with chances so limited, he seems intent on making something happen at every turn, to a point of desperation. The sad fact is that all fans are of expecting him to consistently give up possession, and that can only lead one way. The Ox remains a player that scored 'that' goal against City, and unless he can get close to that level again, this will be his last season as a red.
This instance is where Curtis Jones has to shine. Curtis seems a relaxed and confident player that has the skill set to match his calm disposition, and must push his way into Klopp's thinking. To be able to immerse himself into this group would be an amazing achievement, but one I believe Curtis is fully capable of. He was an asset last year (in a faltering set up), and I now want to see him flourish with the monster, Fabinho, next to him. With first team defenders now offering an assured back line, this will also enhance his ability to show what he can be.
Goals, assists, creation and ingenuity have been in short supply at times (within the Klopp midfield), but slight adjustments seem to be occurring that could suit this team, and in particular Curtis Jones. To stand out in the League Cup is one thing, but to do so in one of the up coming League or Champions League games would be telling. Jones has a window of opportunity, and it's now up to him to grab it with both hands, and become the starter he may just be threatening to be.