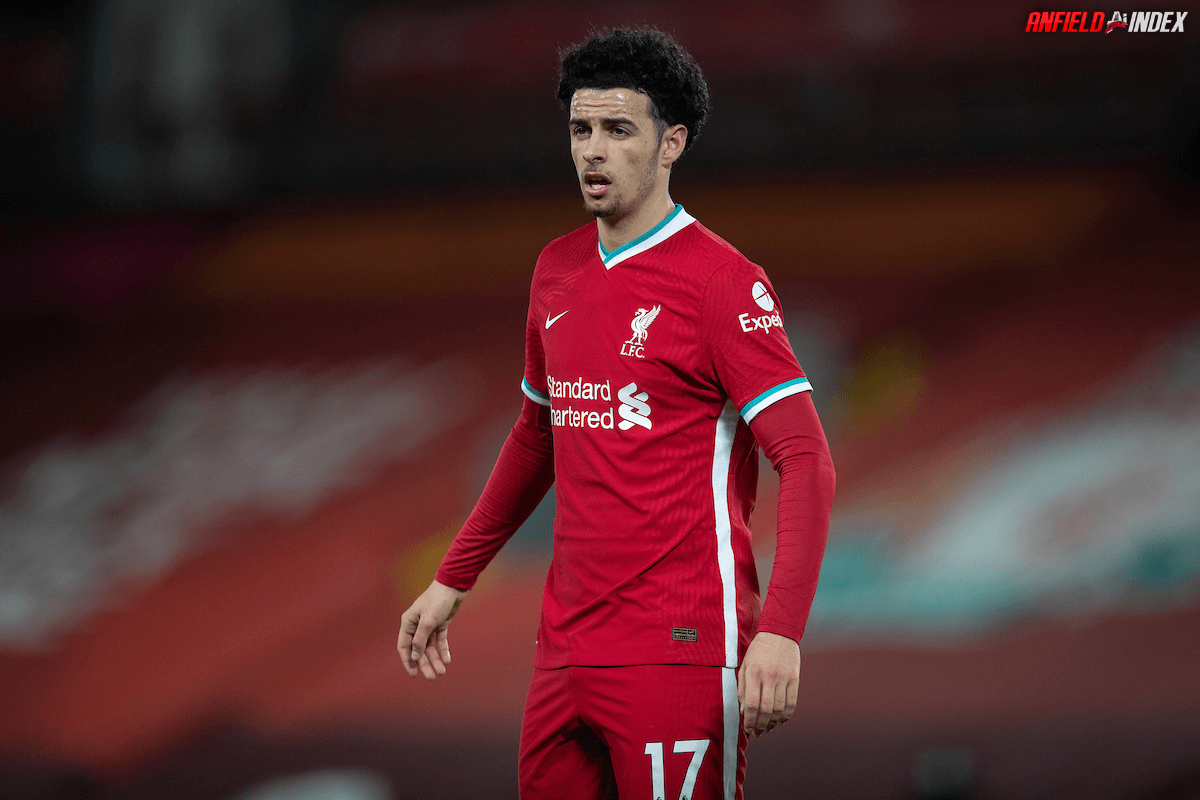 Curtis Jones, his development and his future for Liverpool
Curtis Jones has been a bit of an afterthought this season. 
Injured in pre-season, he missed the start of the campaign and then had to settle for a watching brief as Harvey Elliott claimed a midfield position for his own. 
He's made just one start this term and that arrived in the Carabao Cup. For the first half, he was operating as the deepest midfielder with Naby Keita and Alex Oxlade-Chamberlain flanking him. It was a new role for him and one that seemed to split fan opinion, but that is to be expected. 

Jones was subbed after 87 minutes having completed 54 of his 55 attempted passes. He completed two of his three dribbles, made two interceptions and recovered the ball on five occasions. 
He covered the defensive third well, filling in for the full-backs while also dropping in between the centre-backs. The 20-year-old – who was making his 50th appearance for the Reds in the win – showed a lot of maturity in what is an important position in a Jurgen Klopp system. Despite being pressurised on a number of occasions and being on the receiving end of a few hospital passes, he rarely looked flustered and helped the Reds play out from the back. 
It perhaps wasn't as eye-catching as an Elliott one, but it was just as important. It showed another dimension to his game. 
The youngster started life as a wide forward for the youth team before impressing last term as central midfielder. 
​https://twitter.com/SamMcGuire90/status/1336058224848609283
In his sub appearance against Milan, he was deployed as part of the front three and the only real complaint was that he held onto the ball for too long in certain situations. But the argument for that would be at 3-2 do you really want to be taking unnecessary risks with the ball when you can just run down the clock and keep possession? 
Reading into single match performances is always dangerous, especially when the game was in the Carabao Cup as part of changed XI with a number of youngsters. But Jones did an admirable job in the first half as the controlling No6. If he can develop that side of his game, Liverpool have another player who can operate basically anywhere in the midfield and attack. 
This sort of fluidity has been key to their rampant start to the campaign. 
We're only seven matches into the new season yet we've seen Trent Alexander-Arnold taking up positions usually associated with centre-midfielders and Mohamed Salah has been playing as a right-winger. Elliott has been the facilitator for both of those players, filling in wherever he's needed. 
On the left, we've seen Sadio Mane and Diogo Jota trade positions during the match to cause the opposition all kinds of problems. 
As I said in a detailed piece on Mane and Jota, Klopp has resisted the urge to go with a Plan B and he's instead managed to create a number of Plan A variations. This is only possible due to the fluidity of the players and their ability to play a number of roles. 
Adding another string to Jones' bow can only be a positive. Rounding off his game so he's comfortable playing as the deepest midfielder gives Klopp and the team a variety of options. People are sleeping on him because of Elliott and because of his slow start to the season, but he could play a big part in the season.