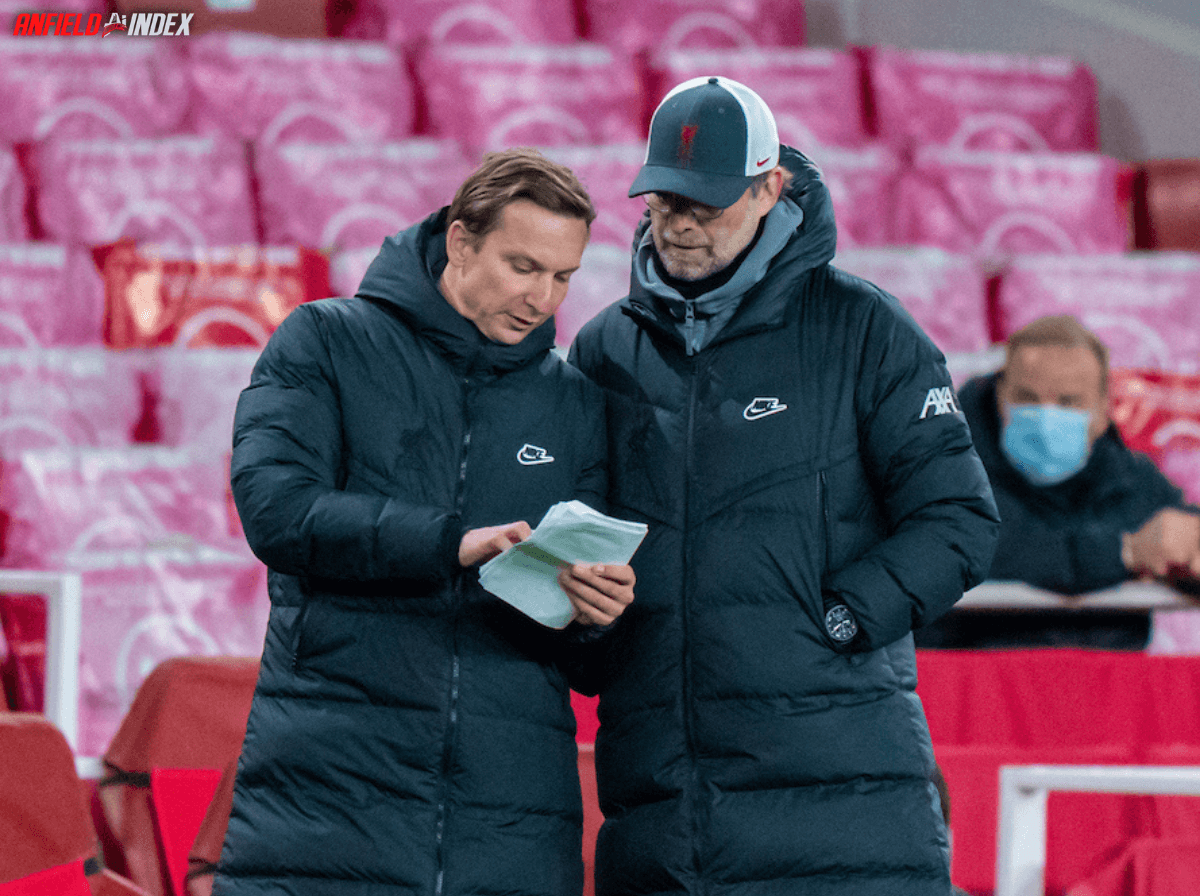 Time For Klopp to Make Some Tactical Changes?
Players dictate formations, and a system that is effective needs the components to fit as required. We saw last term (to the detriment of the side) players shoehorned into positions in order to maintain many an adapted team sheet. The patterns of play that are based upon the system suffered, and the team fell apart under the strain of calamity and poor form. The form of almost all the players suffered due to an inability to field certain players, and with a mild injury issue in midfield occurring so far this season, then certain games should be encountered with a system change. Brentford's game will point to this, and will most certainly be remarked about.
Gini Wijnaldum has been talked about just as much since his departure as during his brilliant spell as a Liverpool player. His constant availability, constant good performances and constant ability to make the system work are now being highlighted further in his absence, with Thiago Alcantara, Naby Keita and Harvey Elliott suffering a variety of short and long term injuries in the early part of the season. Liverpool need to make sure they do not overload the likes of Fabinho during this period, and ways and means need to be found in order to both maintain the form and fitness of the players available.
Rotation appears to be a more common reality this year, and it could lead to one or two more systems being incorporated. Liverpool (under Klopp), are pretty much a 4-3-3 team, but with three midfielders injured it would be sensible to become more flexible in games, even if just later on in matches to withdraw certain assets. I spoke last week about the Robertson and Tsimikas rivalry, and in key moments of preservation this next week, I believe they could work very well in a 4-4-2 formation. This scenario would allow the midfield three to drop to a two, and condense the middle of the pitch.
Though Fabinho is currently the only fit central midfielder able to work effectively in a two man middle, he should be taken out of the fray at the earliest opportunity against Porto, if indeed he starts the game. Manchester City next weekend should be the overwhelming priority, and Fabinho must start this crucial encounter. Where Tyler Morton made an intriguing impression last week (against Norwich in the League Cup), the situation could call for a cameo this coming Champions League week, such is the dilemma. The issue in not replacing Gini is now becoming felt (agonisingly early in the season too), and to see a certain Saúl Ñíguez becoming a relative back up at Chelsea is incredibly frustrating. It would be silly to become too annoyed (again), but the League table shows there is a real opportunity this year, and recruitment should have been undertaken.
A system change could also see a 10 incorporated into the team at points this season, though again it's reliant on two central midfielders that can actually play this role, and unfortunately Henderson simply does not possess the positional awareness to help control the middle of the pitch. As with Brentford's 3-3 draw, there was a constant and uncoordinated balance once Curtis Jones departed the field, where two sitting midfielders were required to both screen and pick up second balls. This did not happen, but it also points to Jürgen Klopp not making the right in-game decisions. The Jones substitute should have been rescinded as soon as his strike hit the net, and perhaps another formation incorporated to withstand the the often times difficult, and on coming, direct play.
We have seen at times a third centre back introduced late in games in the Klopp era, and this should have been the case once Liverpool regained led the lead, for the third time. There was clearly an problem and Brentford had their tails up. To withdraw a forward (Mane) for either central defender sitting on the bench, would have allowed Virgil, and Konate to win first balls, with Joël Matip sweeping. Joël Matip could have of course moved to the left, with Virgil sweeping, but the theory would have remained in keeping the pitch condensed. There would have been coverage of space in behind, and three midfielders dealing with both runners (and second balls), could have nullified the threat from a winning position of strength. This is of course all opinion, and the heat of the battle was clearly a factor in such an intense and entertaining affair, but there will be many points to play for this season, and opportunities must be taken.
The problem does come back to a lack of a Gini replacement, and now that lack of a signing should indeed lead to common system tinkering. This scenario should have been avoided, and Henderson or Milner operating in a two as a pair cannot materialise, but may actually become reality. I would have preferred Tyler Morton to Henderson against Brentford (when dropping into a 4-2-3-1), and that is a damning yet truthful verdict on the captain. Michael Edwards needs to look at the situation and potential replacements for January, and from first position in the league, Klopp must now look at the ways by which to stay there.