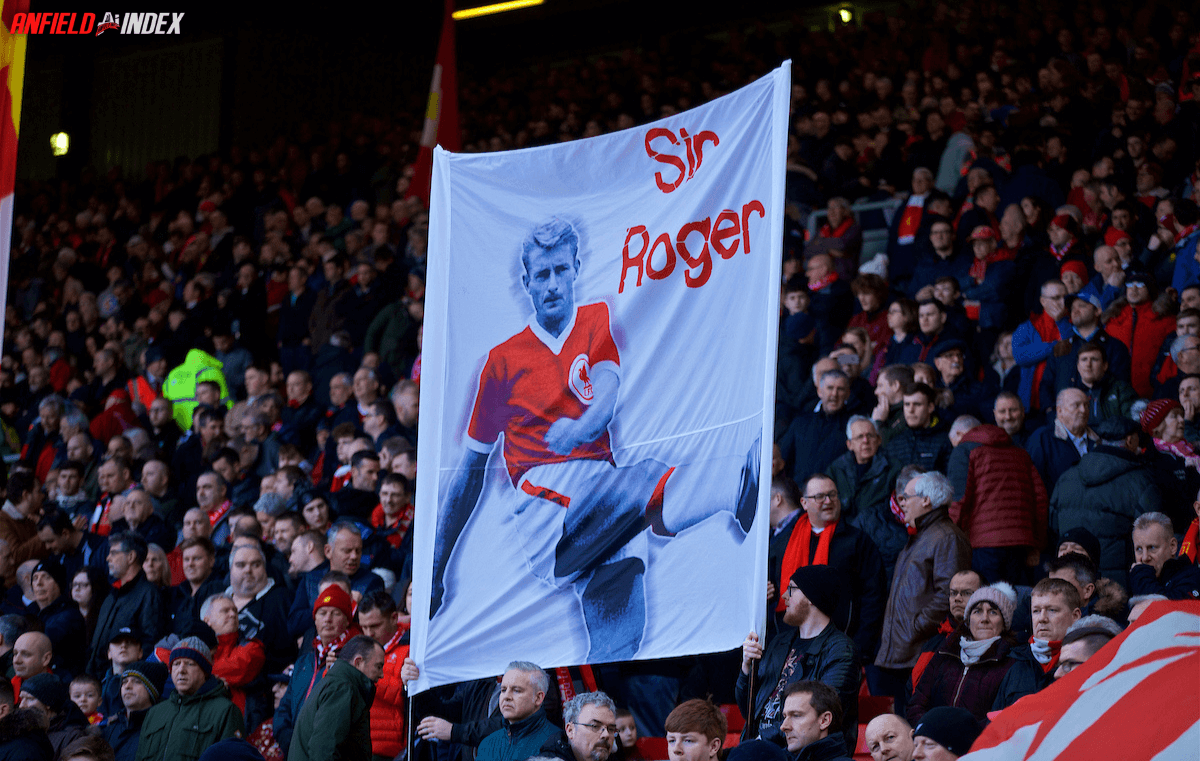 Roger Hunt - Forever Remembered
I've chosen to write articles here and there about Liverpool legends from my own youth. It's often a light hearted look at past brilliance, with a nostalgic and enjoyable tale of a player, once cheered on by the ever changing face of the Kop. As the years roll by, certain heroes that explode from a young age, can be gone in the blink of an eye. Our memories allow moments and players to live on within the Liverpool hearts and souls, and where these written pieces are often enjoyable reflections, sometimes they are an emotional journey that require care and respect. I've often stated the importance of remembering those that once stepped onto the Anfield turf, and in Roger Hunt's case, he not only helped Liverpool achieve greatness, but struck terror into all defenders he ever faced.
Roger Hunt passed away this week at a marvellous 83 years of age, and his name is recognisable through both English and Liverpool's footballing folklore. For those supporters of a younger generation, you may have a father or grandfather that once cherished this man in their own youth. The way we hail Mohamed Salah (within this current crop of reds), can be mirrored to how the generations before us saw their own heroes. Roger Hunt is comparable to the greatest strikers to have played the game, and all of football mourns his passing.
Roger Hunt passed away after enjoying a fabulous life both in and out of football. As Liverpool's prolific marksman, he played 492 games, scoring an incredible 285 goals. His style and venomous nature in front of goal made him one of the world's greatest players, and enjoyed complete adoration within Anfield. With 244 league goals scored, he holds the Liverpool record for that competition, sitting atop an extraordinarily group of extraordinary forwards.

Roger began his Liverpool journey in the 1959/60 season, with both a starting role and goals aplenty secured from the off. The next 10 years would be spent leading the line with absolute distinction and brilliance, as a world class striker amongst the best of his generation. Having won a total of three league titles (2 first division & 1 second division) and an FA Cup, his domestic success was a fitting return for his talents. His eventual departure saw a move to Bolton Wanderers, where a further 76 games were played, with an impressive 24 goals scored. Roger ended his playing career with 568 senior appearances across his two clubs (a brief loan stint at Hellenic garnering 4 goals from 6 matches aside), compiling an absurd 309 career goals. To mark him down as one of Liverpool's greatest ever strikers would be accurate, and his unstoppable play would easily mould into today's modern game.
Perhaps the greatest professional achievement of Roger Hunts career occurred in 1966. This year alone is attached with ease to England's greatest footballing moment, as the Three Lions won the World Cup. Hunt played 34 times for his country, and was a critical piece within the England machine of that era. His 18 goals showed he was able to translate his Liverpool form onto the international stage, and he was part of the illustrious group that lifted the Jules Rimet trophy at Wembley, in 1966. He scored 3 goals in 6 games during the tournament, playing in each and every game. This group's achievement has yet to be matched, showing the absolute gravity of their Wold Cup victory.
Looking back at those that were part of Liverpool Football Club is important for all fans. Supporters and players alike will all age together. The celebrated moments and persons within Liverpool's history, should never be forgotten, especially the late, great Roger Hunt.
Roger Hunt MBE is a member of the Liverpool family, and his achievements as a man and as a footballer, will never be forgotten.
The sincerest of condolences must be given to Rogers family, and the way in which I've heard him spoken of in the last few days, marks him as a truly brilliant, humble and respected man, as well as a sensational footballer.
I'm sure I speak for the Liverpool fan base in reiterating the words, so often heard from the adoring crowd.
You'll never walk alone Roger Hunt, and may you rest in peace.