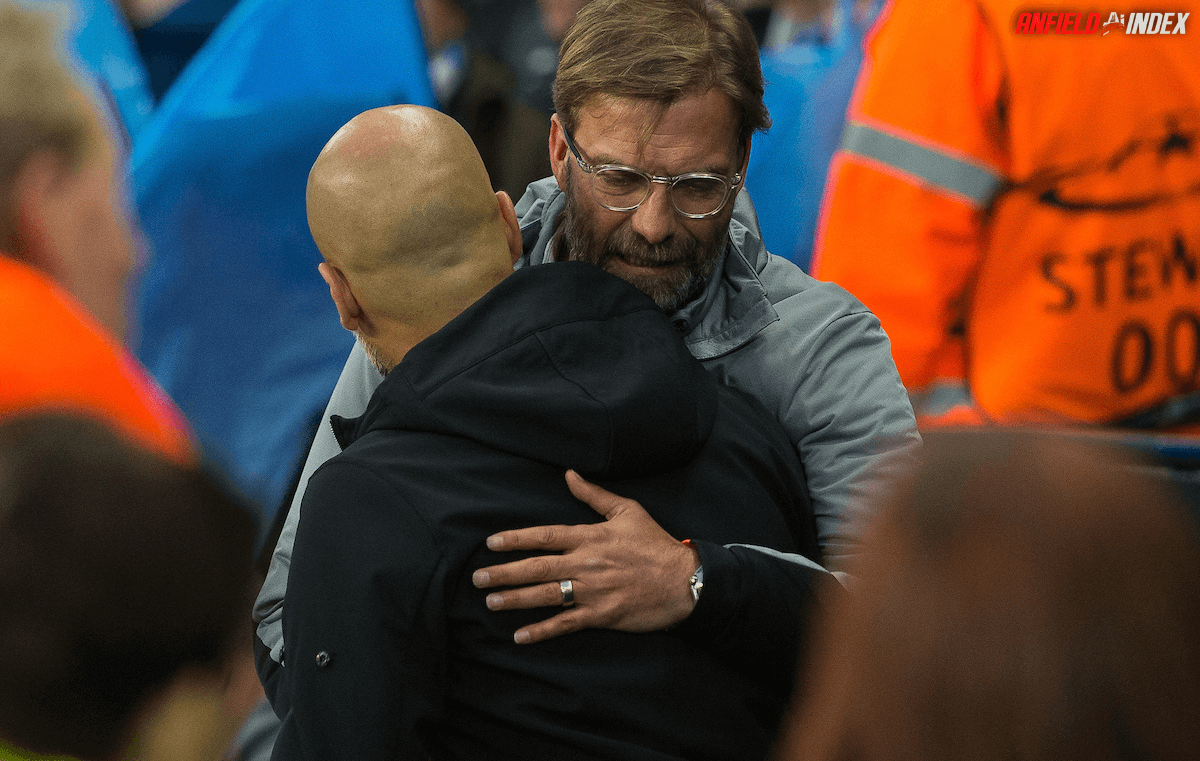 How To Approach Manchester City
This Champions League week is now at an end, and the approaching weekend games offer huge excitement for one of its match day 7 fixtures.
Manchester City pay a visit to Anfield this week, in what will be a titanic match-up between the top two sides in England of recent times. How Liverpool will cope after drubbing Porto in the week is a question with varying answers. City lost a huge FFP linked tie to fellow big spenders Paris Saint Germain, and will want to bounce back immediately. Liverpool will be cheered on by a full house, and will surely bask in the atmosphere, but it's curious to see how City and Pep cope with so many fans in a stadium.
City have some dilemmas, and Pep's clear inability to successfully replace some departed legends could proof an issue. Despite the vast monies spent on recruitment, the likes of Vincent Kompany, Yaya Toure, David Silva, Pablo Zabaleta and Serio Aguero have not been adequately replaced in the City line up. All of these players were present when Pep arrived, and not one has been upgraded on upon their departure. In order to enlist the services of Pep Guardiola, City chiefs probably allowed reasonable transfer target freedom, as the recruitment drive has been unspectacular during his tenure. There is an air of inconsistency when under pressure, something that was not apparent when the team was made of elite winners. Pep's investment totals will always see him compete, but this Etihad side is now much like their home games, in struggling to reach their capacity.
Anyone now would be hard pressed to nail down Pep's strongest (and preferred) starting line up, and moving about his players to find the right blend is causing a lack of true rhythm. City can be ruthless, and as they showed last weekend, if they are allowed to play and dictate proceedings they can carve teams open at will. It's difficult to predict a line up after a mixed few days, but questions will be asked if they lose to the current league leaders.
Liverpool must use their midweek momentum, and look to bully and suffocate City. Klopp's men were on the end of some ferocious opposition last weekend (away to Brentford), and he challenged a much unchanged side to bounce back in Portugal. The result was emphatic, and in order to continue their good strides, some ferocious play by themselves would be a sound option. Liverpool are best at high tempo, and vulnerable teams always struggle at Anfield if pressurised, and this should be the blueprint.
Curtis Jones has to start, and his confidence will be sky high. If he is afforded ample room the license to attack City, he could once again offer a new dynamic to the reds midfield. His added attacking play will face more difficult opposition this Sunday, but he has the ability to create moments, and should not be reigned in too much. With this in mind, Jordan Henderson should be fully reigned in and actually start cover space (as the super intelligent Wijnaldum once did). His game intelligence has to improve, and his need to stand out must be shelved for the good of the teams shape. Gini stepped back from his natural game and probably his wants as an offensive player, in order to become the system player Liverpool needed. With Thiago Alcantara sidelined, Henderson must help Fabinho control the middle of the park, and the left hand side should offer the building phase of Liverpool's play, with Trent Alexander Arnold likely out.
Roberto Firmino had a delightful return to action against Porto, and must step into the team this Sunday. His brilliant double and natural game will surely make the decision easy for Klopp, with Diogo Jota due a rest from the team. Jota is an ideal impact alternative, and Firmino is a workhorse that has often caused City's rearguard no end of issue. His familiarity with Mo & Sadie will be needed more than ever, with both playmakers (Trent & Thiago) out with injury.
In what will be a huge test for both sides, it's genuinely hard to pick a winner. Liverpool must engage quickly, and force City into indecision. Chelsea chose to sit back and counter, in a strange tactical stance from Thomas Tuchel. Jürgen Klopp must follow his methods and attack Manchester City with ruthless aggression, and gain the crucial early initiative.
It's a mouth watering encounter, and it's sure to offer multiple moments of both magic and debate. The winner could become title favourites, and the loser will surely enable Chelsea to re-enter the battle, in this fascinating three horse race.