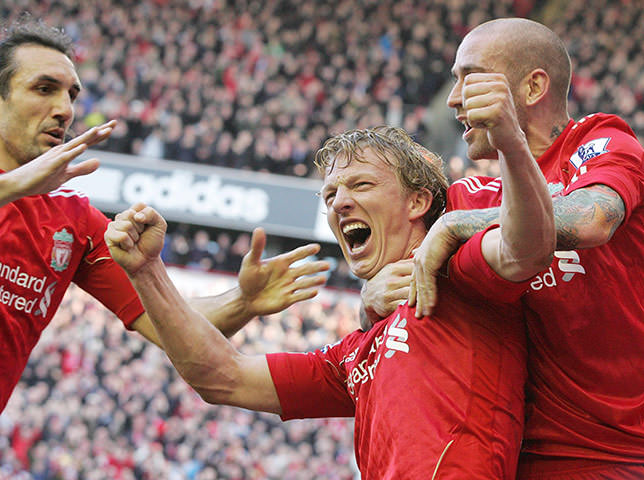 Liverpool's Unsung Heroes
Liverpool legend and club ambassador Robbie Fowler recently went on record to speak up for some of the less celebrated members of the current squad. Singling out names like Matip and Fabinho, Fowler praised the less high-profile players for their invaluable contribution that often gets overlooked. These are the players who do the hard work, creating chances, making passes and winning tackles – but never quite get in the spotlight.
These are also the players to make bets on, which you can do at something like this site at a real money online casino Canada. Often defensive players like newcomer and rising star Nathaniel Phillips, these unsung heroes may not get the goals but we would be lost without them. Their names may not be lost, but they don't often appear in lists – so let's take a look at some of the biggest unsung heroes in the history of Liverpool FC.
Dirk Kuyt
Kuyt joined Liverpool from Feyenoord in 2006, and soon won over the fans with his hard work and courteous behaviour. Throughout his Anfield career, he became one of the team's most valuable players, both assisting and as a goal scorer in his own right. His star season was probably 2010-2011, where Kuyt quickly formed a good working relationship with newcomer Luis Suarez and finished out the season as top scorer. Kuyt has proved that his good-guy image was no charade, and he now runs a foundation in his name that helps to play sports more accessible for people with disabilities.
Gary Ablett
Joining the main squad from the youth team, Ablett made his Liverpool debut in 1986. Being a central defender or a left full-back, he scored just once during his tenure but was instrumental in two league wins and an FA Cup victory. Alan Hansen has referred to Ablett's sale to Everton as one of the biggest mistakes Liverpool ever made with a transfer. After his playing career was over, Ablett returned to Liverpool for a successful three years as reserves team manager. Just three years after leaving the role, Ablett sadly passed away from cancer at the young age of 46.
Paul Walsh
Walsh had a somewhat chequered career at Liverpool, dogged by injury and often sidelined in favour of other players. Nonetheless, the Londoner was a crucial player in many important matches and seasons, helping Liverpool to their league and FA Cup double victory in 1985-86. His knee and ankle injuries held him back, but he still managed to score 37 goals in 112 Liverpool appearances. Walsh's son Mason also enjoys a successful career as a professional footballer, having played for Bournemouth and overseas in the US.
Craig Johnston
The 1980s were golden years for Liverpool, and Johnston was there for almost all of it. Unfortunately, he will never be remembered in the same way as Ian Rush, Kenny Dalglish or John Barnes, but certain fans will always have a place in their hearts for the Australian dubbed 'Skippy'. Johnston's story is truly remarkable; his parents sold their house to fund their teenage son's one-way ticket to find a footballing fortune in England. But it is his fierce loyalty to Liverpool that earned him a place in the history books.
After leaving the club, Johnston never played professionally again and has gone on record many times to say that he would never play anywhere else. His post-football career has also been very interesting, with various roles in business, innovation and photography. Johnston designed the Predator football boot which was bought and developed by Adidas and is now worn by some of the top players in the world.