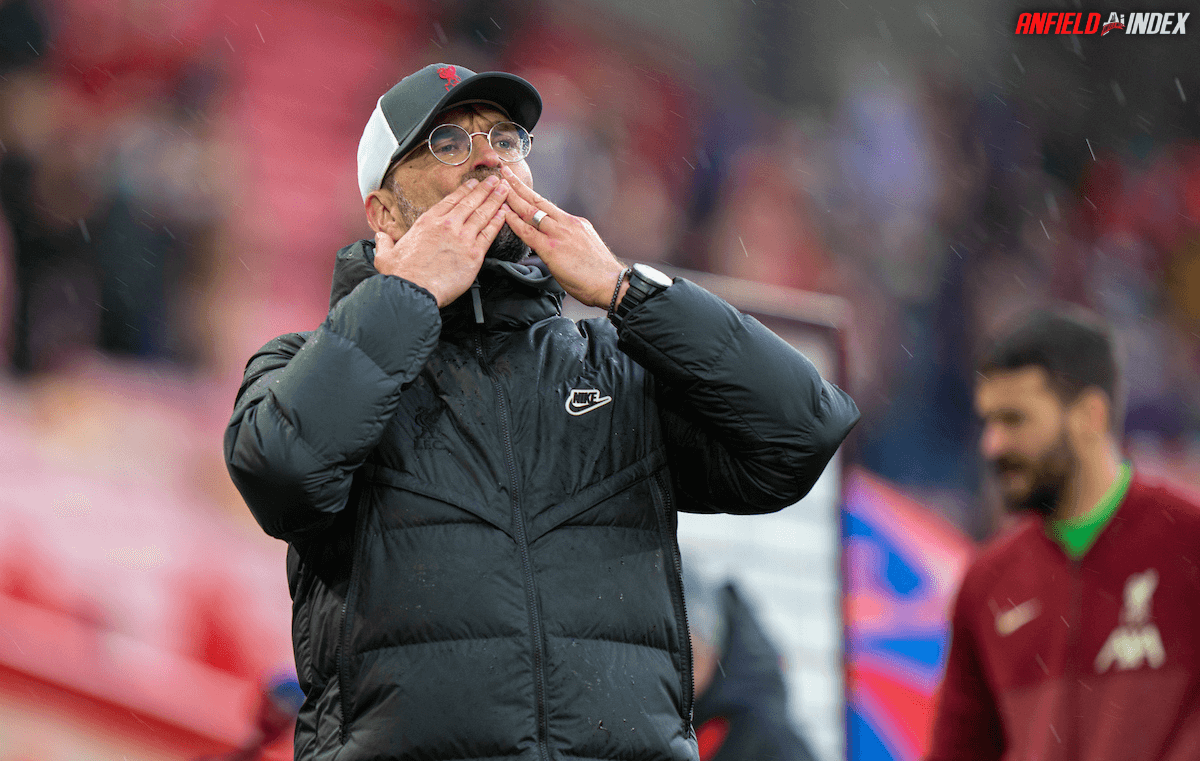 Following in Klopp's Footsteps
I wrote some words a few weeks back about how Liverpool could replace Jürgen Klopp, and I mentioned the likes of Marco Rose, Julian Nagelsmann and even Mauricio Pochettino as possible appointments. There was one name that I considered, but dismissed due to his current employment status. However upon brief reflection (and due to his current employer being prone to swapping out managers), I am going to look how how the fit could enable continued success beyond the era of Jürgen Klopp.
Klopp began his coaching career at Mainz, before landing at Borussia Dortmund. Each job showed a great young manager in the making, and his style of play and energy was making waves across Europe. There was a certainty surrounding this charismatic football manager, that a huge job would be waiting once he departed his beloved Dortmund, and the rise saw him land at Liverpool Football Club in 2015.
In the next few few years, the talk of managerial replacements will have to be replaced with an actual managerial appointment. The coming transfer windows will surely have a say in whether Klopp extends his current contract, and if a new crop of blossoming youngsters can temp Jürgen into building one more team. The likely scenario sees Klopp walk away when the prime of his current players, such as Virgil, Mo, Sadio, Fabinho, Alisson, Robbo and Thiago are behind them, and leave the foundations for a new chapter in Liverpool's history. Some of these players will hopefully be able to aid a new regime, and this manager must be well equipped to replace the brilliant Jürgen Klopp.
Thomas Tuchel began his managerial apprenticeship at German outfit FC Ausberg II, before landing the Mainz position in 2009. He replaced Jørn Andersen in 2009, a year after he himself had replaced a certain Jürgen Klopp. An impressive five years followed under Tuchel's leadership, before he was appointed the Borussia Dortmund head coach. His predecessor was the Liverpool-bound Jürgen Klopp, who was taking a short sabbatical before starting a new life in England. Tuchel spent two years in the hot seat at Dortmund (showing brilliance in his attacking set up), before being offered the riches of Paris Saint-Germain, and the task of delivering the converted Champions League trophy.
There are certain jobs in world football where success does not make a manager's job secure. In recent decades we have seen Real Madrid sack high profile and winning managers, because the style simply did not fit the identity for the club. Winning was always required, but winning in a galactico style was equally vital. PSG are one the current state run teams in world football, and are obsessed with attaining European glory. Money is of no object, and domestic success is often a distant afterthought in their wants. This team lives and breathes (under the current ownership) to win the European Cup, and managers have come and gone due to this single minded pursuit. When looking over a mangers CV, it would be best to adhere to certain caveats when considering whether a manager has been successful, at either PSG or Real Madrid. The wealth, arrogance and persona of these two clubs make Real and PSG very similar. Neither club warms to certain coaches that only wish to win, and the appointments are often short lived. Thomas Tuchel never did win the Champions League for PSG, but it's difficult to judge this period in his career.
After leaving PSG, Tuchel's eventual appointment to the Stamford Bridge role righted the misguided hiring of Chelsea legend, Frank Lampard. With Tuchel's appointment, a brilliant football team, in Chelsea, once more had a brilliant coach. The ethos and structure has not changed all too much, since Antonio Conte created a league winning formula. The current team is now dominating most games, much like a prime Jose Mourinho machine. The tactical shift and ability to close teams out, is a new string to Tuchel's bow.
In the opening months of Tuchel's reign, Chelsea showed immense improvement in their resilience, and Tuchel clearly felt that improving their defensive shape was needed from the outset. In what is looking like a strong build (to Chelsea regaining the Premier League crown), there will always be the feeling that a managerial fallout is never too far away. Thomas Tuchel is not a man to bend to the will of ownership, and Roman Abramovich is not the type to accept anything outside of his wants, for too long. The current manager and clubs position is brilliantly poised to gather more silverware, but Tuchel's inevitable departure could well coincide with another Premier League manager, departing their own post.
To follow Jürgen Klopp one more time would not only be an amazing coincidence, but it could well be the perfect next appointment for the world class manager, Thomas Tuchel. With a clear understanding of the English League, varying systems to incorporate (from his time at Dortmund & PSG also), multiple patterns of play and a personality built for success, Anfield could be an ideal scenario for both parties. In 2024 Jurgen Klopp will most probably leave Liverpool, with scenes mirroring those tearful goodbyes, we witnessed on his last day at Dortmund. His departure has to coincide with an equally talented successor bring appointment, and Tuchel has to be considered.
To look at the landscape of Liverpool in a few years (and the players that may well be around), Tuchel's current 3-4-3 or 3-5-2 system (at Chelsea) could well mesh into a post Klopp world. I've stated before that systems will always need to adapt to certain world class players in order to maintain their influence, and that could see a system change suit.
To make assumptions about a team under Tuchel in a few years, I believe the following could transpire. With Alisson Becker still in goal, a back three that could place Virgil Van Dijk in between the younger Joe Gomez (from the left) and Ibrahima Konate (from the right), would allow Virgil to maintain his defensive impact, just in a more considerate system. Virgil needs to be the bedrock for Klopp's successor, and the way in which Tuchel currently currently deploys Thiago Silva, would suit a 34 year old Virgil perfectly.
The wing backs may well see a personnel change on the left, but a prime Trent Alexander Arnold (as a wing back) could be devastating. His role as the teams current playmaker would be maintained, and further influence in the final third granted in this changed system. We are seeing Reece James excel at times, and a world class Trent would surely thrive within this formation. The other side would need Kostas Tsmimikas to become the attacking starter, with a still able Andy Robertson offering similar traits to Chelsea's current pair, Marcus Alonso and Ben Chillwell. The variation could suit both players over a season, and a less heavy work load for a 32 year old Robbo would be a ensured.
A midfield two of Fabinho and Jude Bellingham is the dream double pivot, and with Thiago likely offering good depth, alongside Curtis Jones & Harvey Elliott. In a three man midfield, it could allow sound tactical alternatives and control across a campaign. The hope is that Mo Salah signs that contract in the coming weeks, and the future hopefully sees him to operate with an out and out centre forward.
The current Chelsea trio of Lukaku, Havertz and Mount, or pair of Lukaku and one other, could offer some insight into a Mo Salah's fantasy role under Tuchel. The acquisition of Ivan Toney,  to be paired with Mo Salah, would work ideally, both now and under a Tuchel regime. Diogo Jota and Harvey Elliott would be options in this forward line, and a certain Kaide Gordon will surely be making a play for minutes by this point. The options are there, and I for one look forward to seeing Mo's game evolve over the coming years.
In my adult life, I have seen Roy Evans, Gerard Houllier, Rafa Benitez, Roy Hodgson, Kenny Dalglish and Brendan Rodgers deliver sides, which offered next to no continuity to the next manager. Each departure was in some way forced, and the hope is that Klopp's successor can be carefully chosen to ensure we don't experience, what has occurred at Old Trafford or The Emirates. With Michael Edwards leaving his post, the Liverpool hierarchy must see a long term solution found for the Sporting Director role. The priorities must allow for future recruits (as time draws close), that can fit both Klopp and his managerial replacement. Continuing success is not something I have seen as a Liverpool fan, and the role of next Sporting Director must oversee the changes that can maintain and grow, what Klopp will be leaving behind.
Avoiding mass transition must mean targeting a manager that can evolve, not simply restart and lead to uncertainty, like we have seen at other major clubs. In Thomas Tuchel there would be an experienced serial winner, with ideals not far removed from Jürgen Klopp. If and when Klopp leaves Liverpool, a Tuchel appointment must be considered, and that appointment could help overcome the dark day, when Jurgen Klopp is no longer Liverpool's manager.