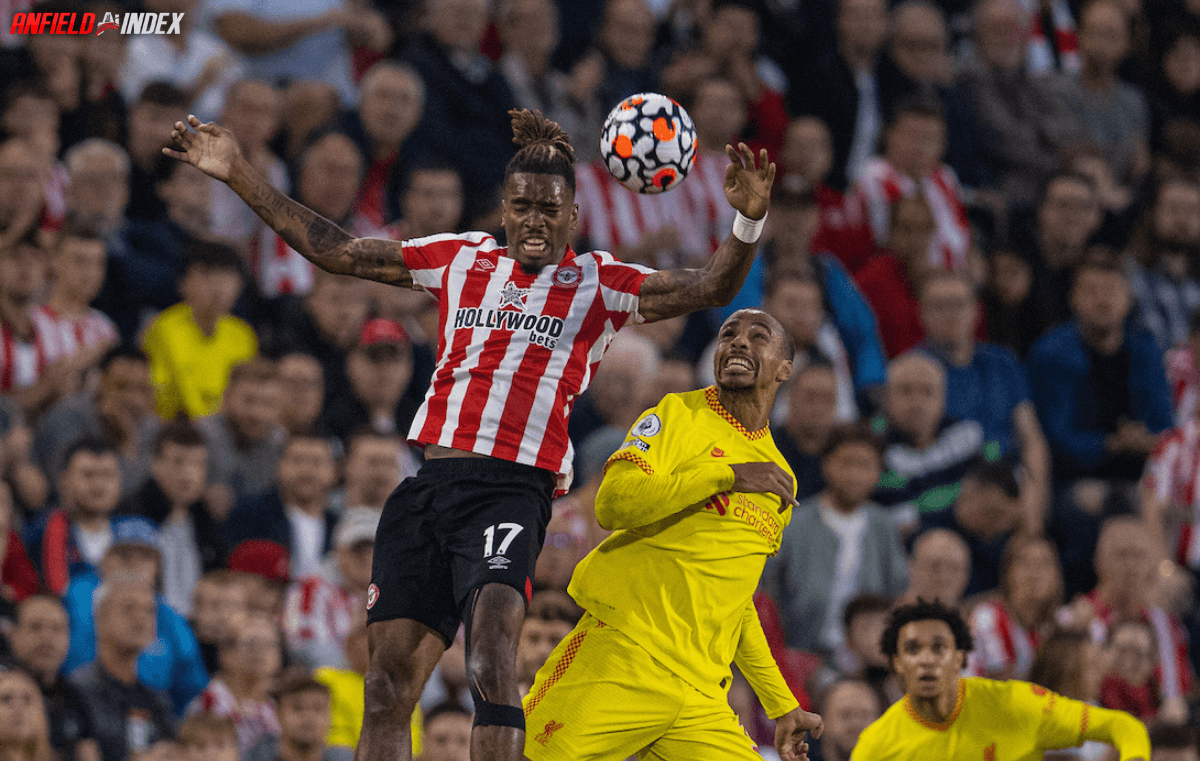 Bring Me Ivan Toney
Now and again an opposing side can cause such a stir it has the manager (on the receiving end) look deeply into said team, and more importantly their players. I wrote about the RB Salzburg tie from a few years back and how the intelligence, elegance and work rate of a certain Takumi Minamino, prompted Liverpool to make move for the gifted attacker. Whereas this deal hasn't worked out from a first team point of view, the low fee paid out still represents good business for a useful squad option. Taki now resides as a player more than likely to be moved on in the next year, and alongside Divock Origi, he's a player that should be upgraded upon at the earliest opportunity.
Refreshing a squad's roster of talent allows certain requirements to be ticked off. It keeps the line up fresh, stagnation limited, and it also keeps hungry players pushing the more established starters to maintain their roles. This season Liverpool have a clear question mark in the centre forward position, with Roberto Firmino and Diogo Jota vying for the starting spot. Neither player has cemented the position as their own (this term), and it's an area that definitely requires attention.
The brilliance of Mohamed Salah requires those around him to adhere to his style of attacking play, and the team has to be configured to extract every ounce of Mo's match winning ability. The Bobby of old is a very handy squad option, but his place as a first team starter is waning, and a more prominent strike option has to become a Michael Edwards target. Diogo Jota is possibly more effective from the left, and should facilitate superb rotation with both Sadio Mane and the centre forward role.
This leads us back to the opening paragraph, where a certain opposition team (and subsequent opposition player), was able to rattle, harass and cause an uncommon stir to not only the generally superb Joël Matip, but also the worlds greatest centre back, Virgil Van Dijk. To have such an impact against a strong reds defence (and be the main reason that Brentford were able to register a 3-3 draw against Liverpool), is why Ivan Toney must be looked at as the long term solution in the centre forward position.
Since the 1990's I've witnessed a stream of 'powerhouse' or old school centre forwards, that could bully and cause damage within their version of a red side. Stan Collymore was an ultra talented player, that would have become an elite force if not for a questionable mentality and personality. His talent was never in question, but whilst there was a singular season of scintillating football, his stay will always be looked upon as slightly disappointing.
Peter Crouch was an awkward and troublesome striker that fit in the Liverpool of that time. With both player and club looking to reach heights that were perhaps slightly above their abilities, it was a smart if unspectacular piece of business, to sign the giant striker. Crouchie was at best a cult hero, and at worst a useful and effective target man, that could score goals.
Andy Carroll is possibly the biggest disappointment in Liverpool's Premier League era, with an unremarkable and disappointing spell at Anfield. His physical attributes never fit with the world class Luis Suarez, and his role in the team showed only glimpses of the talent which was largely wasted. The only positive was the near £20 million Liverpool were able to extract from West Ham, upon his departure.
When Liverpool signed Christian Benteke for a mind boggling £30 million, it seemed a purchase of desperation within Brendan Rodgers' reign. After Suarez had departed there was a devastating drop off, with a list of failures embodying Brendan's period as Liverpool manager. Ricky Lambert, Fabio Borini and Mario Balotelli all shared similar Liverpool experiences, and all were ushered to the door, as hastily as they had arrived.
Since Divock Origi signed, there hasn't been a conventional striker able to play centre forward, with  both power and desire. Bobby and Diogo offer technical and workmanlike qualities, but neither are ideally suited to lead the line as a Romelu Lukaku type, for instance. If Ivan Toney were to be recruited, it could offer a whole new dynamic to the reds' attack, and also be done without breaking the limited bank.
With an ability to stretch play, run the channels, hold up the ball, press opposing defenders and score goals aplenty, Toney would represent a different style of forward commonly purchased by Klopp whilst at Liverpool. As Borussia Dortmund manager, his main striking component was possibly the world's best current centre forward, Robert Lewandowski. Though the stylistic comparisons are not exact, there are key facets that could allow Liverpool a further goal threat in Klopp's current approach. Where the link up play between Mane, Bobby and Mo has always been evident, the goals have often come from the wide forward roles. Where Jota has a brilliant eye for scoring, his ability to bring in these wide forwards is not an absolute strength in his game. If Liverpool were to pursue the addition to Ivan Toney, it would shake things up beautifully, with his unselfish play, link up ability, and lethal nature in front of goal.
The next two windows are critical in Liverpool's short term future, and with Salah still not signed up for the long term, there are plenty of questions afoot. The signing of an attacker does not always have to be a multi talented forward that can play across the line. The addition of Ivan Toney could aid both the wides forwards and cross hungry full backs, as well as the stagnating midfield. When a certain Thiago Alcantara isn't available, the midfield can often look lost in leg reading play.
This past summer we have seen Manchester City add Jack Grealish for eye watering monies, and will surely return to White Hart Lane for Harry Kane at some point. With Chelsea spending heavily on Romelu Lukaku (after previous outlays on Timo Werner and Kai Havertz), there is now a real need for Liverpool to react. Even though Chelsea and Manchester City are Liverpool's main competition for the title, there is still Manchester United to consider. Last month saw the return of Cristiano, and though this short sighted deal is expensive, he will continue to offer a genuine goal threat. Jadon Sancho could turn out to be a sensational player (under the next manager), and real intent was shown by all of Liverpool's close competitors.
As Newcastle enter a supposed period of wealth, Liverpool need to be both assured and smart in the market. Allowing the ageing forward line to become over reliant on Mohamed Salah, can not be the way forward. The potential purchase of Liverpool fan, Ivan Toney, needs to be a deal that is more than just consideration and monitoring, given his unique abilities. Opportunity in the market has been a vital area of Michael Edwards recruitment history, and the next wave of signings, (before his own departure), must surely have Toney high on his list of striking options.
As we close in on the January window, the raft of names will be frequent and debated. If Liverpool are to recruit a centre forward, within the gettable range, then Ivan Toney could prove the perfect addition.