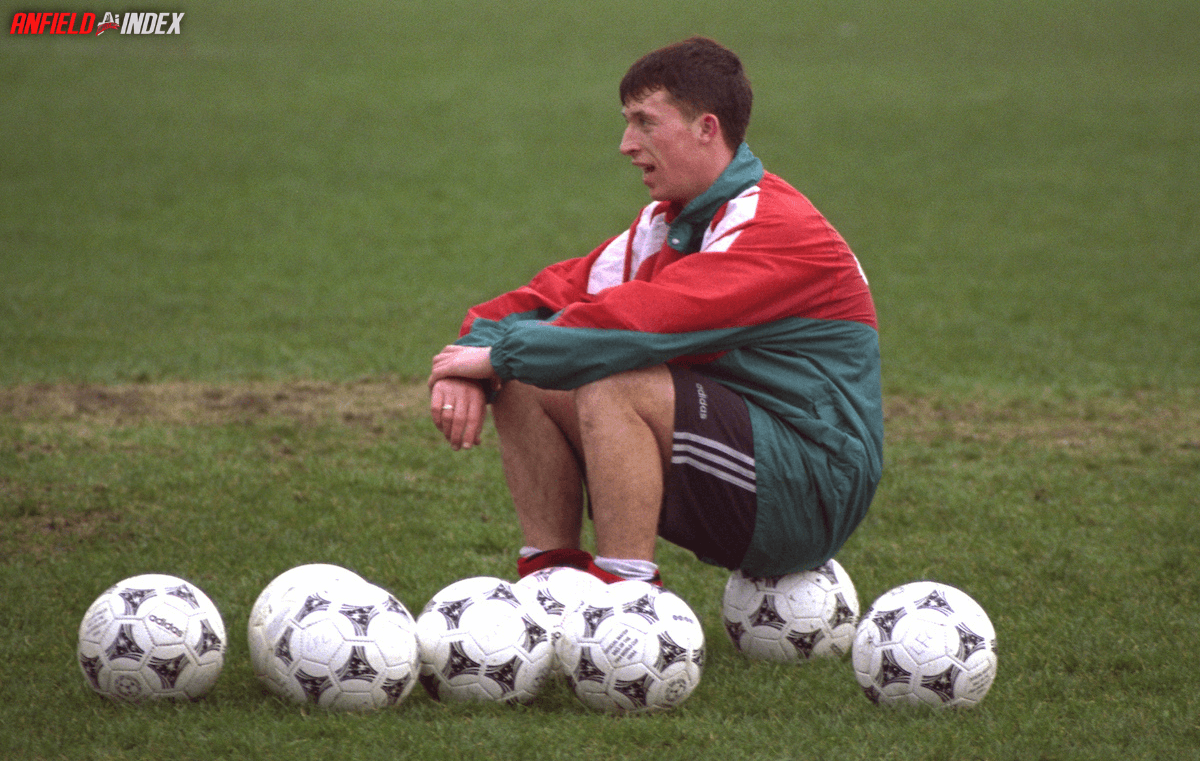 Robbie Fowler - God Only Knows
Robbie Fowler – God Only Knows
I recall Robbie Fowler's first appearance and subsequent first goal for Liverpool in a 3-1 win (he scored in the league cup first leg, away to Fulham), but it was his second leg performance that truly introduced me to the man now known simply, as God.
In 1993 there was very little live football available in the UK, and many games were followed on both radio or teletext. When awaiting updates on latest scores (generally on a Saturday afternoon), there would be a genuine anticipation at times. The fixtures would never fit onto on screen, therefore the pages of teletext would roll through its three part cycle, meaning you could only see your teams latest score in rotation. I suppose it's similar to how we've all refreshed Twitter, hoping to see the moment when Liverpool score.

It is Fowler's second leg performance (at home to Fulham), where both teletext and radio was overwhelmed with the new name, Robbie Fowler. The 18 year old academy product managed five goals that night, in a truly sensational display that helped create one of the clubs greatest ever goal scorers. In the following weeks and months, it became clear that the successor to the legendary Ian Rush was found, and a new hero was born. A local boy born and raised in Toxteth, would go on to wear the famous number 9 shirt, and play for his boyhood team.
In a career that started as bright as any could dream for, it's one of the biggest disappointments in Liverpool's past, that Fowler's prime was cut so short, due to injuries. His Anfield stay was probably shortened further by the emergence of Michael Owen, yet if not for injuries, there is every possibility that Fowler still would have broken all Liverpools goal scoring records. His career as a red consisted of two spells, with the first (and ultra prolific) spell consisting pf 330 games, and a brilliant return of 171 goals. His magnificent attacking play was something I had the pleasure to grow up watching, and his ability was of a startling level of greatness.
The absolute peak period for Robbie Fowler was from that very first season, where he registered 18 goals in just 34 games (an unbelievable return for a teenager at such a huge club). The following three seasons (from 1994/95 – 1996/97) saw 31 goals in 57 games, 36 goals in 53 games and 31 goals in 44 games respectively. It was in the next season 1997/98, and as Fowler had become one of Europe's most feared strikers, that everything would change. In 1998 a severe knee injury was sustained in the Merside Derby, meaning he would miss the memorable 1998 World Cup, at the seasons end. Robbie Fowler was just 22 years old at the time, and in an era where major knee injuries could all but end an elite footballers career, or at least the ability to stay there. As a player able to score at will (and in so many lethal fashions), he should have continued to freely plunder goals for the next ten years, yet was never able to to fully return to his best form. Coincidentally, the year of the injury (and the missed World Cup), is when a certain spectacular goal was scored by another 18 year old Liverpool forward, against Argentina. In this this tournament, a superstar in Michael Owen had fully arrived and though this was a blessed sight for club and country, it also offered a recovering Robbie Fowler one more obstacle to overcome.
The following four seasons saw Robbie often watch on (after his return from injury), as Gerard Houlllier opted for a Micheal Owen and Emile Heskey pairing. Houllier saw the partnership as the ideal platform, in order to fully implement his preferred patterns of attacking play. Robbie would play mostly as a rotation option, and though his goal scoring touch was never in question (with some memorable goals along the way), his time as a first team starter fell away after the knee injury.
Robbie eventually left near the beginning of the 2001/02 season, at the young age of 26 years old. This period should have been a continuation of brilliance, yet moving to Leeds appeared the only way for Fowler to move forward, as Houllier no longer viewed him as first choice. The following years slipped by, and his move to Leeds led to yet another move to Manchester City, before a surprise and welcome occurrence in Fowler's 30th year. Rafa Benitez was the Liverpool manager at this point, and after the reds had claimed their 5th European Championship, he decided to sign Fowler on a free transfer from City. Rafa has since stated that he's never before seen such a happy signing arrive (at a club he's managed), but the fact that God had come home, felt the perfect scenario for both player and club.
Robbie was never able to fully reach his potential for Liverpool (certainly not for the duration his talent deserved), and equally so his international career was a stuttered period of annoyance, as opportunities were rarely gifted this player of huge talent. In his pomp, Fowler was competing with Alan Shearer, Teddy Sheringham, Andy Cole, Ian Wright, Les Ferdinand, Stan Collymore and Chris Sutton. For England it was a period of deep striking talent, but Fowler still deserved a more sustained run in the side, given his level of play early on. His 26 appearances  and 7 goals never justified his abilities, and it would have been a tantalising sight to have seen him paired with Alan Shearer for an extended spell. Indeed, the Euro 96 semi final against Germany (a game eventually lost on penalties), saw no substitutes made that day, and the it's a curious thought as to how Fowler could have made an impression in such a game.
Fowler's second period as a red lasted two seasons, with a back up role more than enough for the veteran red. He made a respectable 39 appearances during this time, notching a further 12 goals. His final Liverpool tally reads as 369 appearances and 183 goals, with a career total of 254 goals over 590 senior appearances. Upon leaving Liverpool for the second time (at the end of his short term contract), Fowler moved about a little, but the player will always be regarded as a forever red, given his undeniable contribution.
It's debatable as to who is and was, the greatest forward in Liverpool's famed history, and the likes of Ian Rush, John Aldridge, Michael Owen, Fernando Torres, Luis Suarez (and now Mohamed Salah) join the late Roger Hunt as Liverpool's greatest goalscorers. Robbie Fowler stands within this group of World Class strikers, and his left foot finishing was sheer poetry in motion. One could spend an entire day trawling through Fowler's greatest goals, and the stand out moments alone would take an extended period to absorb. That great Newcastle game, the finishes against Peter Schmeichel, the three minute hat-trick versus Arsenal and the Cup Final goals are all hallmarks of a fabulously gifted individual. Left foot, right foot, headed goal, inside the box poaching and outside the box strikes were all in Fowler's locker, with his quick and decisive striking the benchmark of any natural finisher.
Fowler could have played in any generation (as all natural talents can), and on his brightest days, there were very few equals to his goal scoring genius. Would he have beaten all the records…? God only knows, but one thing is for sure, the man labeled as God will be remembered by myself (and many others I'm sure) as one of the best players to ever don the famous red shirt.
Steven Smith