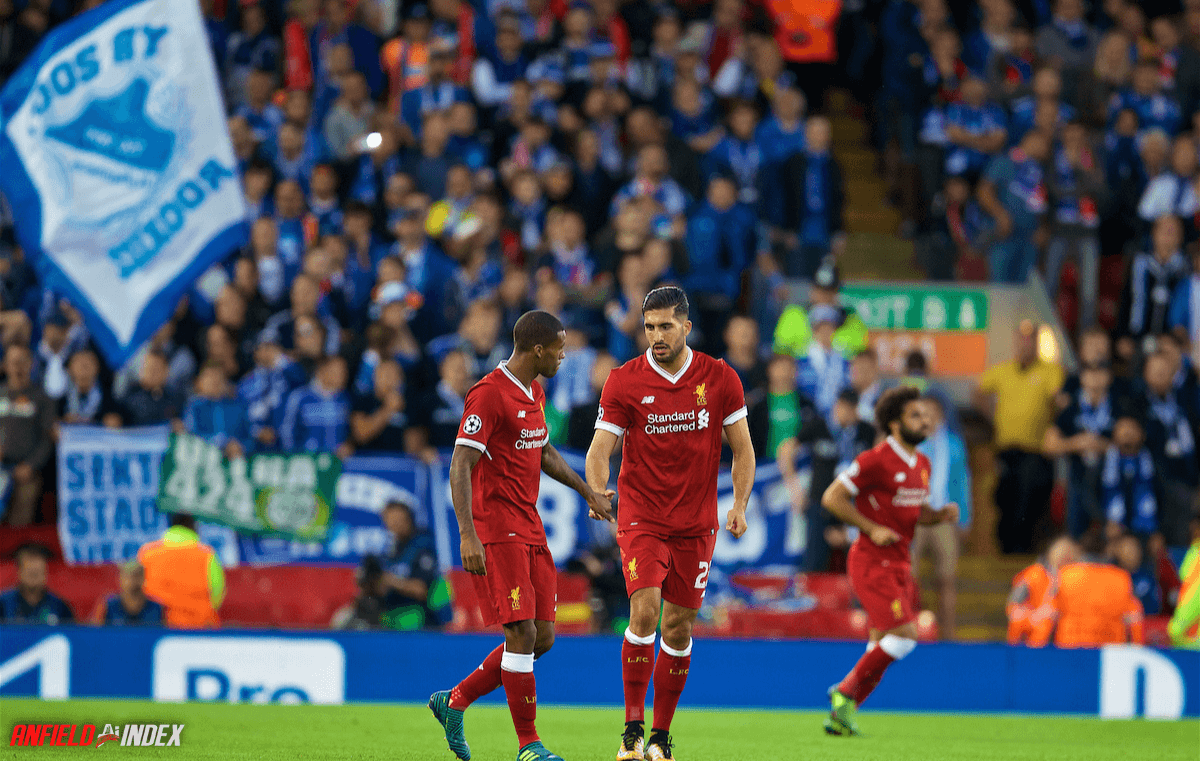 Gini & Emre - The Need to Replace System Players
The summer window is now gone, and the next two windows will require some short and long term thought, with many areas now requiring you attention. Where the defence was strengthened (in the form of giant Ibrahima Konate), we are now witnessing a midfield dilemma, one that should have been avoided. The process of recruitment will have surely taken a hit (given the pandemic), but in order to both maintain and build the playing squad, ways forward needed to be found.
When considering the superb tenure of Jürgen Klopp, there have been very few key pieces that have left the club whilst he was manager. The goalkeeping department has been massively upgraded upon, with Alisson Becker signed to replace both Simon Mignolet and then Loris Karius. The full back areas have seen a huge ascension, with Andy Robertson adding elite quality (when finally ousting Alibie Moreno) on the opposite side to Trent Alexander Arnold. Trent became a first team starter (and world class asset) when taking Nathaniel Clyne's spot, and at centre back we have Virgil. The worlds best defender, Virgil, leads a supporting cast of Joël Matip, Joe Gomez and new signing Ibrahima Konate. All these are massive upgrades on the likes of Mamadou Sakho, Martin Škrtel and Dejan Lovren.
Lovren and Škrtel may well be the most frustrating defenders in Liverpool's modern history, and the group that now defends Liverpool's backline is light years away from which Klopp inherited. Only Joe Gomez remains in the squad, and he himself was converted from a talented utility defender, into perhaps England's most gifted centre half. If not for injuries, he would have likely played a key role in England's recent European Championship run.

Next it's the attack which has seen another huge upgrade across the line, with Mohamed Salah, Sadio Mane and Diogo Jota the key names brought in since the Brendan Rodgers era. Theses elite and world class forwards have been able to effortlessly replace Christian Benteke and Mario Balotelli, with Daniel Sturridge and Divock Origi both contributing crucial moments under Jürgen Klopp. For what it's worth, Sturridge (if gifted the durability of a Salah), would have been a sensation within this side. Roberto Firmino was also just signed at this point, but was mostly disregarded by Brendan in their short spell together. I'm actually of the conspiracy belief that Bobby was hand picked by Klopp in the summer (months before Brendan got sacked), and the delay in Klopp taking over was only due to his respect for Borussia Dortmund, and the break from football he had stated he needed.
The next step is the midfield, and the true area I wish to highlight. The players that have been recruited to play in this area (under Klopp's management) are as follows;
Thiago Alcantara, Naby Keita, Alex Oxlade Chamberlain, Harvey Elliott, Fabinho and Georginio Wijnaldum. This group is a varied bunch, with some genuine world class players, as well as elite variations. The players upgraded upon (to join Jordan Henderson and James Miner) were Adam Lallana, Philippe Coutinho, Lucas Leiva, Joe Allen and Emre Can. Now Phil was a sensational player, yet he did not possess the systematic engine or positioning to operate in the desired midfield. Klopp wanted a functioning unit, that was needed in order to release the fullbacks and wide forwards. The opposition half needed to become a minefield of gegenpressing, and the titles and players that have been brought to the club since Phillipe's departure, make the sale justified.
The more interesting and worrying factor, relates to Emre Can and Georginio Wijnaldum leaving the club. When Emre Can was a Liverpool player there was this misguided notion that he wasn't good enough, at least by some supporters. The truth is that Emre was a great system player, a dominating player and an intelligent asset that could play various positions. Given the chance, I believe Klopp would have loved to have kept Can as part of his build, yet when an offer comes from Juve, it's obviously hard to turn down. Emre leaving was probably down to his versatility, and wanting to cement a singular place in the team. The unfortunate problem was that the team was still building, and the midfield positions were not of the desired level as yet. This meant that Emre would often move from the eight to the six as was needed, and it was his effectiveness that saw this as a requirement. Emre Can could have become a brilliant midfielder for Liverpool, and I believe he would walk into the team as an eight right now. His impact as a red seems undervalued, yet he was at times Liverpool's most effective player, when they were fighting to climb the league.
When looking back at recruitments, it is Emre's direct replacement that has aided Liverpool midfield growth the most, since he left for Turin. Fabinho came in shortly after Liverpool lost the Champions League final to Real Madrid, a game in which Can should've played a larger part. There was a clear need for a specialist defensive midfielder, to sit in front of Virgil's backline, and Fabinho became this man. Where Klopp saw one very good midfield option leave on a Bosman free (to Juve), he and Michael Edwards reacted in signing Fabinho, who has gone on to become a world class enforcer for the Reds. His contribution is emphatic, and when he starts, Liverpool are a match for any midfield in Europe. Emre Can was most certainly upgraded upon, though it would have been a great sight to see these two players form an amazing midfield, of power and control.
This leads to the next and more worrying issue, and that's why Georginio Wijnaldum was not replaced. There have been grumblings and stories of discontent from PSG this past week, and Gini appears to be struggling with life in the French capital. The international break can sometimes give players an opportunity to vent their frustrations, and little Phil was a master at this trait before his departure. In Gini's case, I believe he has landed at a place he perhaps wasn't completely sold upon, and would have loved to have remained a red. The contract Jordan Henderson has received since, makes Gini's leaving that more annoying and even more mystifying. Gini was a vital component that allowed Liverpool's patterns of play to work. He was the ultimate system player that did not lose the ball, could recyclable possession, cover key areas, and sacrificed much of his game in order for others to thrive. This is exactly why Philippe Coutinho was deemed a saleable asset, and why so much success has been garnered since.
Gini clearly wanted to stay, and Phil evidently wanted to leave, yet some of the fan base would love to see the Brazilian return, whilst smirk at Gini's slow start in Paris. It should never be forgotten that Gini was a remarkable player for Liverpool, and enjoyed huge moments of success during his Anfield stay, and major issue lies in not replacing that which was so important. In Klopp's time as Liverpool coach, I believe there are three players he would have gladly kept: Emre, Phil and Gini. In Phil's place there was a raft of positions upgraded upon, with Naby (signed a year ahead of time), Virgil and Alisson signed with the monies received. When Emre Can departed, Liverpool swooped to secure the services of Fabinho, yet in the case of Gini nothing has occurred sort from Harvey Elliotts return from loan.
Liverpool have started this season well, yet could have easily accrued more points in the league. The midfield has suffered through multiple injuries and some very poor form from the skipper, Jordan Henderson. The fact that Klopp's mainstay midfielder, Georginio Wijnaldum, is no longer a red has left glaring questions as to how the midfield should adjust and evolve. The most pressing question for me would be how Gini was not replaced, especially when we have consistently seen upgrades impact time and time again. Last season saw Dejan Lovren leave, and despite his lack of ability to play for Liverpool, he should still have been replaced that window. Lessons should have been learnt, yet in Gini's case they appear to have been forgotten. The underlying hope is that a midfield pair of Fabinho and Thiago can stay fit, to guide this middle area through the season, yet too many risks appear to have been taken once more. Gini was an asset, and should have been intelligently replaced, and that failure to do so could lead to another season of woe.
Emre Can was a very good player that could have excelled under Klopp, yet his replacement made his loss a non issue. In the case of Georginio Wijnaldum, there remains a very real and problematic scenario where the acceptance of injury prone. lesser or novice players has occurred. The opportunity to replace this Georginio Wijnaldum was there, and as with Emre Can, it should have materialised.
This season is still young, and the team is in a good position, but the winter period and latter stages could once again prove to be a tricky spell for the Reds.