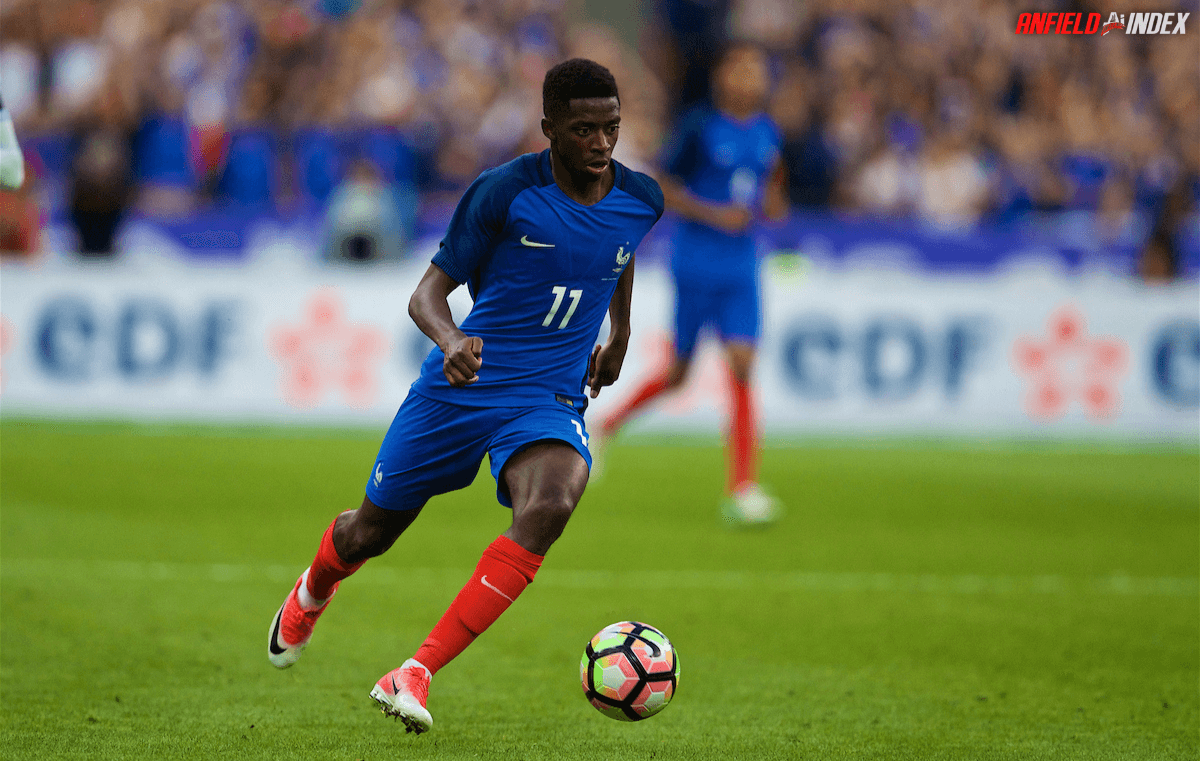 Should Liverpool move for Ousmane Dembele on a free transfer?

Ousmane Dembele might soon join the likes of Arda Turan and Simao as players forever linked with Liverpool who never actually made the move to Merseyside. The French winger is yet again being linked with a move to Anfield with his Barcelona deal set to expire at the end of the season. 
The 24-year-old was named as a Liverpool transfer target during Jurgen Klopp's first summer with the club and if you believe reports, he was actually ahead of Sadio Mane on the club's wish list. 
However, he opted to move to Borussia Dortmund instead and the Reds settled for the Southampton speedster. Didn't necessarily turn out too badly, did it?
After a single season in Germany, Barcelona parted with in excess of £100million after rather hastily deciding he was the man to replace Neymar. Since that move to Spain, it feels as though Dembele has been linked with Liverpool ahead of every single transfer window. 
The reports are often lazy ones that cite Jurgen Klopp's love for the player, Liverpool's need for attacking reinforcements and Barcelona's need to raise funds as reasons why the World Cup winner is supposedly a target. 
This summer might be a little different, though. 
For starters, there would be no transfer fee attached to any deal for Dembele. That alone removes some of the risk. Granted, he is likely on a decent salary and that needs to be taken into account, as does the signing on bonus both the player and the agent would likely ask for. 
By no means is Dembele free, but he is going to cost significantly less than he would have done 18 months ago, for example. Liverpool are always in the market for undervalued assets and he would fit the criteria. 
I also think that he might be inclined to take a reasonable deal right now. He may only be 25 but this move could potentially be his last big one if he's unable to get his career back on track. Injuries have decimated his time at the Camp Nou and if this move – whatever it ends up being – doesn't pan out, the elite clubs in European football aren't going to gamble on him again. It isn't a case of now or never for his career, but we're getting uncomfortably close to that. 
If he chases the money instead of the career development, he could find himself playing for mid-table teams in the latter half of his 20s and it would be a waste of talent. 
Who better to develop an attacker than Klopp. He helped turn Sadio Mane and Mohamed Salah into ruthless, reliable goalscorers while it was under him that Roberto Firmino reshaped an entire role. 
It might make a lot of sense for Dembele, but it doesn't mean it makes sense for Liverpool. 
There is a general acceptance that another attacker is needed to challenge Salah, Mane, Firmino and Diogo Jota. But why would the Reds gamble on Dembele? 
Statistically, he does suit the profile. His averages over the last 12 months meet the criteria for a forward prior to their move to Anfield. 
It is too difficult to look beyond the big wages and the injury record, though. Hamstring injuries plague him and he's missing, on average, over 15 matches per season for Barcelona. 
Liverpool need reliable and durable players, it helps with consistency. Dembele is anything but that and it's why I can't see the Reds signing him, not even on a free.