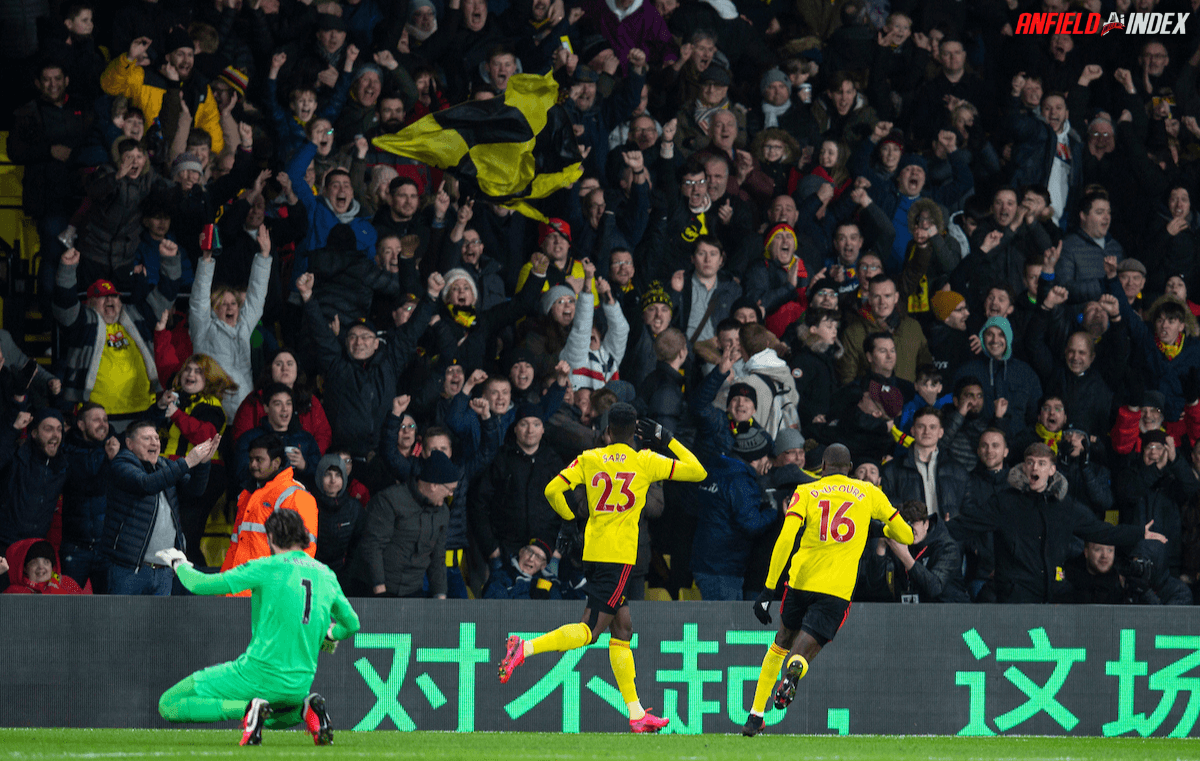 Ismaila Sarr, so nearly a Red, looks to haunt Liverpool once again
"Everything was set – the monthly salary and the length of the deal," Ismaila Sarr's agent Thierno Seydi said. "I even asked Sadio Mane to find him an apartment."
That's how close Liverpool came to signing the man who tore their defence, and their unbeaten streak, to shreds on February 29, 2020 at Vicarage Road.
The contract was on the table, but ultimately the Reds would refuse to acquiesce to Watford's financial demands – £25million up front, followed by instalments of £15million and £10million and 'healthy' add-ons.
Instead, they turned their attention to Wolves' Diogo Jota, this time agreeing to shell out more than £45million. The crucial difference? Wolves only wanted an initial payment of £4.5million.
The signing of Jota has been a success, but you still can't help but wonder what might have been as Liverpool prepare to revisit the site of Sarr's greatest performance to date.
Sarr's electric start in numbers
After a year out, the Senegalese international is once again catching the eye at the top level.
He's Watford's best and most important player by a considerable distance, and the stats prove it.
He's played every Premier League minute so far this season and is their current top-scorer with four goals. Indeed, he's scored more (21) than any other player at the club since his arrival in the summer of 2019.
Sarr is either first or joint-first in the Watford squad for shots, shots on target, shot-creating actions, progressive carries per 90 and carries into the penalty area per 90.
He's also one of the league's best dribblers, completing 16 across the first seven matches with a two-thirds success rate (better than the likes of Allan Saint-Maximin, Wilfried Zaha and Mohamed Salah).
But let's look in a bit more detail at the threat Andrew Robertson and Liverpool will face come Saturday lunchtime. In what ways can the new and improved Sarr hurt Jurgen Klopp's side?
Eluding challenges
Sarr's combination of technical skill, speed and strength can make him so difficult to press/dispossess at times.
The first example comes from the second half of Watford's 1-0 defeat away to Spurs in August. Look at the position Sarr is in when he receives the ball…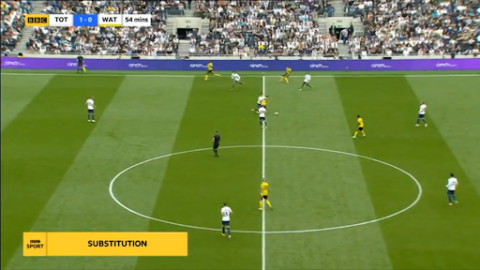 …but he finds a way out of it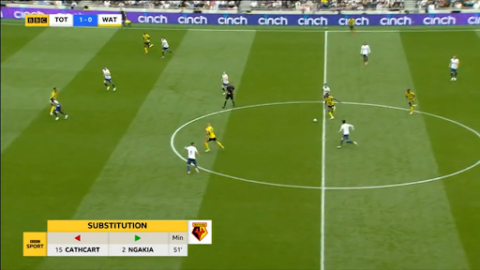 …and puts Watford on the front foot with his pass to Emmanuel Dennis, who's found plenty of space on the left-hand side.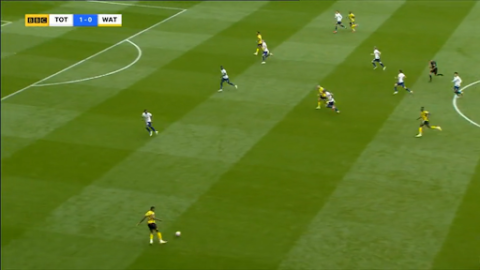 At Vicarage Road on the other side of the international break, Sarr finds himself facing the touchline with a defender breathing down his neck…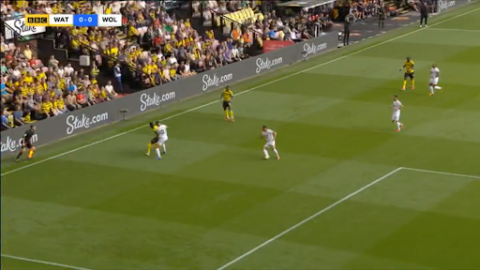 …but he shrugs him off and is able to thread a pass into Moussa Sissoko (right), who subsequently gets a decent shot away.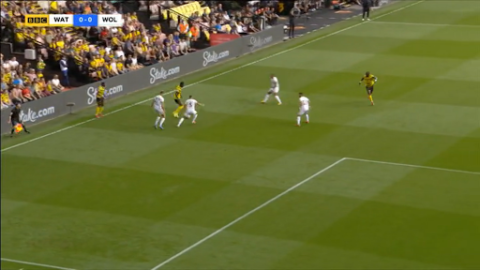 The last example comes from the first half of the 1-1 draw with Newcastle. Sarr really has to scrap it out for the ball here, but when he gets it under control he motors past Isaac Hayden (stood nearest the centre circle)…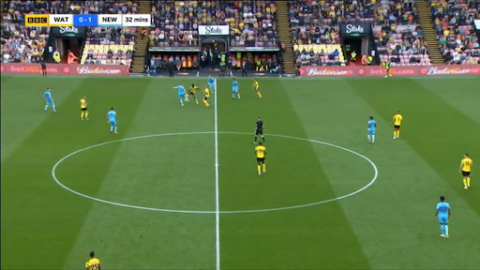 …and winds up reaching this position (there's that progressive carry) before he works Karl Darlow with a side-footed strike.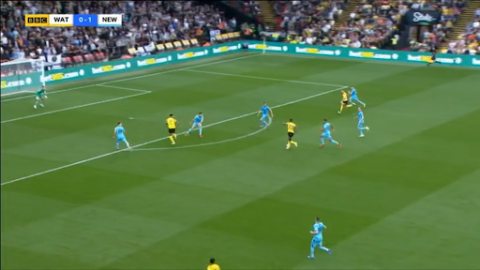 Creativity
Sarr hasn't registered an assist yet for Watford this season and his xA stands at only 0.6. That surprised me, because I thought he was just as effective supplier as he was a scorer, but it doesn't really paint the full picture.
First off, this should realistically be an assist. Sarr slides the ball across to Dennis, who's stood near the penalty spot and he scores, but only after his first shot is blocked by Tyrone Mings. On a technicality, Sarr doesn't get the three FPL points.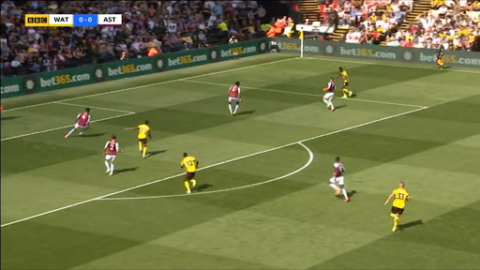 But what's more interesting is the amount of high-quality deliveries Watford haven't made the most of.
Here's Sarr trying to tee-up Dennis again in that very same game, but he's not in position to connect with an inviting ball. There was a rueful look on his face afterwards.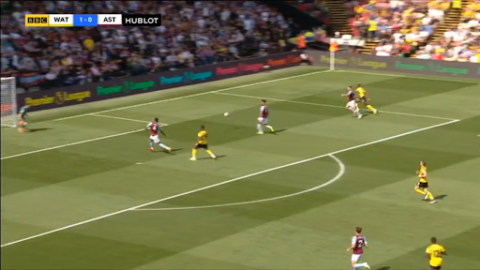 Against Wolves, Josh King somehow failed to convert this ball across the face. This isn't classed as a chance created, or a boost to Sarr's xA total, because there's no shot.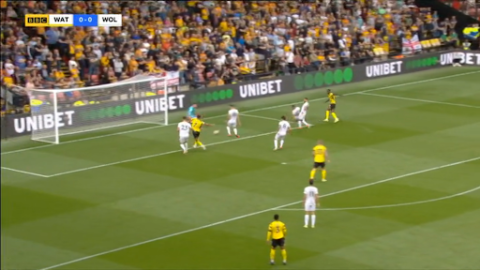 This is the best cross of the lot. Sarr spots Dennis making a run on the other side of the pitch and so nearly produces a Kevin de Bruyne-esque assist…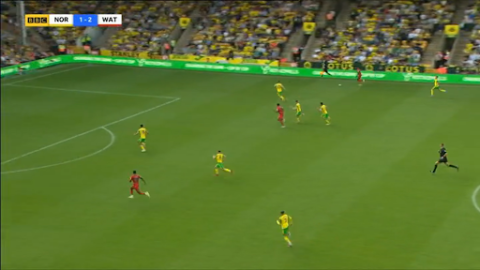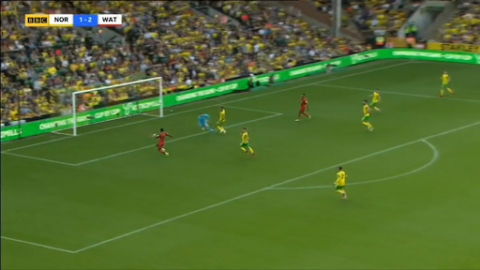 Sarr can also intelligently fashion dangerous situations. So much of Watford's good play goes through him.
There were two instances of this against Brighton, where they largely struggled.
First, Sarr threads a ball into Ken Sema (furthest right in the area), who then lays it off to Tom Cleverley (third from the right) for a shot on target. Cleverley is already on the move because he knows Sarr will pick out that pass.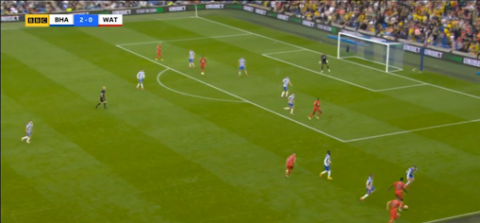 And it's the former Manchester United man who gets a decent shot away again later in the game after Sarr stops then fizzes a ball into King (stood on the edge of the box), and he lays it off.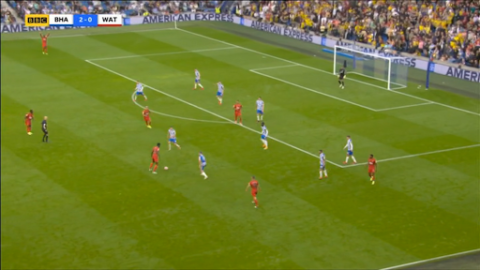 Remember that King near-miss from earlier? Well it comes from a clever 1-2 between Sarr and Sissoko…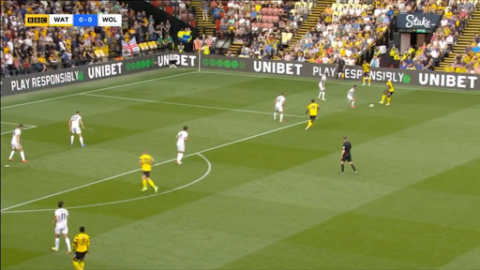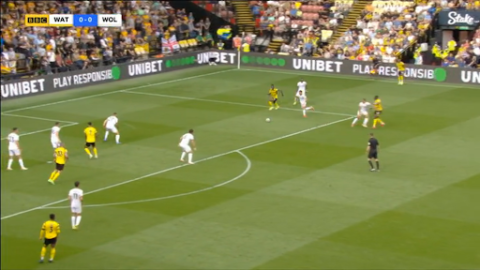 Sarr will likely be the architect of his side's best moments come Saturday.
Movement
Finally, we come onto Sarr's goal threat. It's partly the result of his ability to ghost between or behind defenders.
Against Brighton, Sarr (the most advanced player in red) had one of Watford's best chances after darting in-behind. He ultimately didn't make clean contact with the header following the long pass, but so often you'd see attacking player static in this situation, so he does deserve credit.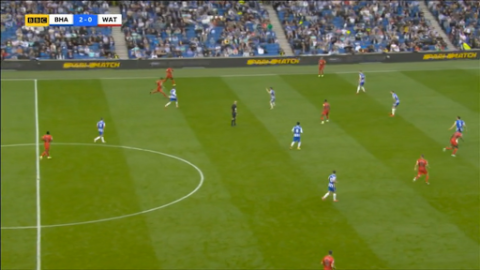 Similarly, away at Spurs, Sarr (stood closest Hugo Lloris in the image below) was presented with a big chance to equalise after blindsiding Davinson Sanchez, but the Colombian redeemed himself by blocking the shot following Sissoko's cut-back.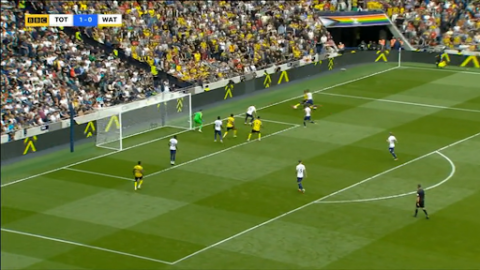 Sarr is rewarded for taking up an intelligent position against Norwich, though. When King gets in down the right, Sarr is goal-side of Ozan Kabak (hi!) but behind Grant Hanley…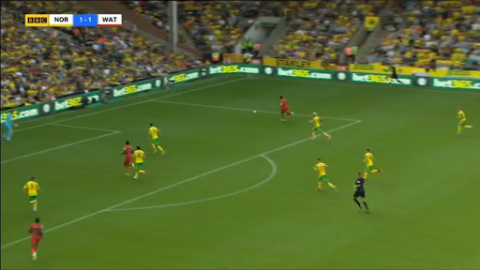 But he makes a diagonal run across the Scotsman and is on hand to turn the cut-back home…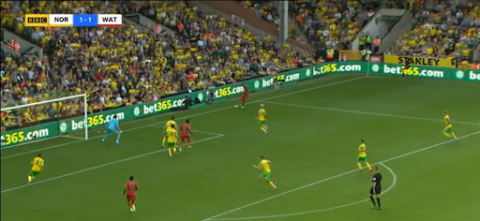 And the last example comes a week later versus Newcastle. It's simple but effective. Sarr peels off his man as the corner comes in…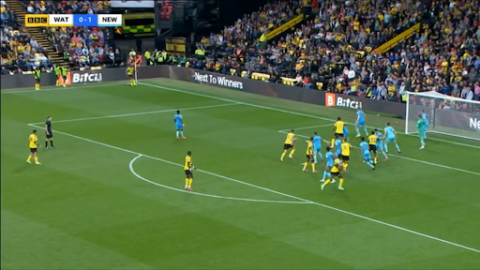 …and, having found *a lot* of space, he has the simplest of tasks when the ball comes his way…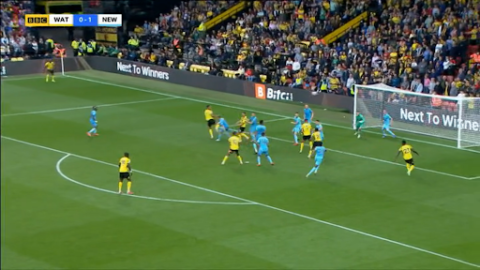 Admittedly, the defending in those screenshots ranges from careless to, in the case of Newcastle, Championship-standard. You'd hope Liverpool's back four wouldn't be outwitted so easily, but if they lose concentration even for a moment, Sarr could punish them.
What does the future hold for Sarr?
A source close to the player says 'next year (is likely) to be the right time' for him to move on. In all likelihood, he'll be the shining light as Watford suffer another relegation, but this time you can be sure he'll end up in staying in the top-flight.
Where could he go? Well you wouldn't entirely rule out Liverpool going back in for him. The Reds still need another attacker, and after the 2022 instalment, AFCON won't be a consideration (it's returning to its summer slot).
But Watford showed in 2020 that they can be difficult negotiating partners, and their demands are only likely to increase. That's why it feels unlikely.
There'll no doubt be interest from sides who've qualified for Europe but a move to an ambitious mid-table outfit isn't out of the question either. Aston Villa enquired about him last year, and it seems like the kind of signing Newcastle might attempt post-takeover.
But that's all speculation for now. Liverpool (H) at 12.30 on Saturday is Sarr's immediate focus.
Fans are apprehensive because it's one of those dreaded post-international break early kick-offs, because of their recent humbling at Vicarage Road and because of the anticipated new manager bounce.
In truth, much of that is superstition, but the danger posed by the outstanding Ismaila Sarr is very real.