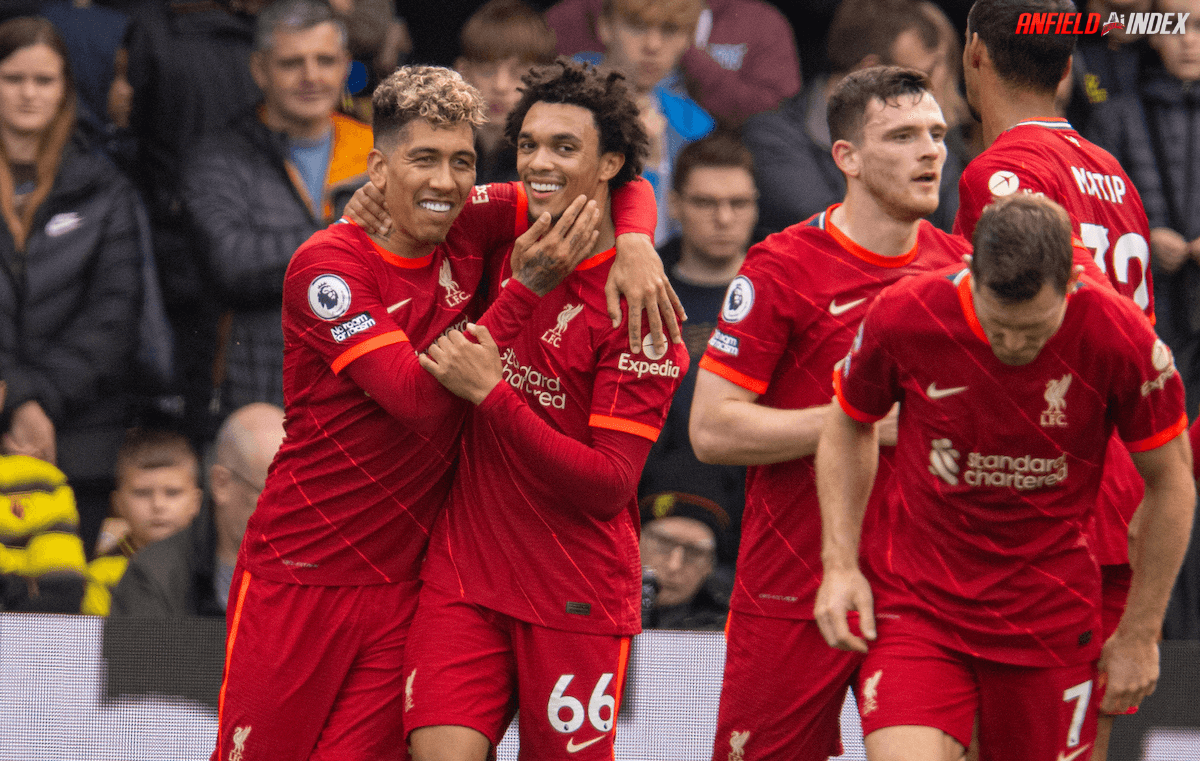 Watford v Liverpool - Player Ratings
Caoimhin Kelleher – 7.0
A solid display for Alisson's deputy. Calm and assured, and the fear of Adrián having to fill in is now behind us. Great late stop, and after a relatively uneventful match, this trait of maintaining concentration is a very good sign.
Trent Alexander Arnold – 7.5

A welcome return for the tremendously gifted fullback. An unspectacular match for the most part, but the bar has been raised so high that such performances can seem ordinary. Beautiful touches, great awareness and a true attacking threat from deep. Coming onto the ball he is a terror, and the fullback poison should remain his only spot in the team. Competed well in defense when called upon, and gave good backup to Salah. With 63 minutes played upon his return, a positive run of form beckons. Great hair.
Andy Robertson – 7.5
Tenacious and willing outlet. When he plays well, Sadio Mane plays well. His energy makes the left side of midfield look assured, and Milner was able to benefit also. With Virgil monitoring proceedings form the rest, there was much joy to be had down that flank.
Joël Matip – 7.0
The absolute opposite to his Brentford showing. He was steady and efficient, with everything dealt with as needed. The score represents that of a player untroubled, that dealt with everything. Was often a spectator or recycler of the ball, and covered across the line well.
Virgil Van Dijk – 7.5
Unflappable and dominate in his game. The whole team always looks settled with this man's leadership of the backline, and essentially those in-front. Never looked like breaking sweat, and these types of games are why he can can continue to play and play.
Jordan Henderson – 7.0
His best performance of the season, in a role that could just suit the latter stage of his career. Simplicity and control of his game must now replace the energy he once had. Was productive and efficient with the ball, and apart from a few moments where he was out muscled (in the first half), he was still assured. The second half (as Watford fell away completely) was better, with good spreading of play and positioning. This should be his primary role, as back up in the 6 and rotation in the 8. If Klopp wants to get creative by unleashing Fabinho into a destructive 8, and have Henderson as the holder, it could be an interesting option in certain games.
Naby Keita – 7.0
Where Milner was allowed to roam more freely, Naby displayed great tactical play and positional sense. His ball retention was on point, and his class was always there when needed. A mature and dependable display, which was the most Gini like performance he's given. Very good signs from Keita, and will be what Klopp is looking for as he builds towards his permanent thinking.
James Milner – 7.5
Played like a man that doesn't want to be a back up right back anymore. A very solid performance, and he clearly enjoys the left hand side of midfield, with a good sense of when to stay and when to go. Robbo forced so much confusion at times with his running, that Milner was able to benefit and grab a very good assist for Bobby.
Sadio Mane – 8.0
More good signs that Mane is back in business. His running off the ball was incisive and he dragged this limited defense all over the field at times. His goal was superbly taken, and the first time strikes often show Mane at his best. With energy comes brilliance, and both he and Robbo may just be pushing each other to regain their best levels.
Roberto Firmino – 9.0
The reaction we all hoped would come, when Diogo Jota arrived. When Mane & Salah are tearing apart the flanks, Bobby needs more of this strikers instinct. Liverpool are perhaps playing a more offensive style (against certain teams), and Bobby can continue to capitalize. This kind of form can force Diogo Jota into his own reactionary performance, and that's what this forward line has needed for a while. A hat trick and an assist will do the Brazilian wonders heading towards the winter period.
Mohamed Salah – 9.5
Sensational. There is no better footballer in the world right now, and Danny Rose looked like a Sunday league player trying to cope. Vast numbers of Watford players were drawn to this man, as devastation threatened every time he received the ball. Two goals of the season contenders in two games, and an ever growing number of fallen defenders, that cannot live with him. The pass for Mane was sublime, and the performance utterly emphatic.
Subs;
Alex Oxlade-Chamberlain – 6.5
As Fabian Delph would so eloquently say, he needs to do the basics. Liverpool's engine room is often built upon control and simplicity, and this must be undertaken in order to regain the managers faith. He showed more calm this time out, and must continue to do so. A good cameo.
Kostas Tsimikas – 6.5
It's a joy to have a reliable rotation option on the left, and his confidence is continuing to build over time. A nice solid period of play.
Neco Williams – 6.5
An opportunity beckons, and a nice assist ensued. He came into a game that was well and truly over, but still did good things, and that's all that can be asked.
Jürgen Klopp – 8.5
The team picked itself, but the urgency and patterns of play would have been drilled by the manager. Good subs and removing of vital players, made for a good in game contribution. Decisions must now be made for Atletico Madrid, before Manchester United next weekend.
Summary;
Liverpool dominated from the opening whistle, and their urgency to kill off teams is refreshing. The balance looked perfectly set, and everyone played their part. Mohamed Salah continued a run that is establishing him as the worlds best, and the new contract must now be delivered.
Steven Smith