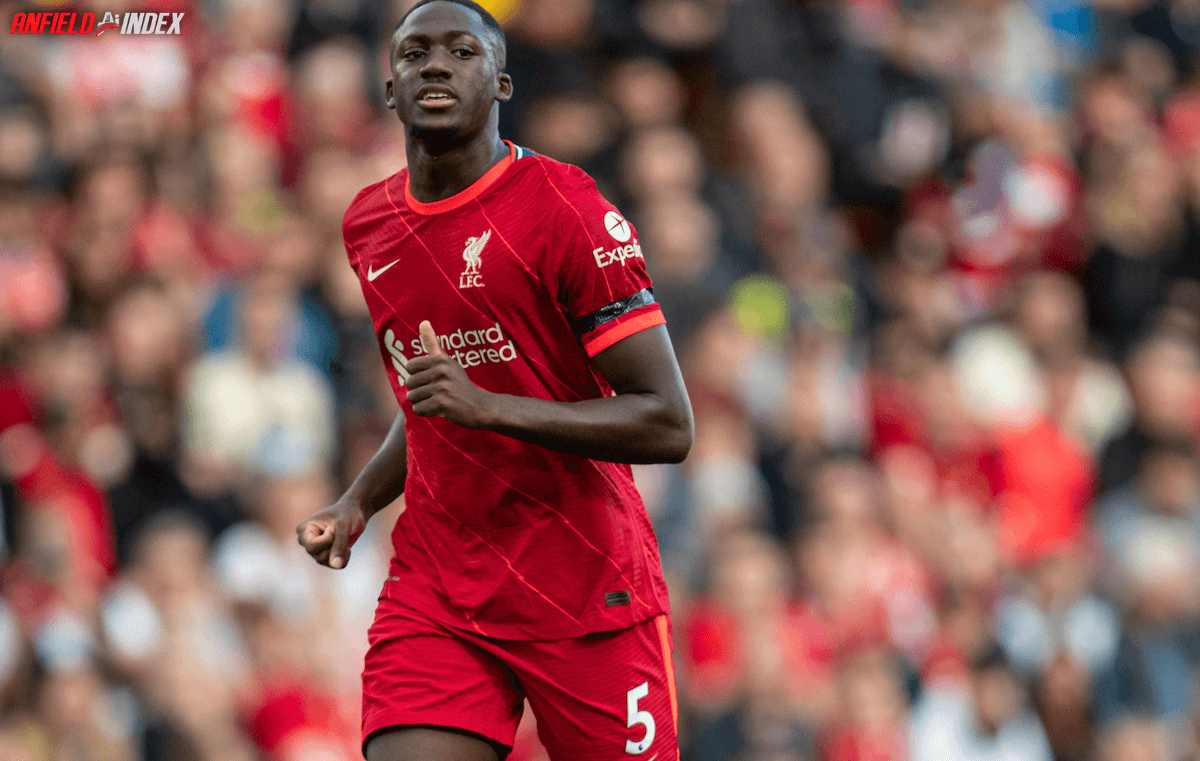 Liverpool's handling of Ibrahima Konate
Ibrahima Konate has made just two starts for Liverpool following his £36million transfer from RB Leipzig this summer. 
The first arrived in the 3-0 win over Crystal Palace in the Premier League and then he was included in the starting XI for the 3-0 Carabao Cup victory over Norwich City. It has now been close to a month since he last featured for the Reds and I've seen complaints from some fans. 
With injuries stacking up elsewhere, people are starting to query whether spending close to £40million on a fourth-choice centre-back was the best use of the limited funds Liverpool had this summer. 

Thiago, Naby Keita, James Milner and Curtis Jones have all missed matches due to injuries while Harvey Elliott is expected to be out until early next year, and that is the best-case scenario by all accounts. At times, the Reds have looked a little light in the middle third and maybe a more durable midfielder would've been useful, but the situation isn't as drastic as some are making out. 
Liverpool have Keita, Milner, Jones, Thiago, Jordan Henderson, Fabinho, Elliott and Alex Oxlade-Chamberlain as midfield options. You could even include Takumi Minamino in there, too. So that is a total of nine and Jurgen Klopp usually plays with a three-man midfield. So for it to be a disaster, you need seven players out injured at once and even then there is every chance Liverpool switch to a 4-2-3-1 to combat the crisis, using Roberto Firmino as an attacking midfielder who can also drop back when required. 
What I'm trying to say is, for the midfield to potentially crumble, the Reds need to be without seven players for a sustained period of time. It could happen, but the chance are slim. 
In defence, however, Liverpool aren't as stocked. Remove Konate from the equation and Klopp has Virgil Van Dijk, Joe Gomez, Joel Matip and Nat Phillips at his disposal. Of those, three were coming back from long-term injuries and you could class two as injury-prone. Heading into the season with those as your four options would've been unnecessarily risky. 
All it takes is a knock to Matip and we would've been looking at Phillips being part of the rotation cycle. He did an admirable job last year but he did struggle against pace and it was a weakness that teams looked to exploit. 
Konate was needed on the off chance one of the three returning defenders had a setback. Nobody actually knew whether Van Dijk would return the way he has. I doubt many envisaged Matip playing as much as he has already either. Better to be safe than sorry, ey? 
If anything, this has worked out well for the Frenchman. He's able to adjust to life in England, the rigours of the English game and the demands of the system away from the cameras. Think about it, one mistake and everyone starts talking about his price tag and the pressure grows. It is happening with Raphael Varane right now. 
The 22-year-old would've acclimatised to Premier League life before he's even had a run of games and that can be the difference between a successful transfer and a failed one. Too much too soon can set a player back. 
Liverpool are in a fortunate position and you have to assume Konate will be better off for it. He's being allowed to develop and he was signed with a view for the long-term. Even if he spends a season on the bench, he'll be better because of it and the Reds will be too. The decision to bring him in this summer ahead of a Gini Wijnaldum replacement was the right one.