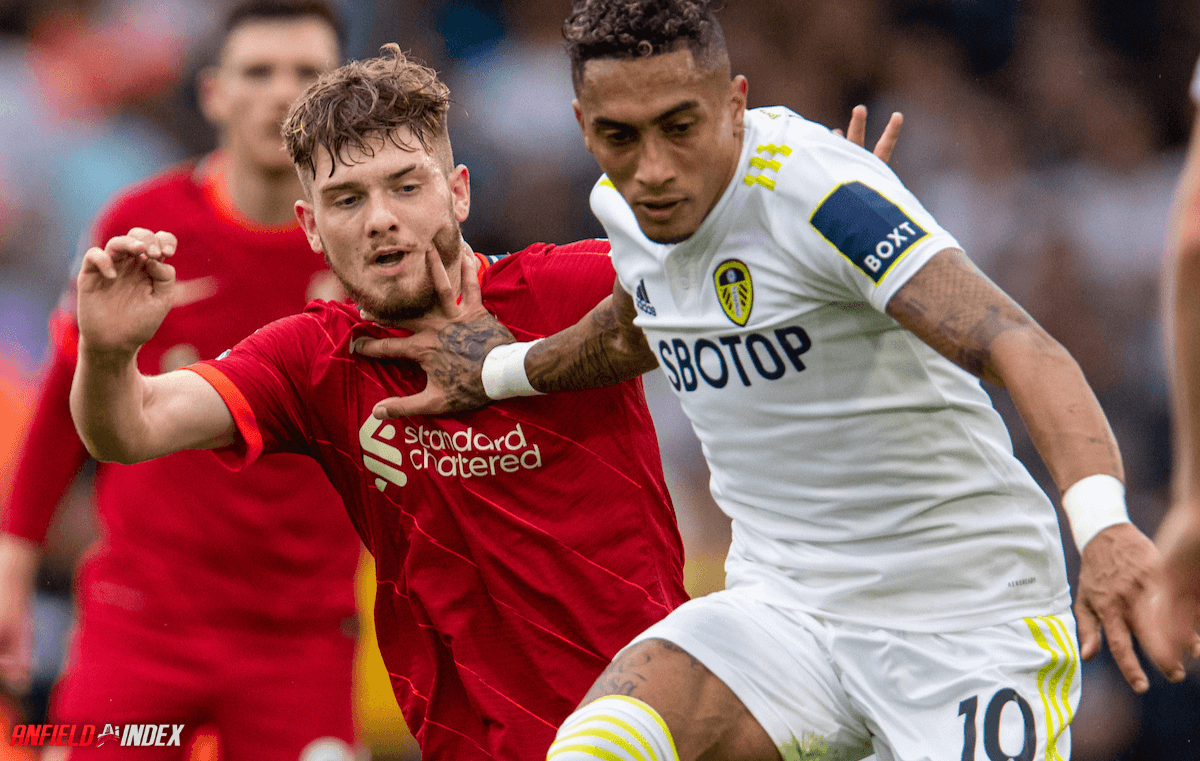 How would Raphinha have fitted in at Liverpool?
There's been a lot of Raphinha talk recently. Fabinho mentioned him in a press conference last week during the international break, saying he hoped Liverpool would move for his compatriot last summer. Then you had Deco – the Leeds United winger's agent – claiming that lots of clubs, including the Reds, had an interest in the fleet-footed winger. 
He's back on the radar, with people now theorising how he might've fitted in at Anfield and how he might fit into the new-look Liverpool side if he joined next summer. 
Plenty have said it makes no sense for him to sign if he's going to be back-up for Mohamed Salah. The Egyptian forward rarely misses a game and though his minutes will have to eventually be managed, it is highly unlikely the 29-year-old is going to sign a new long-term deal if he's going to see his game time take a hit. He's the best player in the world right now. 
With that in mind, it is understandable why so many think a right-wing berth just isn't on offer for the newly capped Brazilian international. So, where else might he fit? Well, during his time in Portugal, he impressed on the left-hand side of the attack. 
Raphinha would still drift inside as he does on the right, but there was a different dynamic to his game. For Leeds, he is looking to get on the ball and make something happen. But when deployed on the left, he was often looking to get in behind and stretch the play. He would drop to link play occasionally but a lot of the time he was playing like Leroy Sane did for Manchester City. He was a devastating out ball on the left who thrived in one-on-one situations. 
Potentially he could've played that role for Liverpool at times. It would've allowed Klopp to use Sadio Mane in more a central position, as he has at times this season. He's fairly effective there, too. His physicality, movement and speed all work well against centre-backs and it is one of the reasons he's finding himself in better situations this season. 
Using a natural left-footer on the left side would be a fairly dramatic shift to the way the Reds play, though. That is something to ponder. 
What about using Raphinha in the Harvey Elliott role? It is something I mentioned in a recent Patreon piece. Stylistically, they are similar. Raphinha has the ability to play right-wing, right midfield and operate in central areas, just as Elliott did. 
He is defensively diligent having played in a Bielsa system, so would be more than capable of filling in at right-back if Trent Alexander-Arnold was caught in the attacking third during a turnover in possession. 
The 24-year-old Brazilian likes to carry the ball and ranks highly for progressive passes. 
Liverpool often redesign their players. Instead of looking at roles, it is probably more useful to look at traits and characteristics. Start off by looking at what you want from a certain position and then list the requirements. When you do that for the right sided centre-midfield role, Raphinha meets the criteria. This is all theoretical, of course. But I really wouldn't be surprised if the plan was to transform Raphinha into a creative midfielder who could also be part of the attacking rotation cycle. 
It would have alleviated the pressure on Elliott and eased the reliance on the talented youngster. He still would've been given the game-time needed to develop, but the style wouldn't have been tied to his availability. That wouldn't have been a bad thing. 
We'll never know as the demand for the Leeds attacker has increased with his performances this term and he's probably out of our price range now. It is a nice thought though.