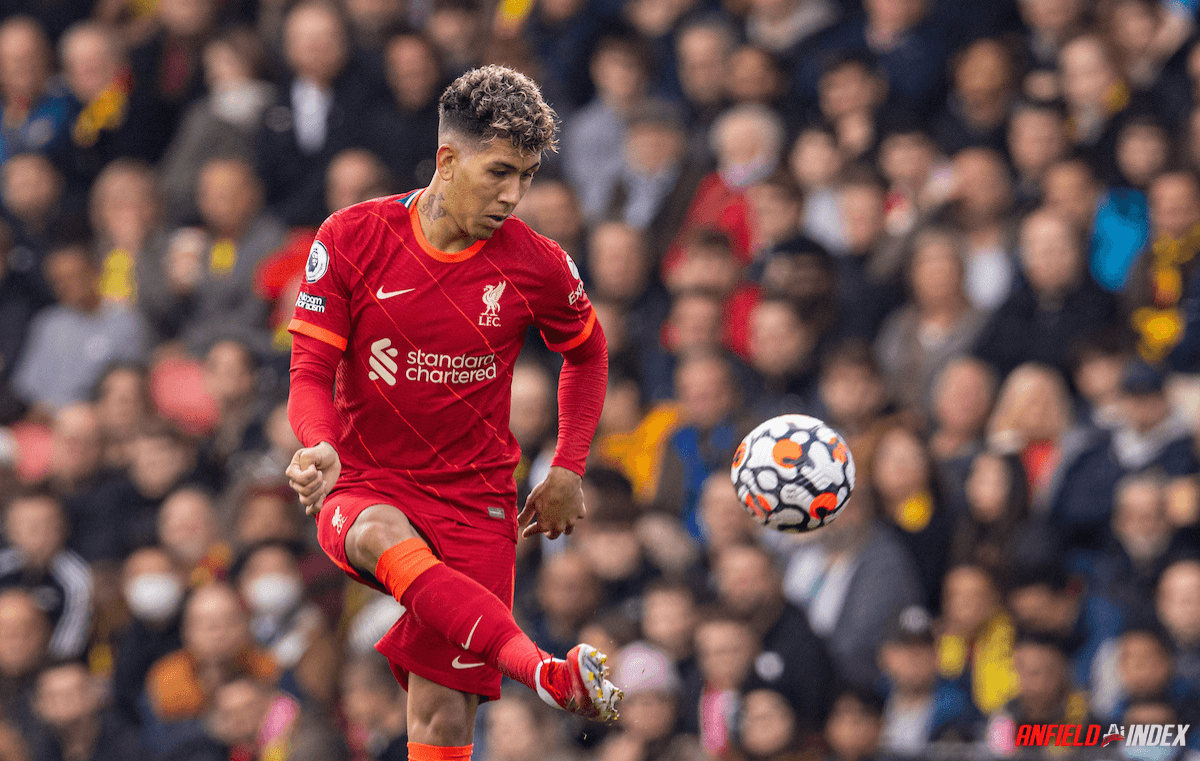 Bobby & The Altered Dynamic
For the past six seasons Roberto Firmino has been able to make the false nice position his own. His understanding of the position, its intricacies and work rate requirements have made the role very specific, and his off ball work has always been commended. His value has a goal threat has not always been as desired, but the superb goal getting of others made this a non issue.
Up until the start of last season, Bobby had been able to sustain his often elite performance level as a valued member of the Premier League's most famous front three. When Liverpool signed Diogo Jota (in the summer of 2020), they bought a multifunctional forward that offered the ability to score more goals than Bobby. Jota's role was to give both support and competition to the entire front line, but ultimately he was very quickly seen as a false nine alternative. This season Bobby has so far amassed a brilliant return (of six goals in just seven appearances), in what is proving to be a remarkably prolific start to the season for the Brazilian striker. It is therefore a good moment to decipher whether this is a purple patch for the player who is perhaps past his prime, or the emergence of a new lease of life.
At the beginning of this season, young Harvey Elliott sparked as an attacking midfielder who could be tasked with breaking the lines, from the historically regimental midfield unit. It could well be that a particular pattern of play (and system), is to be preferred against certain teams this season. Jürgen Klopp may have decided to finally enforce Liverpool's own will upon such teams, deemed low blockers and near impossible to break down. We have seen (over the past two seasons) Liverpool continually frustrated by low block sides. There are a growing number of teams who are willing to defend for the majority of games, in the hope of snatching a point or late winner. Time after time Liverpool have had to combat and overcome such teams, and their stylistic ways of playing. We saw when Chelsea arrived at Anfield (earlier in the season), a second-half defensive performance that Liverpool was unable to overcome (due to them losing a player for a red card). It could be that Klopp is now unwilling to remain patient in his approach, and counter the well drilled back lines with force. Much like a ferocious prize fighter, Klopp's is actively looking for the early stoppage instead of a reserved approach, that could have to be won by patience.

When Virgil Van Dijk returned at the start of the season, it's allowed three very important factors to materialise. Firstly, the big Dutchman offers a form of leadership, that is potentially unmatched within the league. He is without doubt the worlds best central defender, and offers a high level of resistance to all teams (both domestically and European). The final (and potentially most key) factor, is that he will happily stand on the halfway line and allow the midfield, fullbacks, and attack to gegenpress their way through games, within the opposition half.
In the knowledge that Virgil is standing on the halfway line (able to deal with almost anything thrown his and his partners way), Liverpool appear to be pushing the midfield and forward line on (slightly), with one holding player to screen the defence. The fullbacks (as ever) are continuing to offer superior width on the outside of the inside forwards, with the inside forwards (Mohamed Salah especially), tearing in, looking to get in behind, and running into the box at every opportunity. Now, where none of this is at all unfamiliar, it's the added midfielder (that is being propelled from his off ball position), who is causing such uncontainable and potent attacks. This pattern of play can only be described as Klopp's desire to swarm, and overload the opposition defence. At the weekend, we saw the Watford continually taken apart, with wave after wave of attacking play. Salah stood out as the electric instigator of Watford's ordeal, however Bobby managed to walk away with an uncommon hat-trick. It is this fact that is the most interesting of the weekends exploits, and points to something that could continue, and benefit both Liverpool and Roberto Firmino.
As noted earlier in the piece, Elliott it seemed to be playing as an attacking midfielder, and would operate in and around the right of midfield, as well as the 10 when the reds were in possession. This position (in the weeks previous), seems to be something Curtis Jones has prospered from, in that there is more attacking freedom on offer. The only problem in those games, was where Jordan Henderson was unable to give effective balance on the other side. In previous seasons, we saw former red (Georginio Wijnaldum), apply such a strong positional sense,  it allowed other areas of the field to flourish, in both in defence and attack. This past weekend (against Watford), we saw James Milner continually break from midfield, and look to support and overload the attack. During these moments, Naby Keïta would pull across to  occupy intelligent positions, so that a balance was continually maintained.
It appears this alteration in the midfield has allowed Roberto Firmino to remain higher, and occupy areas at the top of the attack more often. With Mohamed Salah drawing so much attention (from the Hornets defence), The Egyptian King was able to free up room all around him. The movement, added creation and destruction caused (by the oncoming with midfielder), allowed so much confusion, that Roberto Firmino would often find himself unmarked, and able to apply the finishes that can sometimes be a frustration.
We have relied for so long upon an attacking trio, to overcome everything in front of them, and  a defence able to absorb on coming breaks. The function in the midfield three was all about structure (when Liverpool were winning a League title and Champions League), however last years crisis, and Gini's departure, seems to have opened an avenue, that Klopp and his team want to exploit. Certain games have always created a need for the usual structure, or the risk of being cavalier is too risky. There has to be adjustments in most games away from the the top tier however, and when I wrote about the impact of low block teams (at the end of least season), I stated there had to be some tactical ingenuity from the leagues leading coaches, in order to overcome the deep lying trend.
Roberto Firmino had too often failed to deliver before this recent period, especially when the Portuguese forward, Diogo Jota, was scoring at will. This added competition and the allowance for a more attacking pattern of play, may well be what Bobby needs to rise once more. If Liverpool and Bobby can keep scoring they have a great chance of success, and Virgil stays fit alongside that, then anything is possible.