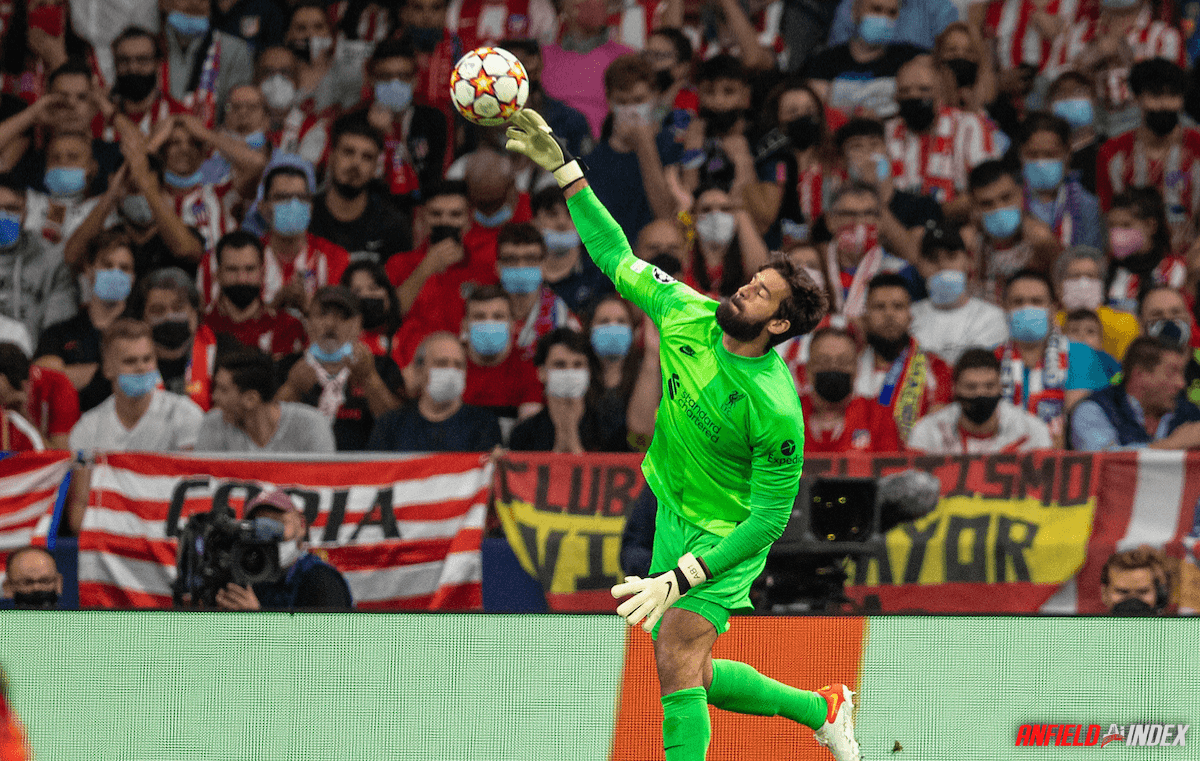 Atletico Madrid v Liverpool - Player Ratings
Alisson Becker – 8.0
Where Caoimhin Kelleher did nothing wrong, Alisson is a world class asset & his authority showed tonight. He brought assurance and dominance into a big match, and that showed. Some crucial saves kept Liverpool in the game on the first half. His ability to smother on coming forwards is the best in world football.
Trent Alexander Arnold – 6.0

Defensive awareness mostly on point despite some incisive Madrid attacks, but somewhat limited going forward. Was often caught in two minds, and Atletico crowded him out at every opportunity.
Andy Robertson – 6.0
Neither good nor bad. Efficient and dependable, with the odd good moments in both defense and attack.
Joël Matip – 6.0
An oversight for the Antoine Griezmann first half break, with his late pushing up taking him out of sync with Virgil. Struggled to cope until the French strikers red card. Would have been happy to see Atletico drop to 10 men.
Virgil Van Dijk – 6.0
The early Greizmann break is always the risk, when such a high line is employed, and his keeper saved his blushes. Caught flat footed for his second goal, and not his most assured night. A better second half, much due to Antoine Griezmann leaving the field.
Jordan Henderson – 6.0
A big call not to recall Fabinho, but his Watford display meant he kept his place. He did little the fundamentals well, and was unable to break up play like the Brazilian. The ferocious tempo saw him bypassed too often. Grew into the second half only when Fabinho offered that assurance.
Naby Keita – 6.0
This mans resurrection is still up and down, and his ability is worth continuing with. A great strike for Liverpool's second goal, but struggled to cope with runners and his defensive awareness. He so often plays in games where Liverpool have complete control, and he will need these type of games to fully immerse himself into what is needed. Someone had to be subbed at halftime for Fabinho, and it was always going to be Naby.
James Milner – 5.5
A clear intent to push on and create further havoc early on. He was commuted but often chasing lost causes off the ball. Watford is not Atletico Madrid. Had to leave the field once the yellow card was shown, as he would have been targeted.
Sadio Mane – 5.0
Found it difficult to impact, with the Madrid opposition robust in the challenge. Struggled throughout, until Jota came in for him.
Roberto Firmino – 6.0
He got Antoine Griezmann sent off, and unfortunately that was his most telling contribution
Mohamed Salah – 7.5
A sensational run for the first goal, and a terrifying threat from the left in the opening stages. As with the rest of his side, the occasion saw the game drift away from him. The penalty showed his huge character and mentality to take the game away from Simeone.
Subs:
Fabinho – 7.0
Big names always need this man present.
Alex Oxlade-Chamberlain – 5.5
Busy and willing without production.
Diogo Jota – 5.5
Lucky with the overturned penalty.
Joe Gomez – 5.5
Defensive fullback option for the final phase.
Jürgen Klopp – 6.0
Simeone won the battle of the managers, but Klopp won the points. To see Simeone replace Klopp one day would be a wonderful sight. Klopp tried to change things, and bringing on Fabinho was his most important job of the match.
Summary:
A tense affair, as if it was the knockout stages, but Liverpool held on and put in an erratic performance. Coming away with a win is huge, but the sending off changed the dynamic enough to favour the reds. Moments of brilliance massively outweighed by moments of ineptitude.
A win is a win, and Liverpool will feel fortunate.