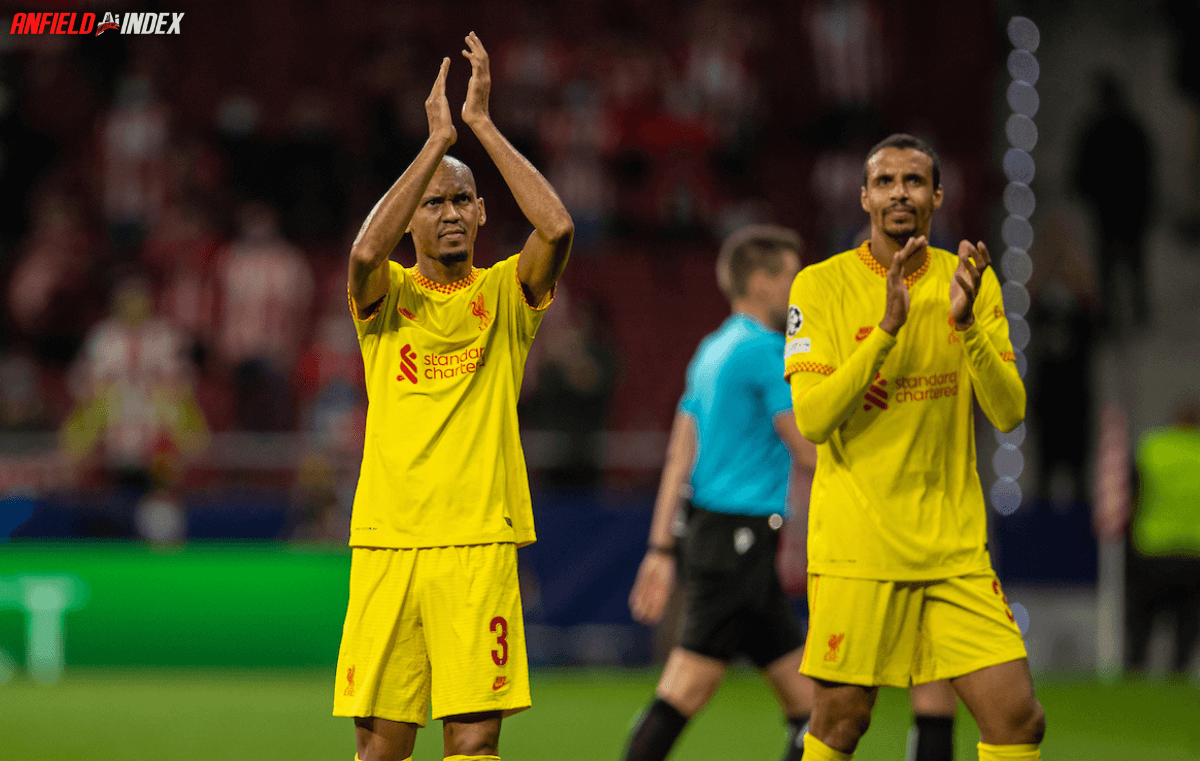 Fabinho & the Need For A World Class Structure
The weekend's game (versus Watford) was a joy to behold. The build up was excellent, the patterns of play varying, the overloading on point, and one performance in particular was breath taking.
Games against Watford (and teams that are deemed vulnerable), are a superb means for players to find rhythm, for forwards to regain ruthless efficiency, and the defence to accrue another clean sheet. All Liverpool fans (myself included) were somewhat relieved to see players like Jordan Henderson, Naby Keita and James Miner perform so well, with the captain and vice captain especially, struggling against Manchester City in the game prior. I allowed myself to get carried away with a game against Watford, and even suggested a slight change for Fabinho in up coming games, given how the captain had performed at Vicarage Road.
As when Roy Hodgson was appointed, and when Brendan rocked into town, or when Dejan Lovren stepped into the backline, I allowed only part of the story to shape my narrative upon each of their arrivals. The need for success can cloud good judgment, and hide the obvious truth of when something just doesn't fit.

My misguided wants for all squad members to be performing meant that Tuesday night's team sheet had me only momentarily concerned. I gave the one change (Alisson returning in goal) some thought, and decided that sometimes when players performed well in their last appearance, then they should indeed keep their shirts. I dismissed logic, I dismissed my usual thoughts on the game, and I smiled for the initial 15 minutes of Liverpool's Champions League game, as the rampant reds made Atletico Madrid look as vulnerable as Watford had been.
Then something occurred. A world class team, managed by a world class manager, decided to re-enter the contest, and much like Tyson Fury after two quick knockdowns, decided to impose their will upon their guests. The logic became apparent, and the midfield system that was so completely at ease at the weekend, was left chasing shadows, as Diego Simeone set about orchestrating a first half comeback.
The fact the game ended in a narrow victory is a brilliant outcome, and even the up's and down's can be seen as beneficial, given the three points. There has to be a dissection, however, especially with Manchester United next up on Sunday. The only the chance to cement a place near the top of the Premier League tree is to be ruthless, and a ruthless nature needs to be found at all levels within Anfield. The first question revolves around the goalkeeping situation, and the manager's decision to drop Caoimhin Kelleher. This young Irishman had played three games this season, and had performed admirably in each of them. Yet when a titanic battle (with one of Jürgen Klopp's European adversaries) came around, he immediately called for the world class services of his number one, Alisson Becker. This call was justified in every sense, and Ali's ability to smother on coming attackers, is perhaps the most impressive trait in his pool of talents, and something that kept Liverpool in the game.
Caoimhin Kelleher had played well, he had made a superb save against Watford, yet Klopp felt this specific position required a special player for the occasion. Again, Klopp was fully justified, and the correct keeper (Ali) started the game. The next point is to look at the other returning Brazilian, and why he had to wait until the wheels were falling off, before entering the field. Caoimhin Kelleher had played with distinction, yet was dropped. Yet where Jordan Henderson was able to produce his first good game of the season, Fabinho was deemed a luxury not required, from the start at least.
The simple fact is that Klopp (understandably) had a desire to see his captain regain form, and like all of the fan base, he was encouraged by the Watford showing enough to stick with his man. For context, Watford enjoyed 23% of possession on Saturday, and for the most part were taken apart throughout the game. All and any attacks were dealt with, and the reds midfield had a good time amidst pure domination. Caoimhin Kelleher made a great save late on (albeit it didn't matter, but is a great sign), and was dropped for a world class player. Jordan Henderson was good against a very poor team (much like Burnley), and was deemed a better fit than Fabinho, against Atletico Madrid.
Jürgen Klopp is a world class manager, perhaps the worlds best, but he must look at the shithouse desire to win, that his counterpart showed last night. Diego Simeone would have scarified any player and anything last night, to have won that game, and his single minded attitude and mannerisms quite rightly have the reds fan base split. Where Simeone is willing to make the ruthless decision's, Klopp must look at why he deemed Ali a worthy starter, but not Fabinho. The clear answer is loyalty, and this is a dangerous scenario if Liverpool wish to be fighting for titles at this season's end. The want is not for Klopp to become a crazy and sadistic version of Simeone, but to make the right calls on his squad.
Certain games must see certain players play, and form (for the most part) must dictate selection. Sadio Mane didn't perform at his recent level that night, but it's that recent level that will see him start at Old Trafford on Sunday. Neither Jordan Henderson or James Milner had played particularly well in midfield (prior to the Watford game), but started against a well drilled team of one or two world class players, that sit within an elite system. Klopp, very soon, must decide whether or not the best players should be in the starting team, and whether he is able to make the tough calls on players, that are looking off the pace. World class match ups require world class players, and Fabinho in the holding role is just as important as Ali in goal, Virgil in defence or Mo up top. This spine must start the majority of games, and the way in which Klopp ushered Fabinho into Tuesday nights game, shows the penny eventually dropped.
Nothing was lost, and lessons will have been learnt by Klopp and his team. The next stop is United, and the big German must now decide who plays with Fabinho on Sunday, and that is how it should remain until Thiago Alcantara returns. Huge games will come thick and fast, and the Madrid games most relieving moment of last night, was the sight of the Brazilian enforcer adjusting his shin pads to nester the fray, and give that defensive reliability and power, that this particular occasion demanded.