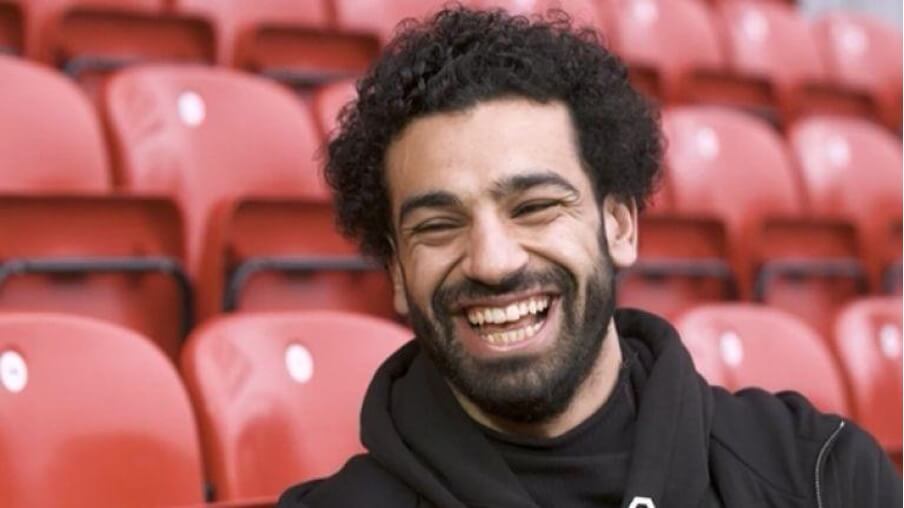 An Extra £300,000 per week to stay at Liverpool
Ramy Abbas, the agent of Liverpool's superstar striker Mohamed Salah has flown straight into Merseyside to discuss contract negotiations further.
In the red half of Merseyside, Ramy Abbas turned up at perhaps the most convenient time to discuss contract negotiations. Saturday morning, just hours before Liverpool were scheduled to face Watford, Abbas looked on as his client assisted the Liverpool squad in delivering a 5-0 hammering versus Watford. Salah managed his eighth consecutive goal in eight games, which became the Egyptian forward's tenth season goal.
Following Salah's thrilling display, Abbas has reportedly resumed the pursuit of a deal worth £500,000 per week – for a player who's held in high regard, if not the most crucial player within Jurgen Klopp's squad.
The Mirror news publication has reported that Salah's agent and Liverpool have launched introductory discussions regarding a new contract – who currently earns £200,000 per week in his current deal that ends in July 2023.
After Salah scored a highlight-reel goal for the ages against Watford on Saturday, it'll be difficult for the club to argue his worth, especially when manager Jurgen Klopp described the forward as owning a more excellent form of Cristiano Ronaldo and Lionel Messi.
Klopp's comments came after a scorching shot from the edge of the box sailed past Watford's Juan Hernandez.
"His performance was massive today. The pass for the first goal was great, and the second goal was special. He is top. We all see it. Who is better than him?" Klopp told BT Sports. "We don't have to talk about what Messi and Ronaldo have done for world football and their dominance. But right now, he is the best."
Mohamed Salah's goal against Watford was 𝒔𝒆𝒏𝒔𝒂𝒕𝒊𝒐𝒏𝒂𝒍 😍pic.twitter.com/ShaJmewgS2

— GOAL (@goal) October 16, 2021
The Liverpool boss continued his praise of Salah when implying the Egyptian hero has more to provide. He added, "Salah is at the age where you can still improve, and he's doing that consistently. You saw the first goal that he set up for Sadio today; that is an outstanding pass. He brought that, I don't know, from the summer break. After that, he started doing these kinds of things. How I said, we don't have hours and hours to train different things. But the boys improve their game by themselves.
"The consistency he delivers, all this kind of stuff, maybe people just now start seeing it – it was always there. He has played for us for five years now, but it's absolutely incredible the way he performs since he's here.
"He's in the top, top five since he is at Liverpool pretty much. And how he is the best at that moment.
"The big thing between Cristiano and Messi was that nobody doubted it for years, but No is already on the top level for years as well, and there's still a lot to come from him because of his desire. He wants to perform on a top-class level."
Former Liverpool standout and legend of the club, Steve McManaman, has also gone on record to share his thoughts on Mohamed Salah's top-class work: "He is the best in the world at the moment. I've watched Mbappe, Neymar, Messi – who hasn't played enough. Lewandowski has carried on scoring for Bayern but not these types of goals. I can't think of anyone who is playing better football than Mo Salah at the moment."
Fellow pundit of McManaman and former Chelsea and Liverpool player Joe Cole extended the initial praise: "There is a massive argument for it (being the best player in the world). Undoubtedly, the best player in this country. He is in the form of his life. He was a pleasure to watch. The pass for the first goal was outstanding as well.
"He's such a top player, and you don't appreciate it until you see all the little stuff off the ball. He's so strong as well. Technically he is unbelievable. He reminds me of Ronaldinho; he was freakishly strong."
The world's best betting sites are taking more wagering action on Mo Salah to score than any other player, including the highly touted greats of the sport. With such a prolific career at Anfield and the evolutionary steps he's taking towards raising his game, it's hard not to envision Liverpool agreeing to any deal presented by Salah's agent.
This circumstance around the contractual discussions leaves the director of Liverpool, Michael Edwards, in a position where nothing other than re-signing Salah is a priority. Edwards has already secured the extensions of Trent Alexander-Arnold, Alisson Becker, and Virgil Van Dijk.
Rumour is, Liverpool wants a two-year extension on Salah's contract, which could well become a record-breaking deal inside of Anfield. A no-brainer situation should Liverpool want to continue making additions to their trophy cabinet.