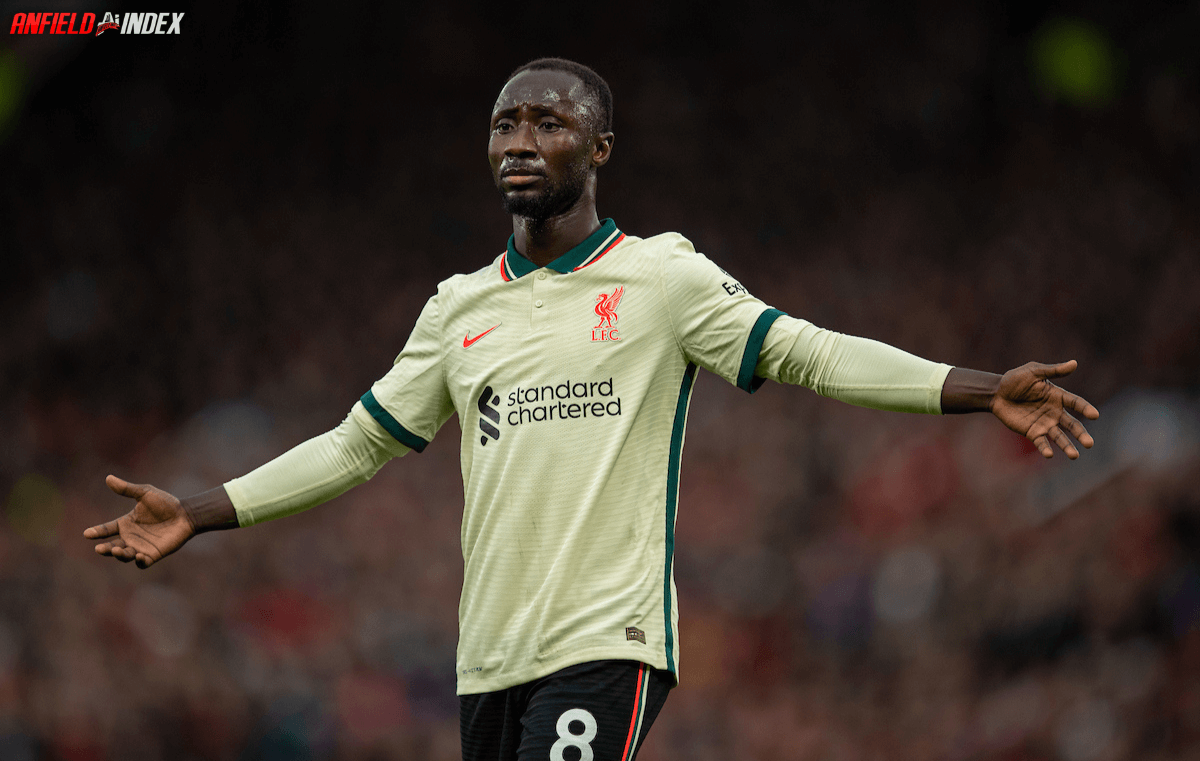 Naby Keïta - Imagine The Levels
Steven Gerrard is perhaps the greatest number 8 in Liverpool's history. This week or next I'll be taking a look at how this footballing colossus would have translated under a Jürgen Klopp regime. It is something that would have been a joy to behold, and the attacking force of nature would be almost unplayable in this current version of Liverpool.
But first I'm going to write about the man that inherited Gerrard's famous shirt, a player that may well struggle to reach the sky high levels of his predecessor, yet has too often been regarded as unsuited to wear the red of Liverpool, certainly by many in the media. This is both unwarranted and consistent in its notion, and should not remain a continuing trait for a player that deserves far more recognition.
This past eight months or so I've progressively tried to contribute interesting articles on behalf of Anfield Index, and will sometimes ponder as to which avenues I should explore next. Player profiles (of both current and former reds) are common, and the transfer windows can make new speculation pieces helpful. With the ever changing stories a season can produce, sometimes an idea for a good opinion piece will evolve naturally, and unfortunately this article is based upon something that was evolving unfairly.

These last few weeks, I've fallen into more of a routine in my article submissions. I like to produce five articles a week for Anfield Index (plus a couple for EPL Index), and began to include some player ratings and pre match thoughts into the weekly rotation. This allowed me to keep certain articles fairly fresh, and not have me pushing for stories that don't need writing. I've found this season there have been four or five instances, where I was compelled to write about a story within the Anfield world. This was due to the circumstances surrounding particular players, making the story both relevant, and something that could be explored.
The Mohamed Salah piece, 'The Greatest in Waiting', was something I felt needed stating at the outset of the season, as he may just be the most unappreciated player in world football these past five seasons. Media narratives would too often shift away from his excellence and onto their preferred rhetoric, instead of commenting on the crazy statistics and aesthetics this man produces. His standing in the game continues to rise, yet only recently does true recognition of his contributions seem common.
When I wrote about 'Virgil & The Reds System', it was on the back of many so called experts dismissing Liverpool season credentials,  in the lead up to this season. The disregard for Virgil's absence (alongside the rest of the defenders) never seemed to fit the agenda of many pundits, and I still believe his return has not been fully appreciated by certain people in the media. When Virgil was signed by the reds, or when he became a contender for the Ballon d'Or a few years back, the story rarely pointed to his brilliance, and there's still a peculiar mindset of some, that he isn't one of the Premiers Leagues greatest ever defenders. In the 30 year history of the Premier League, the division had never held the worlds greatest playing defender in its ranks, that is until Virgil won the Champions League, yet there will still be questions raised by entities that dampen this mans impact.
'TAA – Next Season Awaits', was a story about a world class footballer that was being widely dismissed by large sections of the media, usually because of Marcus Rashford getting the better of him four years ago, and because of moments last season when Liverpool's defensive structure was utterly devastated. I was compelled to write about what this young mans exploits, and the levels he was already reaching. I chose the positives rather than zero in on the odd negative, that can shape people's perception and cloud the reality.
The mainstream media is one of the more infectious, damaging and powerful entities in the modern world, let alone the football world. Words written, opinions printed and agendas followed, can reverberate around fan base after fan base, and can make certain thoughts stick. The articles I mentioned above have certain similarities, in that these players have, at times, been undervalued and jumped upon at the earliest opportunity. If something didn't go well on the field of play, you could almost sense the oncoming wave of nonsense, that would be aimed at these young athletes.
There are certain players within the English game that are protected without hesitation, yet sadly, there are those that are not. Harry Kane can have some terrible performances, be involved in some dangerous play (his move to send defenders head first over his back), yet little will be made of it from the media. The England captain appears beyond criticism, and much like Liverpool's own Jordan Henderson, anything negative said (even by myself), can be met with a volley of discontent. Jack Grealish is the £100 million pound man that has drifted through much of his City games, yet will rarely be mentioned in any negative manner.  Raheem Sterling, however,  will consistently be England's best player, yet still somehow end up the target for absurd negativity, football related or not.
I was going to simply produce a player rating opinion piece on Sunday, and start work on another article to submit ready for the next day. The away trip to Old Trafford was in my thoughts and I didn't want to deviate away from that game and my ratings. It was the previous few days that altered this, and my mind could not escape the continued and unfair criticism that kept finding its way to a Liverpool players feet.
As I watched the Manchester United v Liverpool game unfold, I saw Naby Keïta, a player I have longed to succeed, produce a breathtaking performance to take away the Red Devils' hopes in this game. A player of such startling talent with a clear love of the game (unlike Pogba, the man that injured him later in the game), was gliding through the match, despite such negative comments made about him in the week.
It was last week that saw Jordan Henderson, James Milner and Naby Keïta all struggle to cope with the hostility and talent of Atletico Madrid, but it seemed the only negative comments were aimed at the little Guinean, Keïta. Despite scoring a wonder goal in this very game (and having a very good season thus far), the narrative soon had Naby in Klopp's crosshairs, despite the managers emphatic denial. And so the agenda was set, and even on the radio prior to a Sunday's game, there were mentions of Naby's lacklustre performance in Spain. There seemed a non stop desire to only highlight the blemish once more, instead of talking about the large portion of brilliance, that Keïta had produced this season.
Naby Keïta strikes me as a wonderful young man, a truly gifted performer, and someone that has been cruelly criticised throughout much of his Liverpool career, by certain voices in the media. The Anfield Index team that produce 'The Scouted' podcast, stated Naby was sitting on a 70% win ratio, for games he had played in for the reds. This is a staggering number, and the sort of positivity that is rarely heard from the mainstream media. The nonsense and propaganda pieces on certain players needs to cease, and opinions be delivered without agenda. Players and managers should always be held accountable for bad performances, yet we need to celebrate and congratulate the moments that truly deserve mention. Naby has suffered injuries, that cannot be denied, yet his wish was never to be unavailable, and his contributions have been staggering at times, though commonly ignored. Too often, journalists have preferred to wait, intent on writing about the moments of negativity, instead of the opposite.
In a social media world where 'clicks' and Piers Morgan style comments can create debate, the negative area of discussion has now become the stomping ground for too many. When Apollo 13 took to the skies, the coverage of this remarkable moment was sparse, yet when there was a problem, the media could not scramble quick enough. Controversy will always sell papers, yet the notion that football should be about negativity, is a detriment to the beautiful game. In a world so torn from freedom, split by both hate and believe, and has undergone its most difficult period in the modern era, we must surely celebrate these young athletes, rather than look to tear them down.
To applaud and encourage is not to show weakness, but is a sign of consideration in thought. After the exploits of Sunday's game (and the performance of such a magnificent player), Naby Keita can hopefully start to enjoy a period of support. Instead of continually having to prove people wrong, imagine the levels this little Guinean could reach, if we all got be behind him.