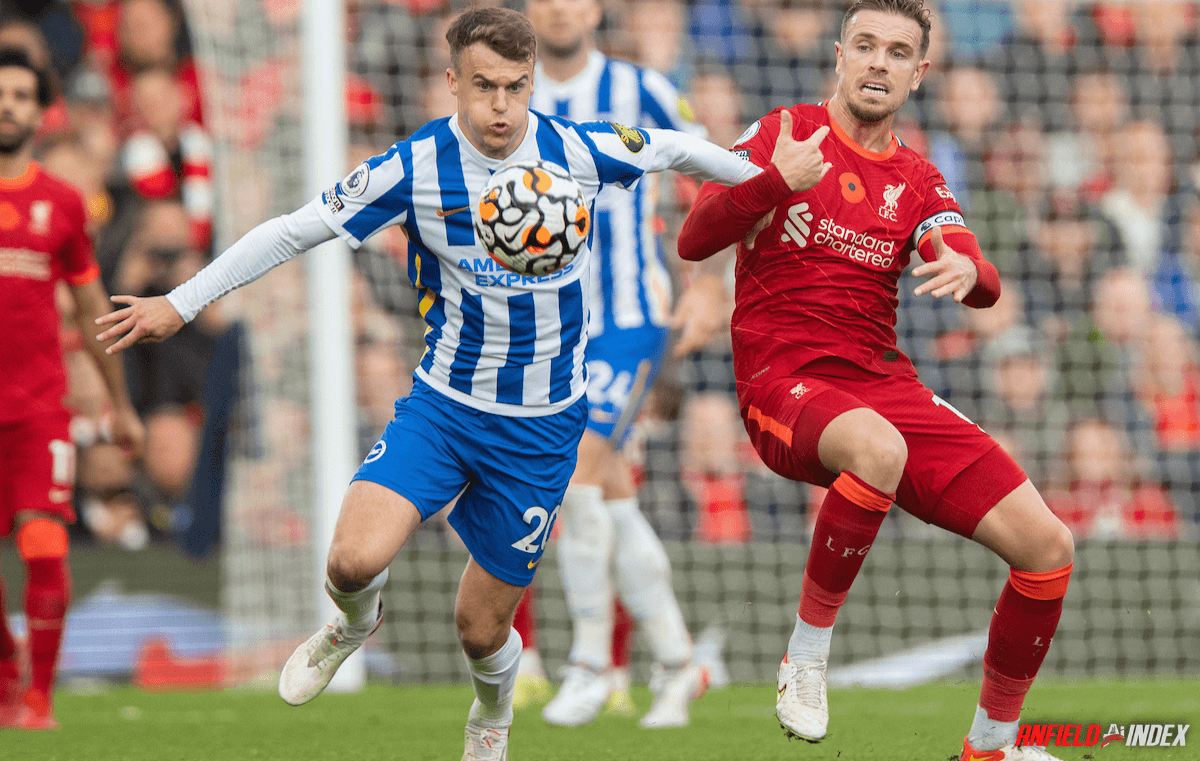 Liverpool vs Brighton - Player Ratings
Alisson Becker – 7.5
So dominant and was once again important to his team. The first goal was pin point precision in it's trajectory, and would've been tough to stop even if not lost in the sun.
Trent Alexander Arnold – 6.0
An unsure performance. A new inside centre back (Konate) and the ever revolving midfield ahead can't be helping his rhythm. Was unable to dictate tempo or orchestrate his usual attacking play.
Andy Robertson – 5.5
The bad games are now becoming an issue. Whether it be a loss of confidence, or the fact there is no longer a Gini shaped midfielder on his side is irrelevant. Robbo is now bad more than he is good, and Tsimikas could well see his opportunities increase.
Ibrahima Konate – 6.5
A great centre back in the making, though not his best game. The midfield protection was almost non existent, and he was set upon at times by overlapping runners. Hard to criticise such a young player, when senior players ahead of him are so ineffective.
Virgil Van Dijk – 7.0
He looked effortlessly in control at times, until Brighton runners swarmed and overloaded Liverpool. Not a great game, but hampered by a lacklustre midfield.
Jordan Henderson – 6.0
The goal was a lovely thing, and probably just about puts his score where it is. When teams come after this Liverpool midfield (a midfield without Fabinho, Thiago and Naby), it's telling. Henderson continues a trait of being really good or really bad, and this was the latter. A lack of control and protection.
Naby Keita – 7.0
Such a pivotal moment was when the hamstring went. Naby was cruising, progressing play, linking patterns and offering smart positional coverage and protection. The game changed when he departed the field.
Curtis Jones  5.5
His on ball ability can sometimes lead him into traps, and leave gaping spaces where more positional awareness is needed. This is a player that needs at least one controller in order to occupy space, probably two as he game matured. Curtis needs to know when to slow the game down, and control tempo. Loose and risky passes are often grwat on the eye, but risky and not in-keeping with what is required.
Sadio Mane – 6.5
A well taken goal within a frustrating afternoon. His performance level seems to be consistent with Robbo, and of course who occupies the left hand side of midfield. Too many changes and a lack of fluidity is causing sporadic moments.
Roberto Firmino – 5.5
His ability to hunt over confident teams (United) doesn't always translate against teams keen to press. The work ethic of Brighton meant Bobby struggled to impact and Diogo Jota should have came into the game earlier.
Mohamed Salah – 6.5
The run ends, but he was still the reds best threat. Liverpool are becoming too reliant on this man, and he needs to have others pick up their own levels, in games where Mo isn't at his scintillating best.
Subs
Alex Oxlade-Chamberlain – 5.0
So similar is his inconsistent display to Curtis. A fair weather footballer that cannot dictate games in the balance. His final season as a red.
Diogo Jota – 5.0
Too little, too late. This man was needed earlier.
Takumi Minamino – 5.0
Booked.
The Manager
Jürgen Klopp – 7.0
The team selection was fine, and he could do little but react to the Naby injury. Should Tyler Morton have come in instead of Ox, maybe. But that would have been a massive call for a team in the winning position, and all but ended Oxlade-Chamberlain's career as a red. At 2-1, Jones maybe should have come out for this young man, and shows the need for more midfield control since Gini departed.
Summary:
Utterly frustrating. With Fabinho and Thiago missing, Liverpool can be gotten at, especially when Naby isn't able to play through. The game should have been buried, but Brighton overcame a middle lacking the ability to kill the game.
Levels are evident in the absence of others, and Gini still needs replacing.