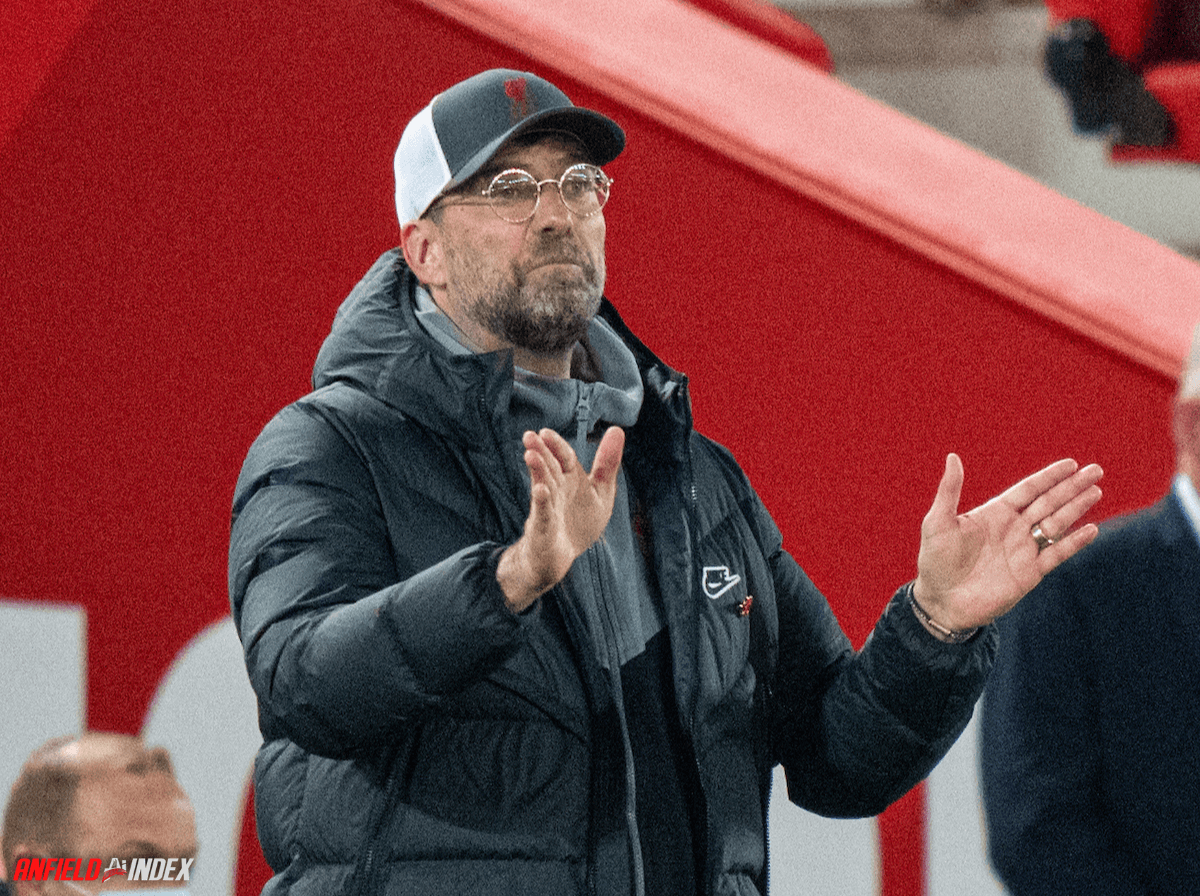 Liverpool Have Looked Great, But Not Like Champions Yet
Before the season started, I predicted that Liverpool would finish in third behind Manchester City and Chelsea. It was clear that, with our first-team centre-backs fit again and the structure of the team restored as a result, we'd compete for the title, but I did think we'd ultimately fall short.
Ten Premier League games into the season – the 'start' of the campaign boxed off, if you will – I haven't really seen anything to suggest that feeling was misguided. Liverpool are contenders, sure, but they've left us wanting a little more.
The actual league table is looking positive. The Reds trail Chelsea by three points, which isn't ideal but is certainly manageable, and they're also a couple of points ahead of the reigning champions City.

On top of that, they're scoring goals at a pretty phenomenal rate. If they were keep this up, they'd finish on a whopping 110 come May. That's how explosive they've been going forward.
And it's also worth mentioning – milking, in fact – that Jurgen Klopp's side have secured one of the greatest victories in the club's history.
United, to refocus, are one of the six teams Liverpool have beaten in the league so far this season. The others are Norwich, Burnley, Leeds, Crystal Palace and Watford.
Combined, those sides have amassed only eight wins. And they all sit 13th or lower in the table.
Of the five games Liverpool have played against teams in the top 12 – Chelsea, Brentford, City, United and Brighton – they've only once looked convincing.
In Europe, meanwhile, the Reds find themselves in an excellent position at the halfway stage of their group, creditably defying any fears that their 'group of death' might prove a struggle.
But the 3-2 victories against Milan and Atletico did bring their concerns. Liverpool were largely impressive against the Serie A side on Matchday One, but a two-minute unravelling before the break threatened to undo all of their good work.
Similarly, at the Wanda Metropolitano, the Reds had their opponents on the ropes early on but then surrendered control of the game and had to rely on one penalty and one non-penalty to scrape past their 10-man hosts.
Now, you might argue that I'm being overly greedy here. Liverpool have long been something of a results machine – they racked up a remarkable amount of ugly victories en route to the Premier League title – and as I say, the points tallies are more than satisfactory.
What's more, I've seen it argued that supporters need to lower their expectations this season, to recognise the improbability of pushing the 100-point mark. Indeed, given the strength of the current Premier League pack, that doesn't seem realistic.
But that doesn't mean Liverpool's performances against the good, really good and great teams haven't been worrying.
*
To a degree, Liverpool's openness is inevitable. When they attack, they often do so with eight players, leaving only the two centre-halves and Alisson Becker back. If their counter-press isn't successful after losing possession – and it can't be everytime – they might look exposed.
We as fans have to accept that a calculated risk is being taken. But it feels at the moment like the gamble is too great, that we're leaving ourselves too vulnerable and not finding that balance.
Perhaps the biggest concern is that there's an emerging blueprint for how to hurt Liverpool.
Teams have found joy by attacking the half-spaces. This was evident against Brighton and more so against Manchester City, and has been acknowledged by Klopp.
And they've also found it between the lines. This tweet from Premier League Panel explains it better than I can:
Wouldn't play a lone orthodox striker vs Liverpool- either use a false 9 or two strikers where one striker drops between the lines to exploit a lack of defensive protection from their midfield. Mbeumo-Toney, Félix-Griezmann, Rebić false 9 & Trossard false 9,have shown a template.

— Premier League Panel (@PremLeaguePanel) October 31, 2021
If this 'lack of defensive protection' was put to the manager, he might quite rightly point out the succession of injuries he's suffered in midfield.
There was no Fabinho at the weekend, of course, and Thiago has only been able to start two games so far this season. This is a big deal, and you'd bet that Liverpool would look more secure with those two on the pitch.
Harvey Elliott, Naby Keita, James Milner and Curtis Jones have also gone through, or are in the midst of, spells on the sidelines.
But the loss of Georginio Wijnaldum is a factor too. We knew we'd miss his avail-ability, but we've also missed his ability, particularly when it comes to 'tracking runners and stabilising the side in defensive transitions'.
*
Liverpool aren't as secure as champions need to be. After 10 games, they've conceded eight goals – relative to Chelsea's three (incidentally, they could challenge their own record of 15) and City's six – but their total expected goals against (xGA) stands at 11.05.
Brentford, Crystal Palace and Wolves (who have admittedly played a game fewer at the time of writing) are faring better in that respect.
The outstanding, in-form Alisson Becker has been there to bail us out on occasion, but it doesn't look sustainable.
A simple calculation reveals that Liverpool's xGA per game is currently 1.105. Since 2014/15, when the data becomes available, only miracle-workers/fluke artists Leicester City have won the Premier League with a higher tally than that. In fact, only the 19/20 LFC side has got away with averaging above 1.0.
The City teams of 20/21, 18/19 and 17/18 have posted 0.8, 0.68 and 0.65 respectively, while the Chelsea of 16/17 and 14/15 kept it to 0.75 and 0.83.
To add further context, Liverpool's xGA/game has also crept up above 1.1 only once before in the Klopp era, and that was last season, when they were forced to resort to rag-tag centre-back partnerships.
This is as bad as it's been with Virgil van Dijk in the team.
If the old adage that defences win titles rings true, then we simply must tighten up.
*
Beyond the stats, there have been too many occasions when Liverpool haven't looked like champions.
They failed to make their man advantage count against Chelsea, were comprehensively out-played by City for 45 minutes and then twice let go of leads.
Those slip-ups were frustrating missed opportunities against our two rivals, but they were ultimately acceptable. Thomas Tuchel's low block is mighty hard to penetrate, and City are City.
You can look at Milan and Atletico too, where Liverpool so nearly allowed victories to be wrested from their grasp.
Nearly, but not quite, to be fair.
The truly alarming games, then, were Brentford and Brighton. Both are good teams with highly-rated coaches and legitimate top-half credentials.
But teams who want to win the Premier League should not fail to win when leading a newly-promoted side 2-1 and 3-2, nor when 2-0 up at home.
It's partly a case of the tactical weaknesses that have been identified, but you have to wonder if it also comes down to temperament. The authority is missing.
*
So where do we go from here? Well, we look forward to the upcoming return of Fabinho and Thiago, but we don't bank on it. It's anything but guaranteed that they'll be fit for the remainder of the season, with Thiago's fitness record a particular cause for concern.
Fabinho alone hasn't been able to lock up shop, as demonstrated against City and Brentford.
If personnel restrictions continue, could Klopp be forced into a tactical tweak? At times it can be the subtle changes that make all the difference.
Last season, for example, Pep Guardiola reverted to his 2017-19 model when City were looking as though they might fall adrift, and it helped to turn their season around quite spectacularly.
Things aren't close to bad at Anfield right now, and you could justifiably argue I've painted too bleak a picture. But Jurgen Klopp's Liverpool need to win the title in front of fans – (whisper it) a title that can be properly enjoyed. And right nowthere are small but not insignificant chinks in their armour.
The coming week will be instructive, particularly if Fabinho and Thiago slot back into the side. Can Liverpool put together a complete performance against Atletico, and can they restrict counter-attacking specialists West Ham?
Pass both tests, and optimism levels will be justifiably boosted going into the international break.