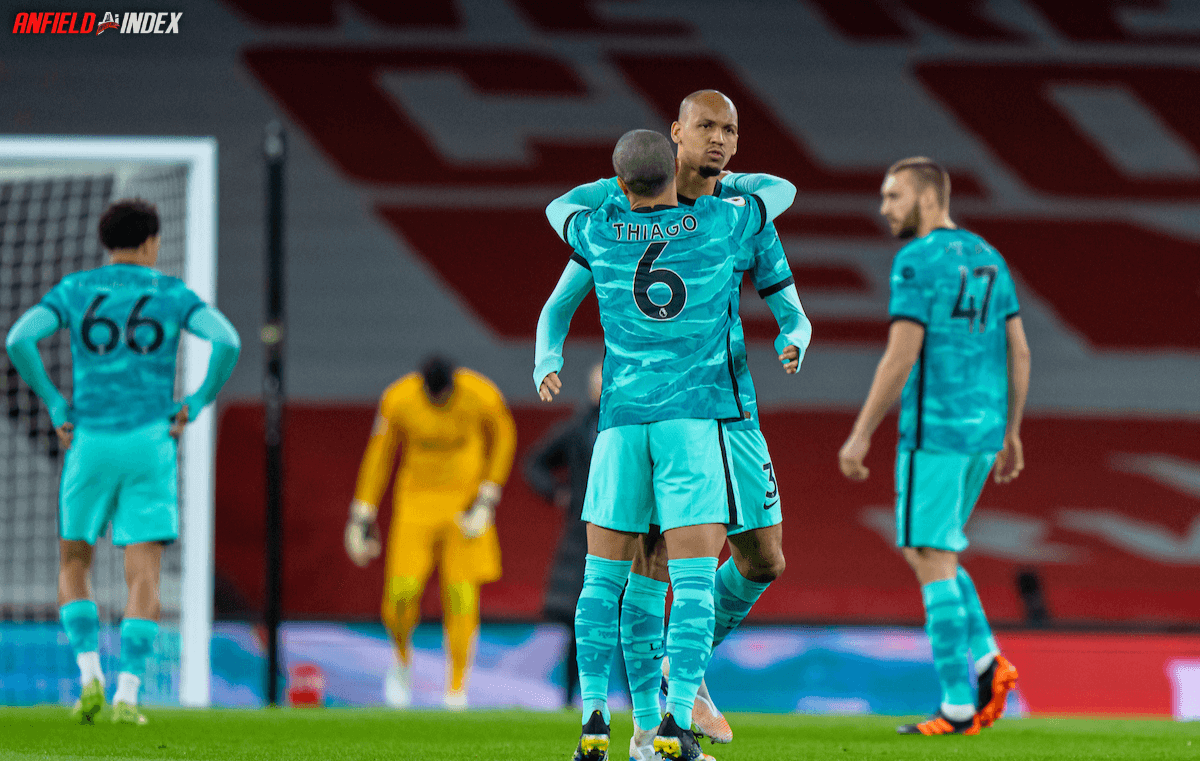 A Jekyll and Hyde Midfield
I have written more about Gini Wijnaldum this season than last. His off ball intelligence was so understated, he could glide through games merely taking up good positions, and aiding the system with pure intelligence. His ability to help shield a solid defence, made that defence one of the best in Europe, and his defensive awareness was always a requirement that he could effortlessly bring. Gini was (and is) a technically gifted player, but the fundamentals of his play were reigned in to suit the system by Klopp, and this was done without complaint. When ball retention and game tempo required swaying to suit the Reds, Gini was able to offer both these things with ease, and is something we saw lacking last Saturday against Brighton.
Attacking midfielders are a thing of beauty, players that are able to gallop through space and impact within the final third at will. Goals scored from outside the box will have Garth Crooks salivating, as he compiles his team of the week at 22.30 on a Saturday night. The ability to dominate and overcome with attacking play, is often underpinned by the selfless and intelligent play of a few, those that are known as controllers within certain systems.
To look at Liverpool's midfield this season would see a real Jekyll and Hyde scenario, in that two very different versions (within the same shirt) are appearing. If Liverpool were to field Thiago Alcantara and Fabinho (with any other Liverpool midfielder), they would control the midfield, and if other areas weren't decimated by injury, games could be navigated comfortably. The issue is (and has been for the better part of a year), that these two rarely play together in midfield. These world class talents are brilliant assets to hold, but to be missing on so many occasions is making it very difficult for Liverpool to maintain control. Gini was always available and offered varying facets of each player, and he (as mentioned in previous articles) was a bonafide system player. The lack of a replacement, may not be too far away from the mistake of not recruiting a defender last summer, and a decision which is costing the reds valuable points so far this season.

On paper Liverpool have good coverage in the midfield area, with a nice blend of experience and youth. On paper Liverpool should be fine, however the reality is that the Reds are a controlling (and available) midfielder away from being top of the table. If Gini had been retained (on a deal similar to the captain) they would be sitting top, of this I have no doubt. To not replace such a vital and always available component is remarkable, especially given how last year unfolded.
Curtis Jones could go on to have a great Liverpool career, however he is a moments player, that has neither the experience or pedigree to control tight situations. To apply parallels to both him and Oxlade-Chamberlain is not far fetched, especially when looking at the off ball requirements. Midfield control was so lacking at the weekend, that even an over the hill Adam Lallana was able to have his way for most of the game. The shithousery was absent, the cutting of passing lanes non existent, and the runners were able to approach the Reds' rearguard at will.
Experience and control was built into Gini, and he became the ultimate facilitator for others, once the system was refined. Andy Robertson could venture freely, Fabinho could screen with confidence (often due to Gini's own positioning), and Mane would have a conduit by which to receive recycled possession, in a controlled environment. What we are seeing at the moment (and especially against Brighton), was a lack of positional sense off the ball. Players that played within Liverpool's midfield (after Naby's injury) could not react or control their zones, and players both in front and behind were severely hampered by this.
Liverpool will not win the league unless Fabinho and Thiago remain injury free, and in order to counter this, a winter addition must be made by Michael Edwards. Top four will never be an issue, but lofty aspirations will have to parked, unless players able to play the system are available. I stated early last week that this next run of games (before the international break) was crucial, and if Liverpool's season is to end in glory, then the Jekyll and Hyde midfield dilemma must be resolved, sooner rather than later.