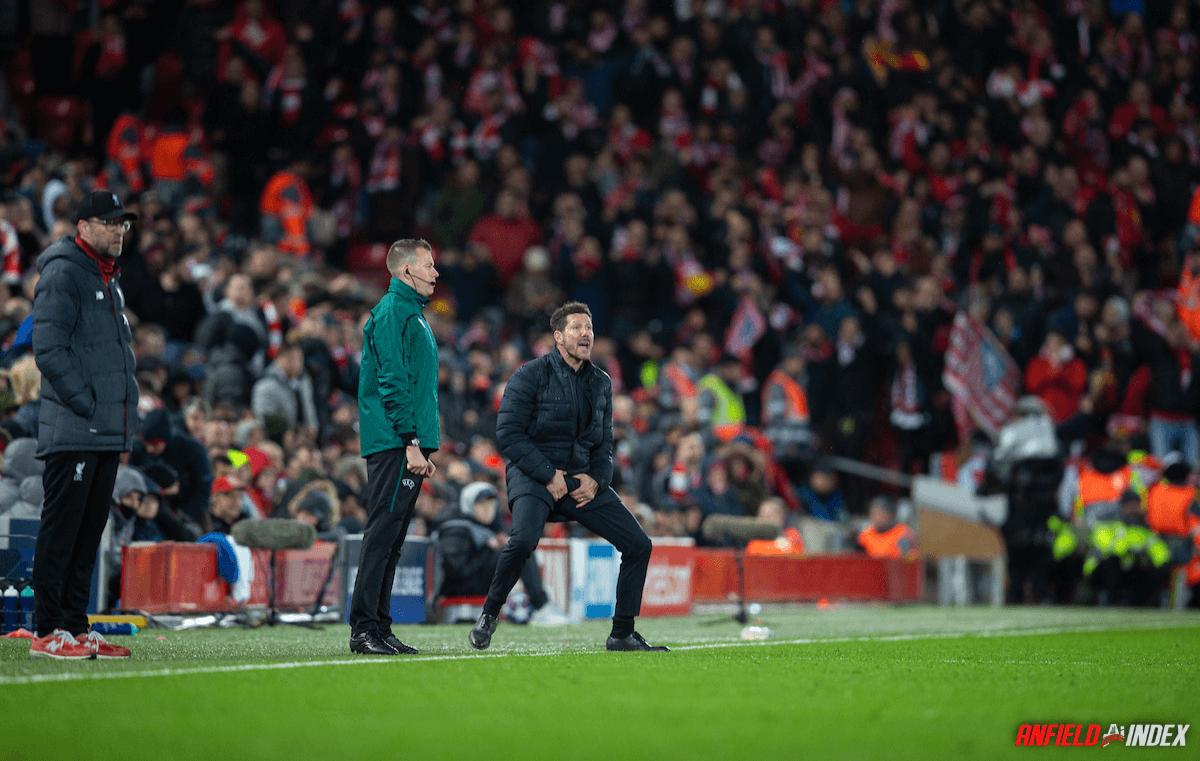 Time To Welcome Simeone
Diego Simeone is one of the world's most important and impressive managers. His tenure as Atletico Madrid boss is simply sensational, and his want to win is perhaps unmatched in world football. If Liverpool are to remain relevant on the European stage, they must accept and relish this Argentinian as an enemy to overcome, as only from such rivalries can true greatness be attained.
This match-up will see the return encounter of these two European powerhouses (Liverpool & Atletico Madrid), and a chance for Klopp and Simeone to resume their touchline battle. We have seen in years gone by the likes of Sir Alex Ferguson, Arsene Wenger, Jose Mourinho, Rafa Benitez and Pep Guardiola embroil themselves in competitive battles with their rivals, and push themselves to overcome their opposition numbers. Greatness needs competition in order to fully excel, and world class managers need worthy opponents to overcome.
The current state of affairs probably sits Diego Simeone as a spicy brand of Marmite, in that you either love or loathe him, but he always brings the heat. Liverpool ran the gauntlet within the Wanda Metropolitano Stadium a few weeks ago, and managed to inflict enough early damage to emerge victorious. One would imagine that a day has not passed where Simeone didn't ponder how to overcome Jürgen Klopp (this Wednesday), in order to exact his revenge for the recent loss. To see these two personalities undertake their duties under the Anfield lights is tantalising to say the least. Last season Simeone played out a glorious victory at Anfield, and this in itself will surely be pushing Klopp to want his own vengeance.

With a stuttering midfield, the sense is that one of either Fabinho or Thiago Alcantara will start this game, with each perhaps splitting the game. Two wonderful midfielders are now back in full training, and Klopp may well see this game as a means of regaining lost momentum, before they head to West Ham at the weekend. I spoke last week about how this week could be critical (given the number of midfielders that were injured), and with Naby Keïta now out for a number of weeks, the need for victory has perhaps intensified.
I would expect Diogo Jota to be unleashed for either Bobby or Mane, with Joël Matip brought into the backline. Kostas Tsmimikas is breathing down Robbo's neck, and the midfield will probably pick itself. Jürgen Klopp has decisions to make on the returning midfielders, and just how important he views this upcoming contest. Liverpool are in a strong position (leading the group), and could understandably rotate heavily for this game. A point would be a great result (given the circumstances), but Klopp may throw caution to the wind and look to propel his side back into form before their trip to London.
The match will pit two stellar coaches against one another, and in Simeone lies a genuine contender to succeed Jürgen Klopp, when he eventually departs. The pantomime villain is arriving prior to the festive period, but his pitch side theatrics cannot shroud the qualities of a world class operator. Klopp lost the touchline battle against Graham Potter at the weekend, and he will surely not want a repeat in the Champions League this midweek. Simeone is in town, and that in itself will make for an enthralling encounter.